Liverpool once again produced a grim performance in their goalless draw with Crystal Palace, with supporters left to dissect yet another game to forget.
How has it got this bad?
The Reds may have avoided defeat on Saturday evening, but their display lacked quality, confidence and genuine effort levels at times.
It was the latest sign that a top-four finish is something Liverpool have no right to be thinking about this season, with the summer transfer window not coming soon enough.
After the game, This Is Anfield's Henry Jackson (@HenryJackson87) was joined by Adam Beattie (@beatts94) to discuss a woeful match, the Reds' midfield incompetence and much more.
That was painful – where does it rank among the worst games this season?

ADAM: That was a real drag, that one.
Historically we've done pretty well there, but Selhurst Park is typically a tricky place to go and a point can be excused.
What can't be excused is the way we went about it and had Crystal Palace stuck one of their chances away, we couldn't have had too many complaints.
Wolves and Brighton are still in their own league in terms of horrible performances, but this one was a difficult watch for a whole host of other reasons.
We looked completely unprepared for the way Palace set up and passed it around without any real purpose.
It was the least inspiring I've seen us going forward in a long time and I dare say that with about 15 to go it felt like both managers would've been happy to shake on a point.

HENRY: I agree with Adam that there have been worse performances this season, but I'm not sure there have been poorer games.
The Chelsea stalemate at Anfield was also terrible, but the lack of quality on show from both sides was alarming.
I'm sick and tired of hearing the same things from Klopp after every game, and players taking to social media to promise a response, only for them to serve up yet more rubbish.
This season is utterly deflating.
The fact that a draw at Palace in late February isn't actually THAT bad a result sums up the magnitude of Liverpool's fall from grace.
It was another shambolic midfield showing, wasn't it?

ADAM: Yep, it's difficult to point to any of the midfielders and say with a degree of certainty that they were capable of making something happen.
Naby appeared to be doing his utmost to get himself sent off until Jurgen took matters into his own hands, so I'd say his showing was perhaps the worst.
But you could make a strong case for any of them.
It would be dangerous to repeatedly turn to Stefan Bajcetic at such a young age, but the midfield looked decidedly less composed in his absence, which given the level of experience in there is a genuine cause for concern.

HENRY: I think Naby was the standout in this latest edition of "who was Liverpool's worst midfielder?"
He was all over the place, both on and off the ball, and Klopp subbing him was the right to do – as Adam says, a red card felt inevitable if he'd stayed on.
This was far from all about Naby, however, with Henderson dreadful for large periods, Milner not a lot better and Fabinho a genuine embarrassment when he came on.
Elliott had a good first five minutes then fell to pieces, but Bajcetic did at least look something resembling adequate!
The surgery that this midfield needs is absolutely vast.
What do you pinpoint as the main issue currently?

ADAM: It feels like the easy answer, but it has to be a combination of things.
The supporters want to see investment and they are right to do so, but we have got 15 games to concern ourselves with before that becomes a conversation worth having again.
The midfield is obviously the most glaring issue and I don't know how we even begin to go about fixing that.
It is by no means an excuse, but the persistent injuries to key players at the worst moments really haven't been helpful either.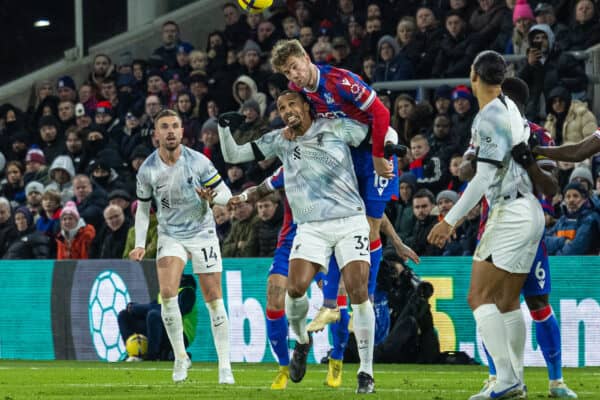 HENRY: I agree that it's a lot of things, but it does look to me as though the physical dropoff is the biggest issue.
Liverpool used to ourtrun teams week in, week out, helped by a relentless midfield, but they are now the ones of being outrun in most games.
The energy doesn't appear to be there in the legs, from Trent to Robertson to even Salah, and it is actually quite sad to see.
There is clearly mental fatigue as well, though, having gotten through so much intense football in recent years, and confidence is incredibly low.
Adam rightly points out injuries, too – throw Konate, Thiago, Diaz and Nunez in at Palace and we would've seen a very different Liverpool.
How many current players would you build the team around next season?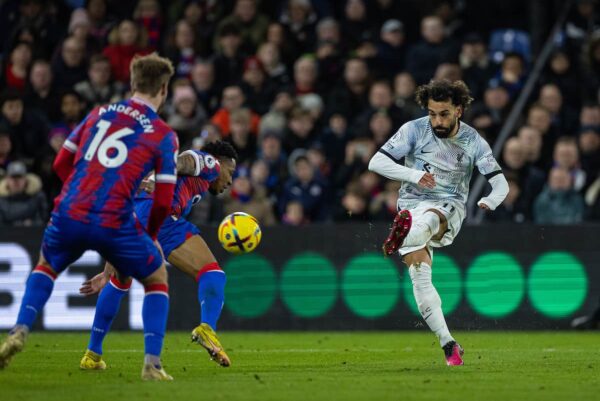 ADAM: Midfield aside, the squad is still littered with quality when everyone is fit and available.
The worry is that a number of the core group Klopp will feel he can trust are entering their twilight years and so you could quickly make an argument that every area of the pitch needs a refresh.
From a defensive point of view, Konate is where I'd be placing my chips long-term and up front I see a huge future in a Luis Diaz and Darwin Nunez partnership of some description.
Midfield? I'll take a completely new one currently if there's one going.

HENRY: I totally agree that this is still a squad that is largely capable of fighting for the biggest trophies.
Personally, I would say that Alisson, Trent, Konate, Van Dijk, Robertson, Salah, Diaz and Nunez will all be starting next season, while Thiago, Jota and Gakpo remain good options, too.
It's mainly the midfield that needs complete guttering, with at least three news faces coming in – Bajcetic shouldn't be relied upon too much yet.
If you suddenly add Bellingham, Caicedo and Mount to the team, for argument's sake, the rest of the players around them would be transformed, as would the team as a unit.
The likes of Gomez, Keita, Oxlade-Chamberlain and Milner need to go, while Matip, Fabinho, Henderson and Firmino must be squad players, at best.
Finally, what's your top-four verdict now?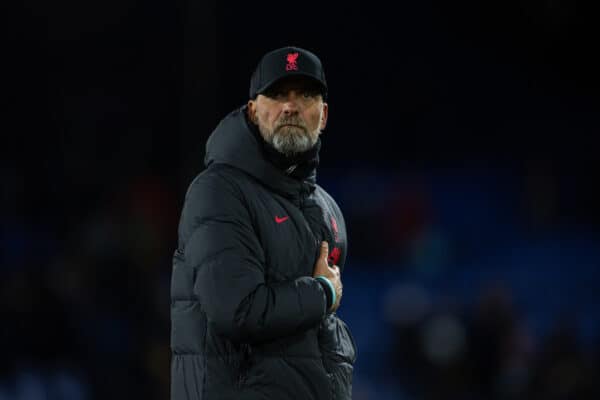 ADAM: I've lost count of the amount of times I've conceded top four, but somehow they keep pulling us back in.
The frustration is that if you look at the league, it's still very much there for us, but performances like this one make it tough to believe we can put the run together that will be required.
I think between now and May my main concern is that they give us something to cling to going into next season, and if it turns out to be enough for a top-four finish then I'm treating that as a bonus.
HENRY: On the face of it, Liverpool are still right in the top-four hunt, and seven points from three games is good.

Beat Wolves on Wednesday and let's say draw against Man United next weekend and it would be five unbeaten in the league.
In truth, though, this feels like a Liverpool team that has no right to be playing Champions League football and I think they will fall short.
The only thing going in their favour is that the likes of Tottenham, Newcastle and Chelsea all look unconvincing as well.
It wouldn't surprise me at all to see dropped points against Wolves and a defeat to United, though, which would be the nail in the coffin for me.