There were plenty of positives to take from Liverpool's 2-0 win away to Newcastle, with two Reds writers assessing the victory and looking ahead to Real Madrid.
Jurgen Klopp's men picked up a vitally important three points in the Premier League on Saturday, rising to seventh in the table.
Darwin Nunez opened the scoring with a ruthless strike and Cody Gakpo doubled the advantage to round off a lovely team move.
Here, This Is Anfield's Henry Jackson (@HenryJackson87) is joined by Adam Beattie (@beatts94) to dissect a huge win and pick an XI to face Madrid on Tuesday night.
Is that Liverpool's biggest win of the season so far?

ADAM: I hate the term "six-pointer", but it's probably a fair summary of that one if we are to end up putting a realistic top-four chase together.
I thought it was gone a couple of weeks ago and it feels like some sort of disturbance in the force that we're now only six points away with a game in hand.
It's hard to tell at this point how big the result was, but it certainly feels like one we'll look back on if things end up going our way in May.
For the first time all season, we really seem to be building some proper momentum, and with some huge games around the corner and a couple coming back from injuries, there is absolutely no reason why we can't start to believe that it's all still on the table for us.

HENRY: Like Adam, the term "six-pointer" grinds my gears, but it did feel like a particularly big win for the Reds.
Had we lost, I think top four was over for this season – making up 12 points after yet another psychological blow would have been near-impossible.
Instead, Liverpool's season suddenly has life in it after looking on the verge of being dead for so long.
Some people think momentum is simply made-up, but I think it's massive and the Reds are at their best when they have that rhythm and mentality.
Improvements are still needed, but if I was a rival top-four club, I would be worried.
Alisson was outstanding – where does he rank among the true Reds greats?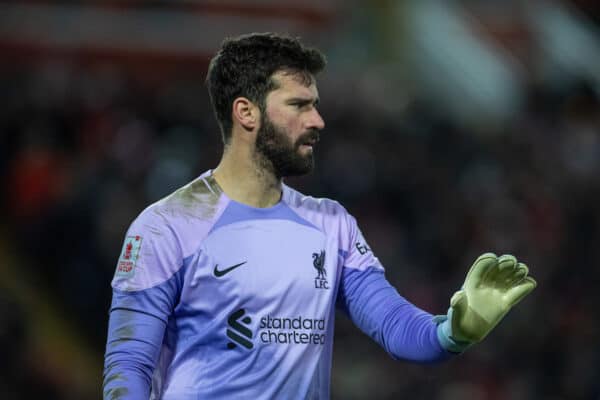 ADAM: He is the very best in the business for me.
Setting aside his little wobble at Brentford, he has comfortably been our outstanding performer this season and I dread to think what the Premier League table would look like without him.
In my time supporting Liverpool there is no one who comes close and of those 'before my time' the only realistic comparison is probably Ray Clemence.
If he hasn't already, then I imagine the holy goalie will have surpassed him when his time is up.
We are unspeakably fortunate to have him.

HENRY: The man is perfection!
At this point, I'm genuinely trying to decide if any goalkeeper in Premier League history has been better than him, in terms of his all-round game.
The likes of Schmeichel, Seaman, De Gea and Van der Sar have all been great, for example, but none possess his on-the-ball expertise.
As Adam says, Clemence would be No.1 for many Liverpool fans, simply because of his longevity and trophy haul, but I really struggle to imagine him being superior to Ali.
The chasm between him and the rest in the Reds' Player of the Year stakes is almost embarrassing.
How would you assess the attack after another promising outing?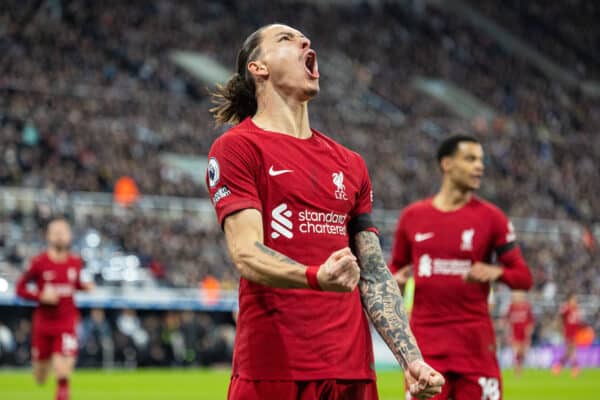 ADAM: It is exciting times for us in that area of the pitch with the options we've got.
Luis Diaz coming back is going to really accentuate that – our best attacking player prior to the injury.
The shape is interesting at the moment because I didn't envisage this being Gakpo's role, but he is coming into his own and giving us a new dimension we've not previously seen.
When he came in, I personally expected his and Nunez's current roles to be reversed from what they are currently but with things going as well as they are up front.
I see no reason to stray from that at the minute.

HENRY: For a while this season, Liverpool's attack couldn't have looked further from that legendary front three of Salah, Mane and Firmino.
It looked like a bunch of individual square pegs filling round holes, and while the defence and midifeld were worse, they weren't helping matters.
These last two games have been really promising, though, with Nunez looking happier on the left and Gakpo impressing as a Firmino-like No.9.
I totally agree with Adam that the Dutchman has brought an added dimension to the attack – it goes to show that writing off a new signing after about three games is actually pretty thick!
As for Salah, he is purring again after a really flat spell and it wouldn't surprise me at all if he went on a run now.
Having Jota and Firmino back is also massive, even though the latter produced a horribly loose cameo.
Defensively, Liverpool looked far from water-tight, though…

ADAM: It is definitely still a cause for concern and probably not something that can be rectified overnight.
You would hope to be able to limit a 10-man opposition to fewer chances than that so there is definitely room for improvement.
It was, however, a breath of fresh air just to see Van Dijk back on the football pitch again, and hopefully, that will give us the solid base that we will need to kick on from defensively.
On the subject of the defence, Trent looked back at his best which was extremely pleasing to see.
It has been a difficult season for him at times, but there is a world-class right-back in there and showings like that give me full faith that he'll get back there sooner rather than later.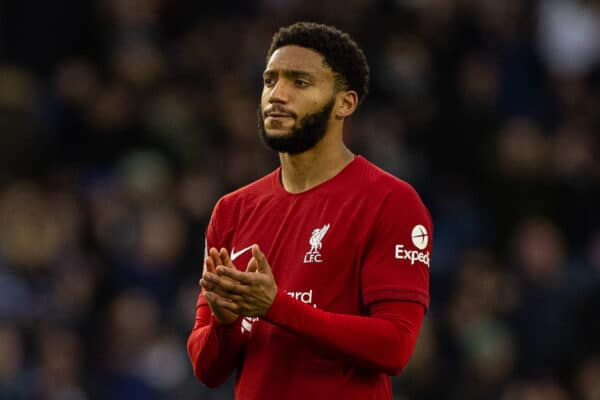 HENRY: I'll be honest, I thought we were rubbish at the back at times.
So many fans make conclusions solely by the end result of a game, and because Liverpool won, I think many have ignored the issue.
Gomez switched off a number of times up against Isak; Van Dijk looked understandably rusty in the first half and chances were given up at will against 10 men.
They did get better, in fairness, but I am still very concerned about that area of the pitch, as well as the cover that Fabinho and Henderson are providing.
They have to improve a lot still or someone – namely Real Madrid! – will have a field day soon.
Without Alisson, there would be a hell of a lot more focus on the defence today.
Finally, what would be your XI for Madrid?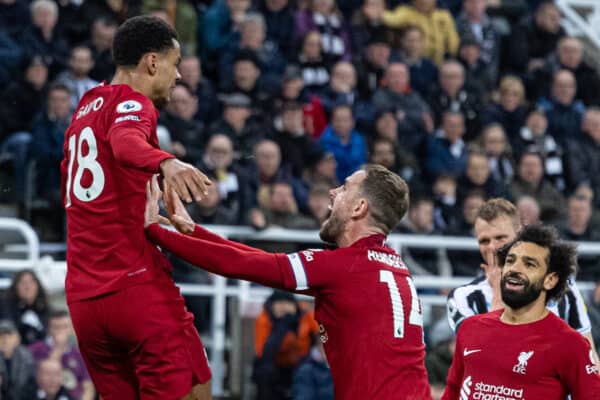 ADAM: I'm not sure how, but Real Madrid has really crept up on me!
It is a huge boost that we are hitting a little run of form at just the right time, but Madrid is going to be a big step up for us and Anfield needs to be at its best if we are to give ourselves a decent result to take to Spain.
If it was up to me, and I'm glad it's not, I'd probably be inclined to stick with that lineup.
It is a quick turnaround, though, and we might need some legs in there so I'd maybe look at putting Elliott in for Henderson and perhaps Jota in for Gakpo for an hour if his fitness is there.
HENRY: It's mad how this game has just arrived from nowhere, isn't it?
At one point, I was absolutely dreading it, but Liverpool do look better all of a sudden.

Perhaps controversially, I would take out Gomez and put Matip back in – I think he is better equipped to deal with Benzema, who isn't that quick anymore, but has such clever movement.
Gomez's concentration levels worry me, although there would be no complaints if he does play, given Matip's similar poor form.
I would bring Keita into the midfield at the expense of Henderson, because for all his various faults, he does retain possession well and is press-resistant.
He was famously substituted against Madrid at half-time in 2021, so let's see this at some sort of redemption tale for him!
The front three should stay the same, although if Nunez misses out – will the injuries ever end? – Jota is the obvious replacement.