Real Madrid's Luka Modric has been "really surprised" by Liverpool's recent struggles, as the two teams prepare to meet in the Champions League.
Jurgen Klopp's side go into Tuesday's meeting with the team that beat them in last season's final after winning two Premier League games on the bounce.
However, having struggled for any kind of consistency this season, they still remain eighth in the league table.
And after a season which saw them go two games away from winning an unprecedented quadruple, Modric has been as surprised about Liverpool's dropoff as anyone.
The Croatian midfielder also believes it's a "shame" that Liverpool and Real Madrid are meeting in the last 16 and not later in the competition.
"I am really surprised that Liverpool are so far from the first place in the Premier League, but they can also say the same about us at the moment in LaLiga, so I'm not saying anything," Modric is quoted as saying by the Mirror.

"Seeing the Liverpool squad, we know that at any time they can react and start to come back in the season. I hope it won't be in these two Champions League games against us but we have to be ready.
"Despite our league seasons, a Liverpool-Real match is one of the best shows that the world of football can offer.
"It's a shame that the draw has led to us playing so early in the competition because it would have been a great Champions League final."
When further pressed for his thoughts on how the game could pan out, Modric predicted that there won't be a lot of goals across both legs, and is pleased that Real Madrid have the second leg home advantage.
"In terms of this first leg I think defences could be the key," he continued.
"I don't see a lot of goals in the match. It will probably be two very even matches, but I see Real as favourites and we'll go to Anfield looking for a victory.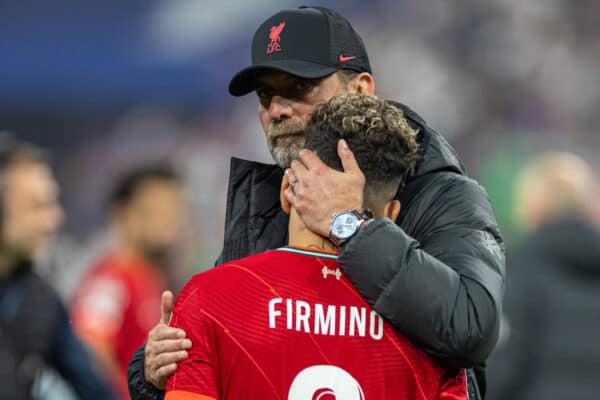 "With away goals no longer counting double it makes less difference whether you play home or away first.
"But I always prefer to have the second leg at home because at the Bernabeu we have seen so many times how the fans in the stand influence this kind of match."
Liverpool, of course, were beaten by Real Madrid in the 2018 and 2022 Champions League finals, with the Liga giants also coming out on top against the Reds in the 2020/21 quarter-finals.
Modric is fully aware that the Reds will be seeking "revenge" against Carlo Ancelotti's side, but still believes his team will progress.
"I understand that Liverpool will probably be seeking a sporting revenge against us," he added.
"It is normal after the last results in European competitions between the two. But we'll be ready.
"They will be two exciting matches, which is always the case when two great clubs of Spain and England face other. We believe we will go through."