Liverpool produced a much improved performance to beat Everton 2-0 and register their first Premier League victory of 2023 on Monday night.
Before the game, Jurgen Klopp said he was "desperate" to see the Reds lift spirits with a derby victory under the lights, and his side didn't disappoint.
Mohamed Salah put Liverpool in front in the first half, finishing off a devastating counter-attack led by Darwin Nunez, before Cody Gakpo put the icing on the cake by tapping in his first goal for the club in the second period.
Klopp's side looked a completely different team to the one that has fallen to defeats to the likes of Brentford, Brighton and Wolves since the turn of the year, with a number of individuals standing out.
Stefan Bajcetic was handed Man of the Match in midfield, while Nunez and Salah were a constant threat in attack.
Bajcetic runs the show

Klopp brought Fabinho and Jordan Henderson back into midfield, but it was telling that Bajcetic retained his place in the centre of the park. The 18-year-old was deployed in a more advanced role than usual but did not disappoint, with some fans feeling this was the night Bajcetic came of age in the first team:
Stefan Bajcetic will be getting a Spain call-up at this rate. Liverpool's best midfielder again.

— James Nalton (@JDNalton) February 13, 2023
Bajcetic composure standing out yet again. Even if things are busy around him he remains calm, focused. Such an old head on him.

— David Cartlidge (@davidjaca) February 13, 2023
Stefan Bajcetic. The present and the future. #LFC

— Neil Jones (@neiljonesgoal) February 13, 2023
Think we need to give Bajcetic an 8.5 year contract extension.

— Sam McGuire (@SamMcGuire90) February 13, 2023
Stefan Bajcetic is some talent. Reads the game so well, its easy to forget he's 18. If you're good enough you're old enough and he is absolutely good enough. A huge asset. Undoubted bright spot of Liverpool's season.

— Dave Powell (@_DavePowell) February 13, 2023
The surety of Stefan Bajcetic and the way he seeks responsibility in such a demanding position at 18 – regardless of the circumstance or sense of occasion – is remarkable.

So often looks the most composed, certain player even (especially) amid chaos.

— Melissa Reddy (@MelissaReddy_) February 13, 2023
Stefan Bajcetic is going to be a proper, proper footballer. Liverpool were always winning this match. Great to see Firmino back and sharp, Jota also. A derby momentum builder. #LFCdigest

— Danny Gallagher (@Danny7Gallagher) February 13, 2023
The Liverpool we all know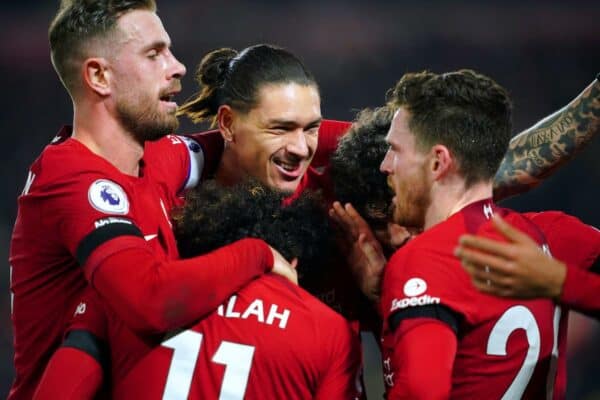 We all needed that, didn't we? All in all, this looked much more like the Liverpool we've come to know under Klopp. Much more urgency and much more cohesion:
Welcome back, fast playing Liverpool. We missed you.

— Andrew Beasley (@BassTunedToRed) February 13, 2023
Significantly more intensity by #LFC so far even if not always making right choices. Great breakaway to score but ease with which Tarkowski headed that corner a warning Liverpool would do well to heed.

— Paul Grech (@paul_grech) February 13, 2023
Forgot what it felt like to genuinely enjoy a Liverpool game.

— Leanne Prescott (@_lfcleanne) February 13, 2023
Pace. Tempo. That's the LFC I know

— keith costigan (@KeithCostigan) February 13, 2023
We got our inhalers back ?

— Kristian (@vonstrenginho) February 13, 2023
A functional midfield allows the full backs to be the creators.

— keith costigan (@KeithCostigan) February 13, 2023
No coincidence that Liverpool rediscovered their intensity tonight and suddenly most of their problems dissipated. It would be foolish to get carried away with so many big tests to come but plenty to be encouraged by – Bajcetic, Gakpo and the strength of the bench in particular.

— David Lynch (@dmlynch) February 13, 2023
This is the Liverpool side I want to see every game, high energy, high intensity, fluidity, absolutely brilliant to watch. Not back yet, but it's looking good.

— Samuel (@SamueILFC) February 13, 2023
Best full 90 minute performance of the season in terms of physicality and intensity. A huge step forward #lfc

— Dan Kennett (@DanKennett) February 13, 2023
Absolutely massive three points for Liverpool.

Performance not perfect, but so much better. Level of intensity on another level to what we've seen in recent weeks.

Bajcetic outstanding, Salah and Nunez also excellent, Fabinho still well off it, without being too harsh.

— Henry Jackson (@HenryJackson87) February 13, 2023
Gakpo off the mark

What a game for Gakpo to net his first for the Reds. He, along with the rest of the front three were a constant threat on the counter-attack:
This Cody Gakpo 2nd half performance shows why we paid £36m for him, absolutely running the show in the middle.

— Samuel (@SamueILFC) February 13, 2023
Gakpo has been excellent since half time.

— Dan Vanderkamp (@DanVanderkamp) February 13, 2023
Gakpo very good tonight. Excellent workrate and deserved his goal

— keith costigan (@KeithCostigan) February 13, 2023
Behind the counter-attacking goals, there was a familiar Liverpool shape with two wide-attackers (Nunez-27 and Salah-11) furthest forward and a centre-forward (Gakpo-18) dropping deep. pic.twitter.com/XCuMc0Shfg

— James Nalton (@JDNalton) February 13, 2023
That Gakpo performance was absolutely class, those number 9 sessions are clearly paying off. ?

— Mick Moran (@Mick_Moran_) February 13, 2023
I thought Gakpo was excellent tonight. Really easy on the eye.

— Carl (@Carl_M79) February 13, 2023
---
Still plenty of work to do for the Reds to make something of this season, but this was a start, and a very good one, at that.