There were almost exclusively negatives to discuss after Liverpool's 3-0 loss to Wolves, on another grim afternoon for the Reds.
Jurgen Klopp's side faced yet more Premier League misery on Saturday afternoon, being comprehensively outplayed by Wanderers at Molineux.
Two early goals immediately put Liverpool on the back foot, and while there was a slight rally in the second half, Ruben Neves' strike killed off the visitors late on.
Here, Henry Jackson (@HenryJackson87) and Molinuex-present Adam Beattie (@beatts94) discuss an awful day at the office for the Reds, covering various bases.
Where does that rank among the worst displays this season?

ADAM: I really believed Brighton was as bad as it gets but I'm even angrier with all of them than I was then, it was toothless from start to finish and I really don't know where we go from here.
We got just about everything wrong including the set-up, attitude, intelligence and our confidence looks shot to bits.
Joel Matip has gone from being one of the best centre-backs in the Premier League to a player who wouldn't look out of place in League One, and he's not the only one.
There was a real sense at 2-0 that even the players felt the writing was on the wall, I just can't believe how bad we are.
HENRY: I agree that that was right up there with the worst performances of the campaign.
It's genuinely painful watching this side at the moment – as much as I'm annoyed and Klopp and the players, I also realise that they're only human and look completely shot.
In the past, we just went into games knowing we'd win, but now it is the complete opposite.
Those early goals were no surprise in the slightest, and while there were improvements after the break, you knew Liverpool were never scoring.
It's heartbreaking to watch.
Who stood out as the poorest Liverpool performers?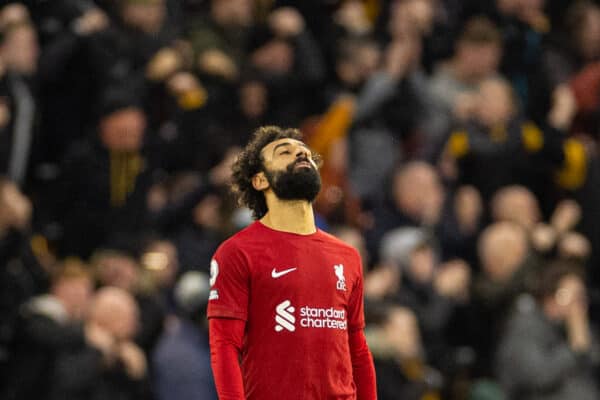 ADAM: When we're as bad as this it's hard to single out individuals, but both centre-backs were appalling.
Salah once again just looked lost and insisted on coming inside no matter how little joy he got – for me, he's one of the biggest concerns we've got at the minute because I just don't know what his next goal looks like.
I wanted to strangle Trent when he just volleyed the ball straight back at the defence after it was initially cleared from his corner in the second half.
It reeked of frustration and a lack of the sort of composure he used to have in abundance.
In short, though, all of them. All dreadful.
HENRY: I totally agree with Adam's choices – Matip stood out for me as the worst.
I love Joel, especially because he's that lad we all know who's funny without trying to be, but when he's off it, he's infuriating to watch.
He is too laid-back for his own good at times and he was lucky that he was only at fault for one goal.
Gomez wasn't much better, and while he has always lacked genuine defensive nous, he longer has the physical side of things to bail him out.
He may only be 25, but those injuries have done him in, sadly. He needs to go this summer.
Robertson was also appalling but did at least keep trying; Thiago and Keita offered nothing; Salah and Nunez are so wasteful that they make Rickie Lambert look like a killer in front of goal.
Bajcetic did well, right?

ADAM: Bajcetic look solid again, but if we're in a position where we're having to rely on an 18-year-old to be our best midfielder then we've got a real problem on our hands.
I feel sorry for him that he's probably going to have Real Madrid to deal with in a couple of weeks and we should not be putting that level of pressure on such a young player.
But in a context where he was once again surrounded by absolute dross, he did himself no harm and Fabinho is facing a really uphill battle to get himself back into the side now.
He looks like a really promising talent – I just hope we can manage him appropriately and let him reach his potential naturally rather than running him into the ground out of necessity.
HENRY: This lad is a proper player – he was literally the only crumb of comfort to take from the game.
Not only is Bajcetic a brilliant footballer, always having time on the ball and possessing great awareness, but he is also a winner.
He loves a tackle and doesn't shy away from confrontation – if only his teammates had shown his level of desire, Liverpool may have got something from the match.
It's not right to pin all our hopes on Bajcetic straight away, though – he shouldn't be a starter, given his age – but he is a massive long-term prospect.
You were at Molineux, Adam – how was the atmosphere in the away end?

ADAM: The away end wasn't great, but when you go down as early as that it never sets the tone for a positive afternoon.
There was a small section of young lads singing their hearts out throughout the second half which was good to see, and the support for Klopp was as vocal as ever in response to the home supporters' chants of "you're getting sacked in the morning."
We're all still very much with this manager, even though he's struggling to get it right at the minute, we just need something to cling to.
I just hope to god it comes next Monday night.
Do you think there is more going on at the club than meets the eye?

ADAM: It's difficult to put your finger on it because it feels like pretty much everything has fallen to pieces from top to bottom, but there are unquestionably deep wounds and we look a long way from fixing them.
Even the manager is making daft mistakes and you know there is a problem when that is the case.
The uncertainty at the very top with the likes of Julian Ward and Michael Edwards leaving, coupled with the mixed messages we're hearing regarding the ownership can't be helpful, but absolutely nothing excuses a performance like the one we threw in there.
HENRY: Something definitely isn't right.
Liverpool have gone from being the envy of every club in Europe, being run in the smoothest fashion possible, to being a laughing stock.
It is clear that the players are struggling, but it wouldn't surprise me at all if the ownership issues and the likes of Edwards and Ward leaving are having a knock-on effect.
Nobody looks happy, everything feels flat and I don't think that is just down to on-the-pitch issues.
FSG simply have to sell at this point – they've done good things in the past but their legacy is becoming more tarnished by the week. It's unacceptable.
Finally, do you feel Liverpool's season is over now?

ADAM: I'd say so, yes. You never quite know with Liverpool in Europe, but getting anything over two legs in that Real Madrid game feels a million miles away at the moment.
I've got eight days to get myself emotionally ready for the derby and if you think this feels bad just imagine what failure against them is going to look like.
I think regardless of where we finish, which looks like it's going to be nowhere near fourth place the way we're going, we just need to find a way to get ourselves where we need to be between now and August and figure the rest out from there.
HENRY: Sadly, I totally agree with Adam.
I've tried to remain bullish about a top-four finish, but that ship has sailed now and Liverpool will be lucky to finish in the Europa League places.
To be fair, I wouldn't mind missing out on Europe completely if we can't get Champions League football.
The romantic in me says that a freak European run is possible – 2005 happened, after all! – but the Reds could get destroyed by Madrid and I just don't see them getting past them.
It's a case of battling through until the summer and likely looking back on this season as the one you would chuck into Room 101.
My god, I took 2019/20 for granted.