Liverpool played out maybe the most boring game of the season, and a new contender for worst performance too, in a 0-0 Saturday night game at Palace.
Crystal Palace 0-0 Liverpool
Premier League (23), Selhurst Park
February 25, 2023
---
What an intriguing lineup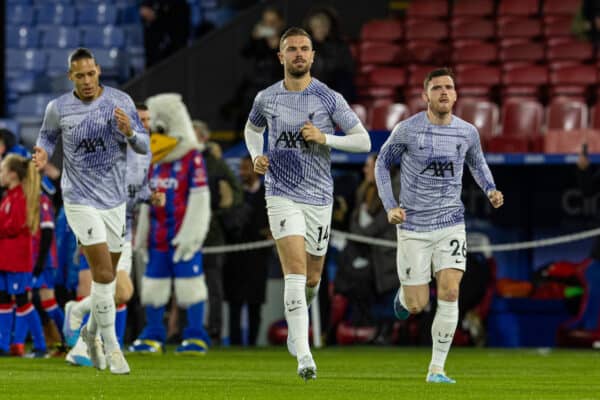 The team's most out-of-form senior centre-back, two out of three midfielders out of contract in the summer – and out of the lineup for weeks – and, up front, one player returned from injury and pretty much without a decent touch to his name since his comeback.
To an extent Jurgen Klopp's hand was forced yet again; to another extent, it's symbolic of the state of the squad that such compromises need to be made.
Predictably, there were a number of slow starts, but the midfield was again an enormous concern, with few surprised given the trio of Naby Keita, Jordan Henderson and James Milner.
The No. 8 tried to do his usual of twisting away from danger and surging into space, but a lack of recent action was painfully evident with so many touches.
He was booked early, made three more fouls and was saved from himself by being hooked at the break.
Henderson hasn't been the No. 6 since the home win over Leicester and offered very little defensive protection here, and next to nothing in progressive play. His passing was awful, his inability to take the ball off the centre-backs on the half-turn even worse.
As for Milner, the best that can be said for him was he didn't gift possession like the other pair. Being bypassed and played around by Lokonga and Doucoure was as painful to witness as it was evident to predict.
This was the big reaction?

After a defeat inevitably come the lines so frequently parroted they are by now cliches in their own right: work harder, keep going, put it right next time and so on.
Following the Real Madrid thrashing, the tired lines were trotted out in several variations and fans could have been forgiven for expecting a ferocious and fantastic response.
Except that would mark about a dozen occasions this season they'd have been fooled into believing the rhetoric.
The first 45 minutes at Selhurst were as tame and spineless as anything produced against Wolves, Brighton or Brentford.
Quite aside from the dismal lack of technical quality, there were few runners, little bravery on the ball, an abject failure to win individual battles and countless horrid mistakes in possession in defence.
This was a cowardly performance bereft of belief or confidence, but also one missing any clear tactical plan.
Where exactly were the Reds hoping to score from, outside of Mo Salah doing something almost solo?
Individual form, again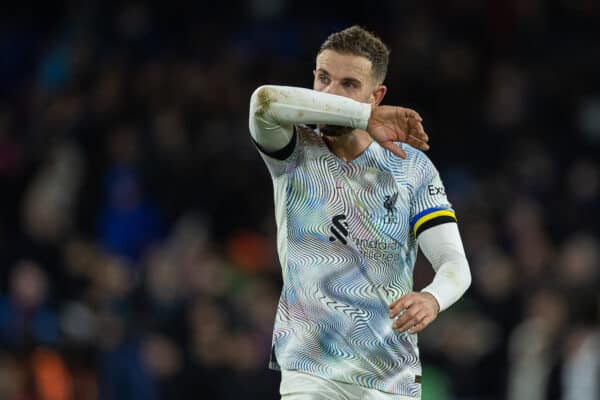 Like shooting fish in a barrel, here. Whichever your pick is has a chance of being the 'right' one, in any case.
Who exactly is Liverpool's worst performer right now? Who was on the night?
Keita had to be subbed first because of the booking, but Joel Matip and Trent Alexander-Arnold could not have been far behind if options for replacements had existed. The pair were utterly awful.
Henderson's continued presence on the pitch was a mystery the longer the game went on. Diogo Jota still looks well short of fitness. Fabinho could easily have seen red, despite only playing 20 minutes, so far off the pace of challenges he was.
Cody Gakpo, to be fair to him, didn't hide or shirk the task of the night.
He kept coming short, kept looking for space to receive passes in and kept trying to take the game to Palace – but his distribution and decision-making were as bad as any game since he joined.
Absolutely nothing came off for him, or for Liverpool as a whole.
Glass half full kinda night

Alright, there's no glass half full, unless it's half full of vinegar when your supposed mates tell you it's Coke and get you to down a big gulp.
This was an abomination.
But let's mark up a few positives nonetheless: Liverpool are unbeaten in three league games for the first time in 2023.
They haven't conceded in three league matches either, and have four clean sheets in the last five in the league.
Perhaps we can also say Virgil van Dijk put in a largely fine display, Alisson (again) likewise and Milner didn't get sent off playing full-back against Palace, which isn't always the case.
And Jota, while poor, is at least another 70 minutes down the road to not being poor at some point. And maybe he'll score again before April rolls around to mark a full year without a goal.
Other than that, it's slim pickings. Gakpo won the most aerials in the game – maybe he should replace Matip?
Oh good it's Wolves again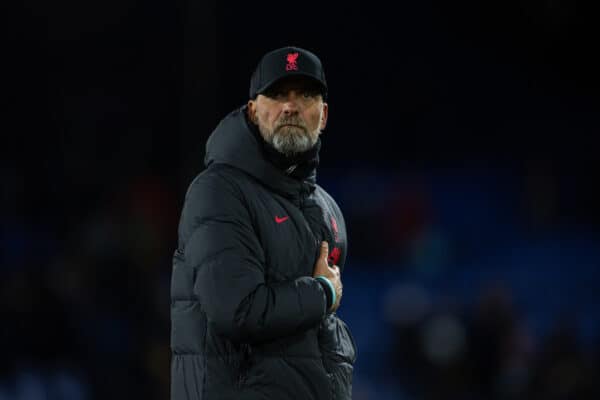 Just a quick nod back to that run of four clean sheets in five. Ah, yes, the one outlier was a 3-0 hammering by Wolves – our next opponents.
Spare us the talk of revenge and setting it right, for goodness sake.
The Reds barely scraped past them in the FA Cup, after a replay, and were hammered by them where it counts.
They are in an improved moment under Julen Lopetegui, though at least this one is at Anfield where we haven't lost since October in the league.
Might have lost the last one there, mind.
There's no sugarcoating this Saturday night borefest. It was a terrible game, another bad result, and there's not really any reason to just expect it to get better – yet it must.