It was another case of 'one step forward, two steps back' for Liverpool, with a 1-0 loss to a Bournemouth side that started the day bottom of the table.
Jurgen Klopp's side served up a drab display on the south coast as they were beaten by relegation-threatened Bournemouth.
Philip Billing's first-half goal was enough to see off the Reds as they missed the chance to go into the top four, and several players seemed to slip back into bad habits after a more successful recent few weeks.
Liverpool fans had their say on the performance across social media.
We've seen this before…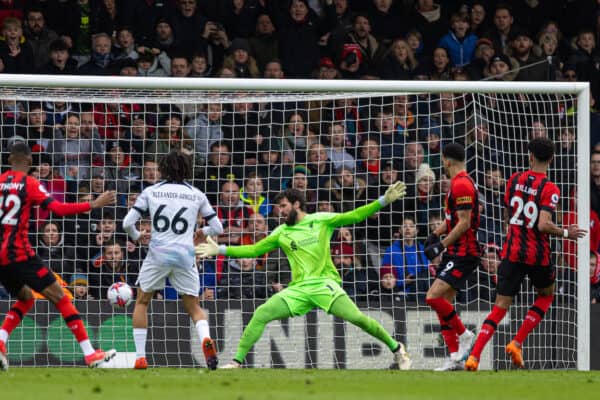 There have been a few false dawns this season, and it wasn't lost on fans:
This is what it's like to be in a top 4 race, rather than a title race. Always one step forward, two steps back. Just have to keep grinding. We've not learned anything new about this team or what needs to happen in the summer today.

— Ben Kelly (@bkelly776) March 11, 2023
Sums up this season I guess. Thought we'd found some consistency last few weeks but there's no excuses for that result today.

Forget getting anything midweek at Madrid and given the run of games we've got coming up in the PL I'd be shocked if we got 4th.

— Carl (@Carl_M79) March 11, 2023
"Well, I hate to see it but this Liverpool team proved Gary Neville was right. Last week's result was a freak.

"1 step forward, 2-3 steps back is what they do these days.

"It just made last week's result meaningless going forward, at least we got some pride for a week." – ME4467 on the forums.
Fucking garbage. Beat City at home, next weekend lose 1-0 at bottom of the league Forest. Beat Man Utd 7-0, next weekend lose 1-0 at bottom of the league Bournemouth. Must be a motivation/attitude thing. Inexcusable really.

— Sean (@shornKOOMINS) March 11, 2023
So dispiriting after recent weeks but totally in keeping with this season. Suffocated of space upfront, not enough guile and movement from midfield to open Bournemouth up. Defence on endge gave them hope. Penalty miss compounded matters.

— Paul Grech (@paul_grech) March 11, 2023
I thought a 7-0 win against one of your all-time rivals would motivate the squad to get to fourth place, but alas it was just a drop of water in the desert. We're talking Bournemouth here, not RM! We're done.

— Thiaguismo (@jmlasserre1) March 11, 2023
"We are unable to show humility. After the win at Anfield, we fell back into our ways. To be beaten by so is unacceptable and we miss an opportunity to move up in the ranking." – Nullanegyvennyolc Max on Facebook.
Another poor performance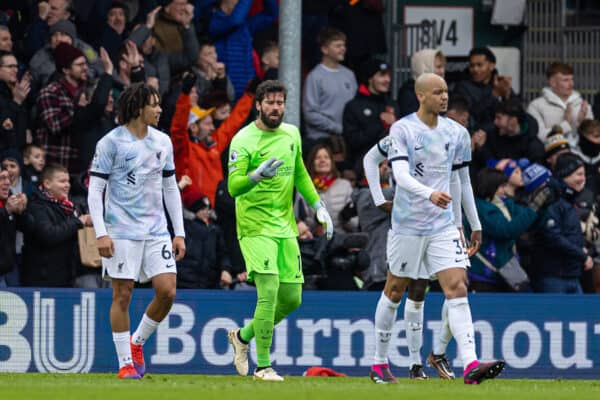 From the highs of last week to the all too familiar lows, there was a lot to unpack:
Fabio Carvalho coming on. Liverpool have got four forwards on the pitch and Mo Salah has just clipped a ball into the area where no-one was waiting. They've been well off it today. Don't deserve anything from this.

— Paul Gorst (@ptgorst) March 11, 2023
Football is a stupid sport because less than a week after beating your arch rivals 7-0, you can lose to the worst team in the league, who you beat 9-0 just a few months ago.

— Josh Williams (@DistanceCovered) March 11, 2023
The definition of a team that can't be trusted and one that doesn't deserve to playing CL football next season

Horrendous performance.

— Ian Ryan (@Ian1892T) March 11, 2023
Klopp gambling on Madrid lost us that game. 2nd half shows Henderson is the closest thing we have to a playmaker and everything runs through him and we look toothless when it doesnt. We have no final ball from our other midfielders. Salah is never reliable when losing either

— ????? (@PrimeHendo) March 11, 2023
"Shocking performance… as flat as it gets. Nunez should have stayed on and took Salah off. His performance and penalty was as poor as it gets." – Danny Berry on Facebook.
Henderson isn't good enough to be a starter anymore, but…
When you have 2 lads who aren't fully developed yet, then the bald monstrosity playing, you kinda see why he can be necessary in there https://t.co/tP8X4kHCnI

— ??ave (@Bavew97) March 11, 2023
Van Dijk should have scored 2. And he was dreadful on the goal. Not a great day

— keith costigan (@KeithCostigan) March 11, 2023
"Absolutely drab, terrible performance. Slow, outfought, out-bullied in every position. Can't believe this was basically the same team that crushed United.

"Where did that intensity go within a single week? The changes made the performance arguably worse." – Truthaehnchen on the forums.
But what now?

Champions League qualification is looking increasingly difficult, with Liverpool scuppering a chance to move into the top four:
"Top 3 is definitely gone now, there's no chance there and we've made top 4 even harder for ourselves.

"This team is too often being an embarrassment. That cannot continue next season.

"Woeful, just woeful and utterly predictable." – IanLFC on the forums.
If you're calling them "cowards" and "gutless" among other stupid synonyms because they lost a game, I'm actually embarrassed for you. We obviously need to do better on the road, but they're clearly not cowards.

— Jay ???? (@ScouseCommie) March 11, 2023
Bad thing is, we've got 3 weeks to stew on this with no PL game.

Good thing is, we've got 3 weeks with no PL game. pic.twitter.com/2siuNwbCeo

— Biggies Malls 2.0 (@Biggies_MaIIs) March 11, 2023
Back to normal service. This team has come to an end im afraid. How many points have we dropped against bottom half teams. No good enough, Don't deserve CL.

— Mark (@markfaulkner67) March 11, 2023
Apparently the brilliant United manager didn't realize that our midfielders have issues. I'm done with them all, although Harv and Bajcetic could stay (terrible today I admit) but they're only 2 out of 5 good ones.

— All you fascists are bound to lose ????? (@haf118) March 11, 2023
At least there was one upside…

Bournemouth's win does put Everton in even more relegation danger…
Only reasonable interpretation of that penalty is that Mohamed Salah really wants Everton to go down and frankly you cannot blame him.

— Daniel Austin (@_Dan_Austin) March 11, 2023
Well more on board with operation send Everton down than I am top 4 anyway…

— AK (@Kearnsy1906) March 11, 2023
That salah miss could send Everton down pic.twitter.com/P5xqiMQGyF

— f (@finnandoalonso) March 11, 2023