Liverpool's 1-0 defeat at Bournemouth was their 10th away loss already this season. They lost just two in the whole of the 2021/22 campaign.
Liverpool have been far from their best this campaign, but at home, at least they've been hard to beat.
The Reds have lost just once at Anfield in the Premier League, against Leeds in October, while away from home it has been a different story.
? #LFC Premier League away record this season:

Played 13
Won 3
Drawn 3
Lost 7
Scored 13
Conceded 20
Goal Difference -7

Shocking. And don't get me started on that kit! pic.twitter.com/T6iikV4kww

— Jack Lusby (@LusbyJack) March 11, 2023
Liverpool have lost seven of their 13 away games in the league and 10 in 19 in all competitions – and they are still to play Man City and Chelsea at their grounds.
Real Madrid at the Bernabeu will be no picnic either.
Struggle against the bottom

The Reds' defeat at Bournemouth was the second time this season that they've lost to a team placed bottom of the league and their fourth loss to a side in the relegation zone.
It is evident that Liverpool can still perform to a very high level at times – wins against Man City and Man United prove that – but a general malaise among the squad has seen the team struggle against the league's weaker teams.
On the road, Jurgen Klopp's team is finding it hard to pick up points.
Liverpool's last eight away matches

Brentford: 3-1 loss | Brighton: 3-0 loss
Wolves (FA Cup): 1-0 win | Brighton (FA Cup): 2-1 loss
Wolves: 3-0 loss | Newcastle: 2-0 win
Crystal Palace: 0-0 draw | Bournemouth: 1-0 loss
Liverpool's inability to get consistent results against teams they're better than, on paper, is the chief reason why they have turned so quickly into a side struggling to qualify for European football.
While some of the players are clearly in decline, there also seems to be a mindset issue.
It wasn't long ago that Klopp was describing his team as 'mentality monsters', and one of the reasons Liverpool had such success in previous seasons was their ability to bounce back.
Even if they went a goal down, the players and the supporters were confident that the Reds would find a way back into the game if they stuck to their plan.
How things have changed.
Liverpool have conceded the first goal 13 times in the league this season, and have won only two of those games. The ability to come back from behind was once a hallmark of this team, but has almost entirely evaporated. You go 1-0 up against them, you probably win.

— Joel Rabinowitz (@joel_archie) March 11, 2023
As This Is Anfield contributor Joel Rabinowitz has pointed out, in the league, Liverpool have conceded first 13 times and only come back to win on two occasions.
What has Klopp said?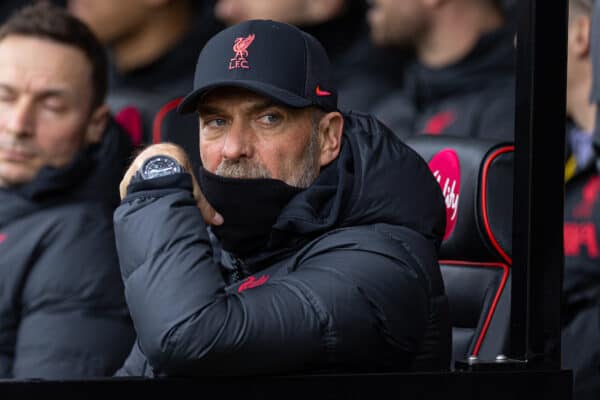 The incredible level of energy that Liverpool possessed when they reached 97, 99 and 92 points totals was key to their triumphs.
In 2016, Klopp said: "No playmaker in the world can be as good as a good counter-pressing." In 2019, assistant Pepijn Lijnders said: "Our identity is intensity."
At Anfield, with the help of the crowd, Liverpool still retain some of that intensity required for Klopp's system to be successful.
However, away from home, it seems the players lack the ability to win the ball back high up the pitch frequently enough.
After Saturday's match against Bournemouth, Klopp said: "In the home games we are in the top four, but in the away games we are not even in Europe. There is always a reason and our away results is for sure [the reason].
"It was a big strength for us in the last year, it made a real difference, but that is how it is."
Playing into their hands

After the match, Klopp also said: "We played for 95 minutes the game Bournemouth wanted us to play.
"In the first half, our two or three best moments were similar, finding the half-space and going in behind the last line."
In all competitions this season, Liverpool have played 19 matches away from home, conceding 30 goals and scoring 28, though seven of those came in one game against Rangers.
According to FBref, at home they average 31.2 shot-creating actions per game, while away that drops to 26.1; at home their rate of Expected Goals (xG) is 3.24 per game compared to 1.61 away.
At Anfield, opposition teams are averaging a rate of 1.1 xG while away it is up to 1.72.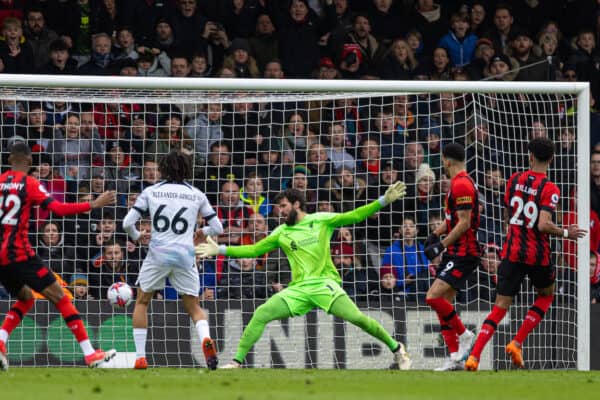 Not often enough have the Reds found a way to break down the opposition when up against a low block.
Bournemouth didn't play particularly defensively in the first half, but they did surround the Liverpool players rapidly as soon as they progressed to the final third.
As Klopp eluded to, Liverpool played how Bournemouth wanted Liverpool to play – in front of them.
Might the big occasion help?

Up next is a trip to the Bernabeu to face Madrid, who haven't been in good form of late.
While Los Blancos humiliated the Reds at Anfield, they've won just one of their last four and it would give the players a reminder of their ability if they were to go there and at least win on the night.
That is especially the case given the nature of how they were outclassed in the second half of the first leg.
Man City, Chelsea and Arsenal then form Liverpool's next three fixtures after the international break, with City and Chelsea both away games in the space of four days.
Again, perhaps playing stronger teams will suit Liverpool – who have been better as a counter-attacking team this season.