The 17-day wait for a Liverpool game is finally over but it is a brutal start to April for the Reds, with three tough fixtures in the opening nine days.
March was a month in which Liverpool showed the very best and worst of themselves: a historic 7-0 victory against Man United was followed by a humbling defeat at Bournemouth less than a week later.
It also spelled the end of any European ambitions after a 6-2 aggregate defeat to Real Madrid saw the Reds crash out of the Champions League with a whimper at the Bernabeu.
The mission is now a solitary one. Liverpool have 12 games with which to try and secure a top-four spot, with seven of those coming in the month of April.
Here are the key dates for your diary, including women's and academy fixtures.
Man City (A) – April 1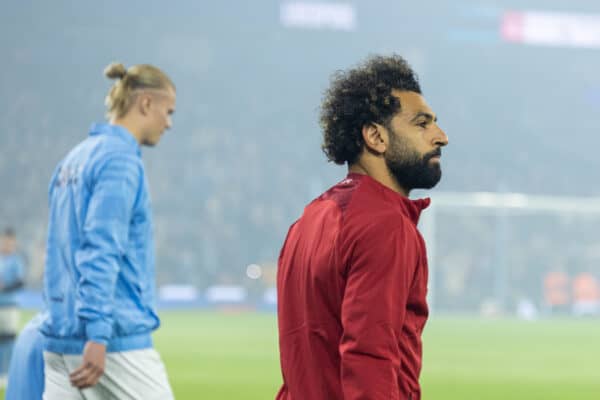 The reverse fixture in October brought one of the highlights of the season, when a lone Salah strike was enough to pick up all three points against the Premier League champions.
Man City sit eight points off top spot with a game in hand and Liverpool will be hoping to put a dent in their pursuit of title-chasing Arsenal.
Liverpool haven't picked up a league win at the Etihad since 2015 – Saturday lunchtime feels like a nice time to change that.
Chelsea (A) – April 4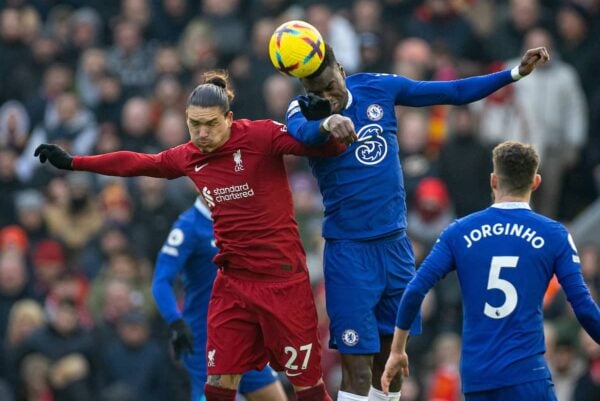 This fixture had been scheduled to take place in September, but the Queen's funeral caused it to be postponed and fixture congestion made it difficult to find a new date.
Almost seven months on, the Reds will travel to Stamford Bridge to face a side struggling to build momentum under Graham Potter.
The two sides played out an uneventful 0-0 draw at Anfield in January, matching the scores in both of last season's domestic cup finals.
Arsenal (H) – April 9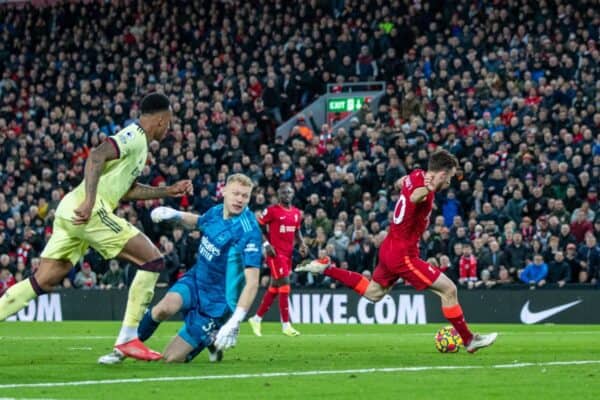 The league leaders come to Anfield with perhaps their biggest chance to take the spoils in a number of years.
It has been a stadium in which Arsenal have suffered a number of heavy defeats in recent times, last season's 4-0 being a good example.
It is also a game that Diogo Jota seems to enjoy – the Portuguese forward has netted seven times in four games against the Gunners.
Leeds (A) – April 17

After a hectic start, there is some respite before a Monday night trip to Elland Road.
Leeds' last-gasp winner at Anfield saw the Reds fall to their first home league defeat in front of a crowd since April 2017.
The gap between the Arsenal and Leeds fixtures will be the longest Liverpool can enjoy between now and the end of the season.
Nottingham Forest (H) – April 22

Liverpool endured losses against both Leeds and Nottingham Forest within the space of a week in October.
Let's all hope for a different outcome in these two fixtures!
It will be Forest's first trip to Anfield this century, with the previous visit culminating in an emphatic 5-1 win for Liverpool all the way back in 1998.
West Ham (A) – April 26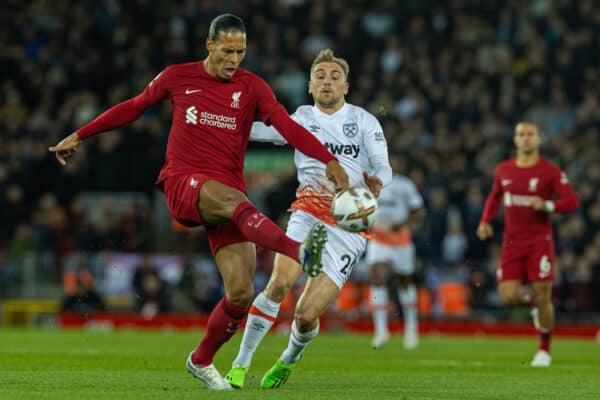 The games continue to come think and fast, with the Reds facing a midweek trip to London on April 26.
West Ham will be looking for a repeat of last season's 3-2 win at the London Stadium, where a rare blunder from Alisson helped the Hammers on their way to all three points.
Liverpool had to hold on in the earlier meeting this season, when an early Darwin Nunez strike was enough to seal the victory.
Tottenham (H) – April 30

The final outing of the month could potentially be the biggest.
Tottenham will travel to Anfield for a game which is likely to have a big say in the top-four conversation, and the Reds will be hoping to replicate the performance which resulted in a 2-1 away win in November.
We will know an awful lot more about Liverpool's chances of Champions League qualification by the end of this run. Here's hoping there will still be plenty to play for moving into May.
Liverpool currently sit seven points behind Tottenham with two games in hand, a gap that will need to be narrowed during April if there is to be any hope of catching them.
---
Liverpool Fixtures in February

(All times in BST)
First Team
Man City (H) – Premier League – Saturday, Apr 1, 12.30pm
Chelsea (A) – Premier League – Tuesday, Apr 4, 8pm
Arsenal (H) – Premier League – Sunday, Apr 9, 4.30pm
Leeds (A) – Premier League – Monday, Apr 17, 12.30pm
Nottingham Forest (H) – Premier League – Saturday, Apr 22, 3pm
West Ham (A) – Premier League – Wednesday, Apr 26, 7.45pm
Tottenham (H) – Premier League – Sunday, Apr 30, 4.30pm
Women
West Ham (A) – WSL – Sunday, Apr 2, 5pm
Brighton (H) – WSL – Sunday, Apr 23, 2pm
Leicester (A) – WSL – Saturday, Apr 29, 12.30pm
U21s
Brighton (H) – Premier League 2 – Monday, Apr 3, 2pm
Everton (A) – Premier League 2 – Sunday, Apr 16, 12pm
West Ham (H) – Premier League 2 – Saturday, Apr 22, 2pm
Fulham (A) – Premier League 2 – Friday, Apr 28, 7pm
U18s
Wolves (H) – U18 Premier League – Saturday, Apr 1, 12pm
Newcastle (A) – U18 Premier League – Tuesday, Apr 11, 11am
Leeds (H) – U18 Premier League – Friday, Apr 14, 7pm
Derby (A) – U18 Premier League – Tuesday, Apr 18, 7pm
Stoke (A) – U18 Premier League – Saturday, Apr 22, 11am
Newcastle (H) – U18 Premier League – Saturday, Apr 29, 1pm