Fourth and done for Liverpool and Wolves this season, now the Reds need to ditch the stabilisers for the next Anfield visitors, writes Steven Scragg.
So, Wolves it was yet again on Wednesday night, for the fourth time in seven and a half weeks. Three points gained and another clean sheet attained, amid what was at times an air of contemptuousness at the overfamiliarity of Julen Lopetegui's team.
I mean, even Wolves' supporters seemed a bit bored of it all, unable as they were to properly get the national anthem and any poverty ballads off the ground in the away end.
This was the very same team we were up against on the final day of last season's Premier League campaign, making it five times we've faced them across the last ten months, rounding out at an average of playing them once every two months.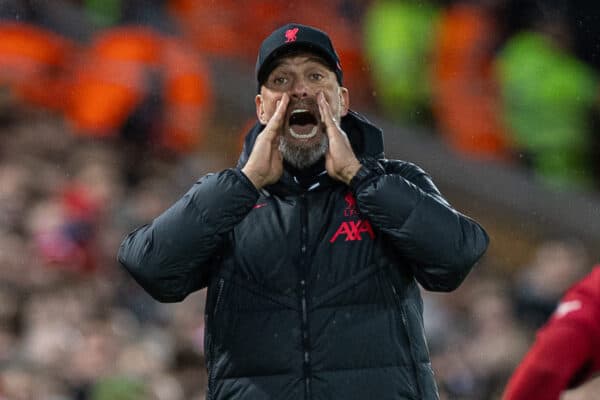 Enough now lads, the sight of the Black Country outfit is getting as monotonous as receiving one of those "Sorry We Missed You" cards on your doormat from Hermes, where you're resigned to your parcel being kicked around a warehouse for a week before being returned to the sender.
Wednesday night was all about biding our time and indulging in a little bit of that stubbornness I asked of Jurgen Klopp's team in the wake of Saturday's goalless draw at Crystal Palace. Four clean sheets on the spin in the league now, and five shutouts in the last six.
Conversely, we're still a touch circumspect about putting the ball in at the opposite end of the pitch.
Late determination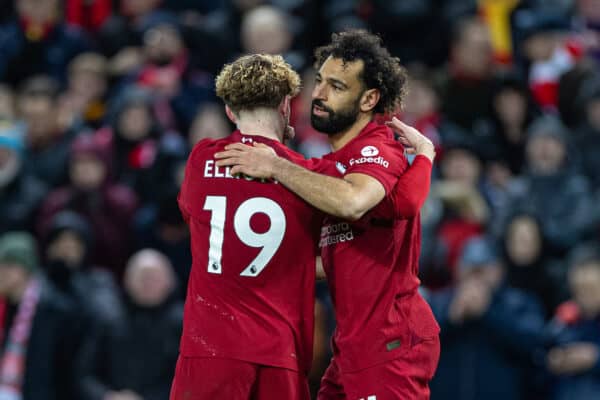 Since we put three past Aston Villa on Boxing Day, Liverpool have only scored seven of their own Premier League goals; since the resumption of league football beyond the World Cup, only Mohamed Salah (three) has scored more goals for the Reds than Wout Faes (two).
However, in the four league games in the aftermath of that Wolves win three and a half weeks ago, we've not conceded a goal.
Wolves won at Southampton, lost at home to Bournemouth, and drew at Fulham, essentially navigating a full loop of chasing their own tail, in what is shaping up to be a wide-open relegation battle before they made their latest visit to Anfield.
Frugality in attack, combined with austerity defending, Liverpool arguably went into this one with a score to settle with their visitors.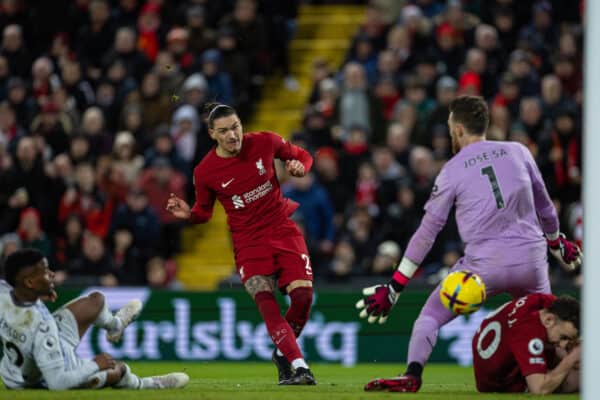 Shot-shy Wolves have only scored more than two goals in any one given game once this season, that being against us. Here we were offered the chance to eradicate that lingering sense of humiliation which we partially inflicted on ourselves in early February.
Despite this – if we're being honest – there was nothing exorbitant on display from Liverpool against Wolves, just a progressively increasingly forceful frame of mind from the hosts as the game reached its later stages.
A determination to claim the points bubbled to the surface in the final third of the game, something that hadn't really been evident before the hour, when the first 60 minutes of the evening was littered with what might have been scenarios, and not enough work handed out to Jose Sa.
Darwin Nunez bundling the ball over the line seemed to mark the true beginning of the match for Liverpool, no matter that his goal was eventually expunged by VAR. It was an incident that brought fresh impetus, rather than the forlorn nature of another self-inflicted rain cloud to follow us around for weeks to come.
Subtle hints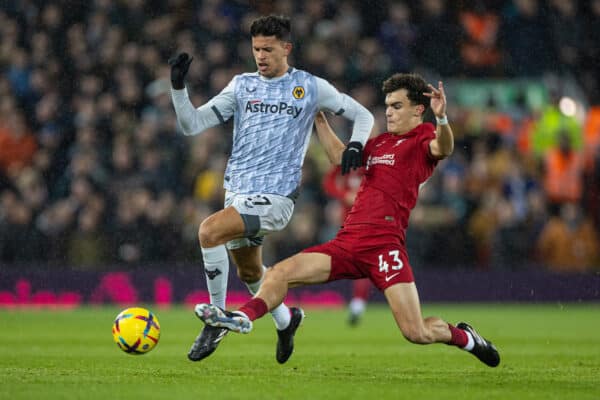 It was all fits and starts once more, with Trent Alexander-Arnold getting himself into most things as the game wore on and Fabinho dealing with the basics very well.
Stefan Bajcetic made more friends and influenced increasing amounts of people, at least until his endeavour was partially blunted when picking up a yellow card, the awarding of which seemed all a bit unnecessary, although nowhere near as ludicrous as the one dished out to Fabinho amid an erratic refereeing display from Paul Tierney.
It was left to Virgil van Dijk – our captain for the night – to break the deadlock, before Salah turned his frustration on its head, the two goals coming within four minutes of one another. Wolves had nothing in the way of riposte. Serves them right for the needless use of their away kit.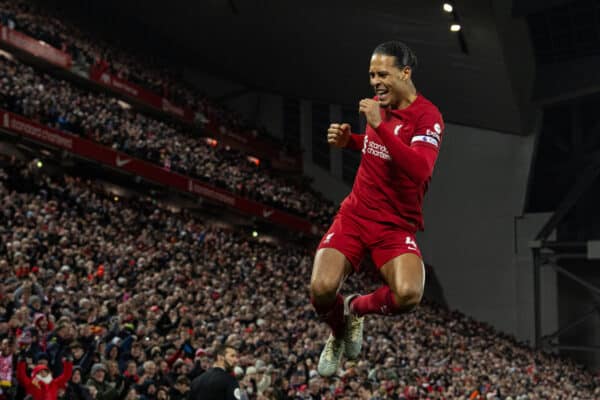 This too was another game where subtle hints of recovery were on display. Diogo Jota got another run out under his belt, Ibrahima Konate returned to the lineup, and Alisson did his thing as part goalkeeper, part deep-lying playmaker.
And Kostas Tsimikas swung from the sublime to the ridiculous when paying absolutely no attention whatsoever to that ball out from Alisson, which drifted out of play during the second half.
The thing is, next up is the visit of Manchester United on Sunday, when subtle hints won't be enough to win the spoils of three more points.
Erik Ten Hag's side are annoyingly one of the form teams of the moment, having just picked up the League Cup we won last season, and with our FA Cup also on their radar.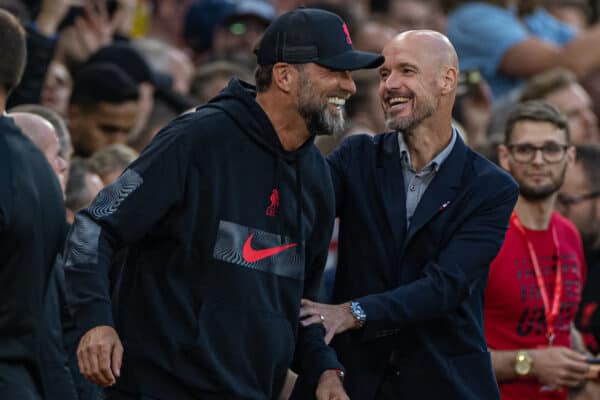 Brimming with confidence and likely to arrive with an appetite to dent our Champions League hopes and to ease the painful memories of their last trip to Anfield, we will have to up our game considerably to win the day, and spike their unspoken dreams of gatecrashing the title race.
Percentages played in recent games by Klopp and his players without completely mastering the basics, on Sunday the stabilisers will need to be tossed aside if we are to dominate and dictate proceedings.