It seems almost too convenient for Man City, with Erling Haaland pulling out of Norway's two games this month due to injury ahead of the season's run-in.
Norway are due to play Spain and Georgia as they kick off their Euro 2024 qualifiers, but they will do so without their generational striker.
Haaland is now confirmed to have left the squad with a groin injury, returning to Manchester for treatment as Norway manager Stale Solbakken explained that the player "took it hard when he realised."
The news comes just 12 days before Man City resume their Premier League run-in with the visit of Liverpool on April 1.
It could be seen as a blow for the title contenders, but realistically, there seems little chance of Haaland being absent for that Etihad clash.

Instead, the timing of his withdrawal from the Norway squad suggests that he will be given time to recover and be ready for the restart.
Haaland has so far missed only two games for Man City through injury this season, those being the victories against Leicester and Sevilla over four days last year, though Pep Guardiola has claimed he was close to missing out on other occasions.
In fact, the Man City manager did so before the meeting with Liverpool at Anfield in October, explaining that his No. 9 had a "muscle disturbance."
Though Haaland went unused in the preceding 0-0 draw with FC Copenhagen as Guardiola "didn't want to take the risk," two days later he declared him "ready."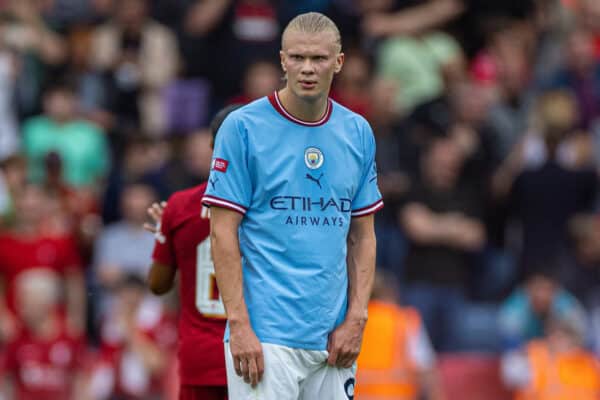 While it would be wrong to suggest that this is the mind games starting early, those on Merseyside should certainly not expect Man City to be without Haaland next Saturday.
More likely is that he will line up fully fit and fresh after a welcome break in the schedule, ahead of a decisive stretch for Man City – who are still fighting on three fronts.
Haaland has drawn blanks in both meetings with Liverpool so far this season, with the Reds winning 3-1 in the Community Shield in July before a 1-0 home victory in the Premier League.