Seven-nil. Yes, you read that right. Seven unanswered goals against Man United, it does not get much better than that and fans certainly enjoyed the Anfield rout!
Handed a boost by two top-four rivals, Liverpool's chance to make up ground was clear against Man United and they played with that clearly on their mind.
Cody Gakpo edged the Reds into the lead, finishing superbly after collecting Andy Robertson's pinpoint pass, ending the first half perfectly.
But if you thought that was good, Darwin Nunez and Gakpo added the second and third before you could even breathe after the break.
Bedlam then ensued as Salah and Nunez got their brace before Roberto Firmino capped off the stunning result with the seventh goal, apt after the news earlier in the week.
As you can imagine, it was utter delight at the full-time whistle.
The show of attacking brutality was lauded…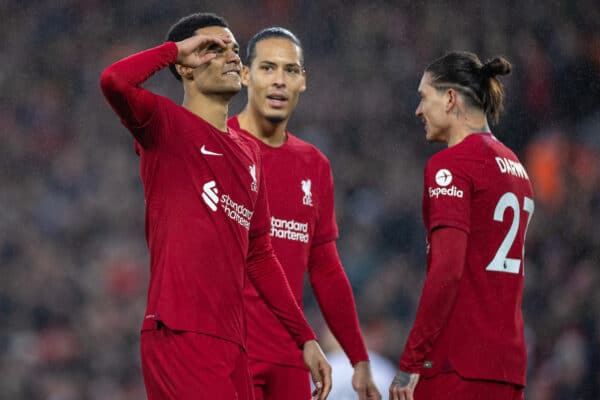 7 goals from 8 attempts on target. About time we took our chances! Long may it continue

— LFCZA ?? (@LFCZA) March 5, 2023
THIS IS THE REDS OF OLD!

— Henry Jackson (@HenryJackson87) March 5, 2023
This new front three look alright to me

— Caoimhe O'Neill (@CaoimheSport) March 5, 2023
Robbie Fowler will always be God, but Salah deserves every penny for being the genius that he is.

— LFCZA ?? (@LFCZA) March 5, 2023
Liverpool out of this world today. This is why all the Klopp-doubters were nuts.

Nunez and Gakpo showed why they were recruited, back four brilliant, especially Trent…but no one else on Salah's level. What a champion he is.

— Jonathan Northcroft (@JNorthcroft) March 5, 2023
Obviously everyone was on it big time today but that Gakpo performance was sensational in every single aspect.

— Joel Rabinowitz (@joel_archie) March 5, 2023
I usually try and come up with some concise analysis for full-time but still struggling here. That was not just a significant boost to Liverpool's top-four hopes and a sensational win over a rival – it felt like a sneak peak of Jurgen Klopp's next great team.

— David Lynch (@dmlynch) March 5, 2023
There was a lot to enjoy from the Reds…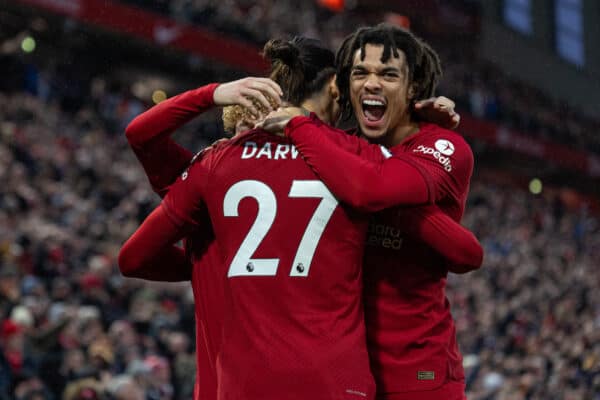 An absolutely emphatic reminder of what this team is capable of. Robertson the best he's been in over a year. Henderson and Fabinho bang on it. Elliott superb. Salah, Nunez and Gakpo all sensational. The Liverpool we all know and love.

— Leanne Prescott (@_lfcleanne) March 5, 2023
Every thing about that game was perfect. Firmino with the 7th ??

— Green Scouser (@Green_Scouser) March 5, 2023
Just watched one of the best Liverpool performances I'll see during my lifetime

— David Comerford (@Dave_Comerford) March 5, 2023
Remember two hours ago when Man United thought they might be in the title race? Life comes at you fast sometimes.

— The Legacy Fan Offside (@LFCOffside) March 5, 2023
"Somebody wake me up from this dream. Where did that come from? Seriously though that performance was off the hook and unbelievable. A hallmark of Jurgen Klopp's Liverpool throughout the last seven years."

James Nkosinathi on Facebook
— Jamie Carragher (@Carra23) March 5, 2023
He just came to Anfield and went from Ten Hag to Seven Hag real quick ??

— Amit (@LFC_Amit) March 5, 2023
Maybe the biggest positive is this was a deserved win for Liverpool, but it didn't feel like a peak. They can play better, even if they'll likely never win a big game by this margin in years and years. Football is weird.

— John O'Sullivan (@NotoriousJOS) March 5, 2023
In the last 18 months or so I've been in the ground and watched Liverpool beat Manchester United 4-0, 5-0, and 7-0.

Enough is enough? There could never be enough of all this. It's so special.

— Daniel Austin (@_Dan_Austin) March 5, 2023
Absolutely perfection. A privilege to be here.

Cycles end pic.twitter.com/9Pl0WGTWIE

— Jeff Goulding (@ShanklysBoys1) March 5, 2023
Get it in the Louvre pic.twitter.com/qZYJg25Xia

— Phil Blundell (@PhilBlundell) March 5, 2023
---
What a win that was, and it was needed. Liverpool now move to within three points of Tottenham in fourth with a game in hand.
The Reds are on the move.