Though Fenway Sports Group will remain a point of contention among fans, ex-chairman Sir Martin Broughton has defended their Liverpool reign.
FSG's reign at Anfield continues to be the most divisive topic for supporters, and former chairman Broughton recently gave his verdict during an interview with This Is Anfield.
Broughton acted as chairman in order to oversee Tom Hicks and George Gillett's sale of the club back in 2010 – a takeover which was eventually completed by FSG at what was a precarious time for Liverpool.
It was a sale which ultimately saved the club, with administration a very real possibility, and since then Liverpool have gone on to win every trophy possible.
The importance of keeping Anfield
Speaking on the current owners 13 years on, Broughton highlighted the role FSG have played in the club's most successful spell of the 21st century.
"It seems to me that they've delivered on what they promised to deliver basically, which is always a very good place to start," declared Broughton.
"They brought in a stable team behind the scenes, so I think there's stability there which is good."
Broughton also discussed the importance of developing Anfield rather than moving elsewhere, something which had been considered an option during the Hicks and Gillett era.
"They've rebuilt Anfield – well, they're still in the process of rebuilding Anfield, but to me, the Hicks and Gillett project was a brand-new stadium," he explained.
"I don't know, I kind of think of it as an Emirates Stadium nearby and the plan was to share it with Everton.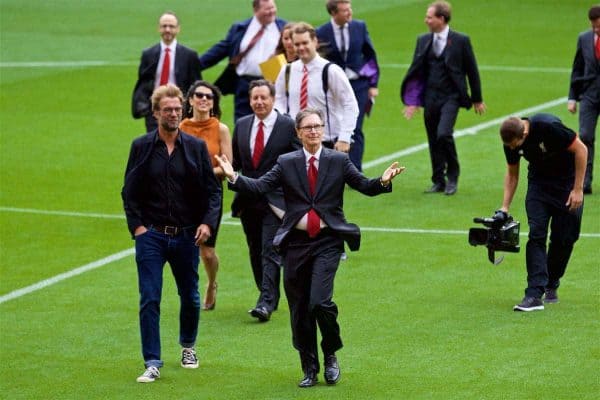 "There's a logic to that in old financial terms, but one of the things I liked about John Henry was: this is Anfield, why would you want to move? You've got the Kop at Anfield, you've got the sign, This is Anfield.
"You know that better than anybody. Why would you want to do away with that? To get to some smart new stadium without the character of Anfield?
"It's one of the reasons I wanted to have Fenway because that's exactly what they've done."
Not perfect, but largely successful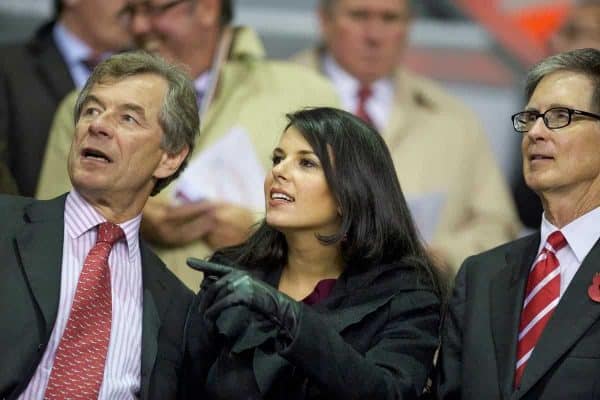 Broughton admitted that FSG's time at Anfield has been far from perfect, but argued that their ownership has been largely successful and defended the club's transfer policy.
"So is everything 100 percent perfect? It's never going to be 100 percent perfect. Life is never like that," remarked Broughton.
"But I would say from the state of the club that they took over, on the pitch they transformed it.
"They've been a top player without spending as much money as some of the others, and I think I should say, without wasting as much money as some of the others.
"I don't think they should be criticised for not spending big because if you could deliver the kind of success that they've delivered without spending the equivalent amounts because 'it's better spending money', that's brilliant.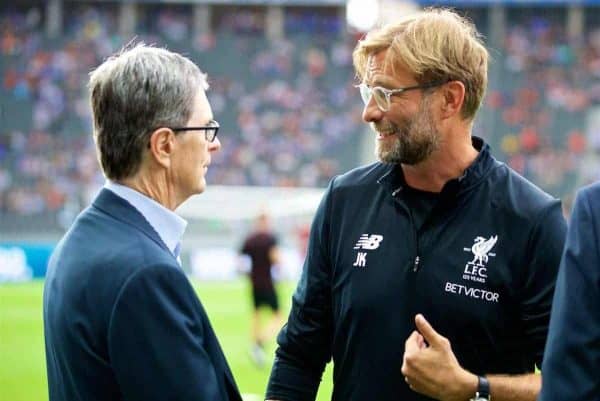 "They've invested wisely and delivered outstanding performance. They got a fantastic manager.
"It took a little while to get there and they've had to show patience to get there, but you know, the last five or six years they've been right at the top."
The comments are unlikely to be universally welcomed by supporters, with many growing increasingly frustrated by a lack of activity in the transfer market.
It is, however, a fascinating insight from somebody who was heavily involved in the initial process of handing the club over to its current owners.
Liverpool were heading towards administration under the stewardship of Hicks and Gillett and Broughton's role in the sale to FSG was vital in keeping the club afloat.

Thirteen years on, FSG's ownership of Liverpool continues to cause disharmony among supporters.
Broughton's comments are largely positive and that may come as a surprise to some, but given the position the club was in during his involvement, it is an understandable stance to take.
The next steps will unquestionably continue to shape the widespread perception of FSG and their time on Merseyside.
---
* Sir Martin Broughton's book, 'Whenever I Hear That Song', is available now.