Liverpool defied expectations with their 7-0 thrashing of Man United at Anfield, but how exactly did they pull off their historic performance?
One of Jurgen Klopp's most admirable traits is his approach to leadership.
When the team plays well, it's mostly down to his staff, the players – everyone but him. When the team performs poorly, it's entirely his fault.
This season, Klopp has taken a lot of flak as a result. A vocal section of the fanbase has zeroed in on the continued use of a 4-3-3 formation despite several devastating results.
At times the Klopp in fans' minds has represented a demented German Mike Bassett shouting '4-3-f***ing-3!'.
But since it was Klopp's formation change that led to the famous win over Man United, let's give him his flowers and examine how he did it.
What's in the box?

This year's tactical trend has been the box midfield, deployed by Arsenal, Man City and Barcelona amongst others.
The idea is to create a box shape in midfield with four players – be they inverted full-backs, false nines or narrow wingers.
Liverpool started with two 'finishers', Mo Salah and Darwin Nunez, in wide positions. This allowed them to make out-to-in runs, similar to how Salah partnered with Sadio Mane.
Meanwhile, Cody Gakpo and Harvey Elliott – wingers by trade – came inside to operate as No. 10s. Anchored by Fabinho and Jordan Henderson, this gave Liverpool their box midfield.

This brilliantly countered United's pressing structure, which sees them go player-for-player across the pitch.
Centre-backs double up on the opposition striker, leaving a full-back free in buildup. Liverpool knew that if they could find that full-back, a box midfield could expose this approach and create chances.
We saw this for the first goal. When Liverpool build up, Gakpo (18) drops near the halfway line.
United's centre-backs can't follow, and nobody knows how to adapt, leaving him completely free.

Once Andy Robertson gets the ball, the opposing full-back moves up to challenge him. With Nunez occupying the centre-backs, Gakpo is able to run into the space on the left.

Fred drops to cover, but Gakpo's width – coupled with Robertson's dribble inside – bamboozles him.
Robertson's brilliant through ball finds Gakpo in the left half-space where he thrived as a winger for PSV Eindhoven.

From there he easily outwits the covering defender, Raphael Varane, and bends a trademark finish into the far corner.
Gakpo has adapted well to the Roberto Firmino role, but the wisdom of signing a devastating wide forward and deploying him elsewhere has been questioned.
This change of shape allowed Liverpool to benefit from all his strengths.
Sustaining attacks

Football takes place in four phases: attack, defence, attacking transition and defensive transition.
Both Liverpool and United aim to create a transitional game in order to score against a disordered defence. But in this game, Liverpool's deep midfielders in the box shape did an immaculate job in defensive transition.
This sustained their attacks and prevented United from creating their own.
The second goal was a great example of this. Initially, Casemiro blocks Fabinho's ball to Henderson, but instead of dropping off, the two double up to immediately win it back.

Fabinho then floats it over to the back post, where Salah's cutback is blocked. But Elliott is on hand to seize on that loose ball and sustain the attack.
Fabinho meanwhile has continued into the box and is actually beside eventual scorer Nunez when the cross comes in.

But had that cross been cleared, there were two players on the edge of the box, ready to collect the loose ball and keep the pressure up.
United's greatest attacking threat – their attacking transition – was never able to get going.
Deep defence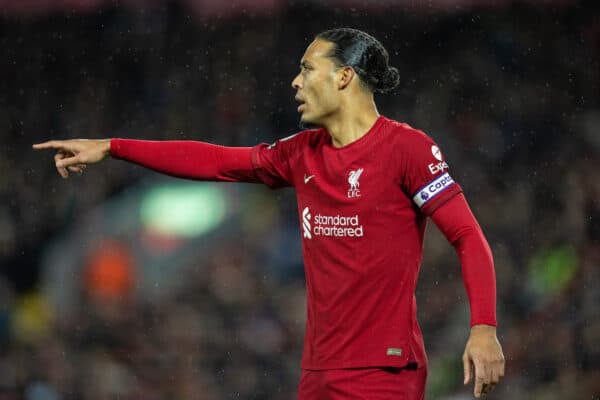 A word also on Liverpool's work in the defensive phase, which has understandably gone under the radar after a 7-0 win.
The 5-2 defeat to Real Madrid highlighted Liverpool's lack of success when defending deep. But this game showed lessons have been learned.
At 1-0, Lisandro Martinez played an excellent ball to release Bruno Fernandes on the left wing. But Liverpool get six bodies back in the box immediately, with three players covering the goal behind Alisson and three targeting the ball.
Contrast this with the ineffective approach deployed against Madrid.


The shot is blocked, and Robertson celebrates it like a goal scored. Given the block prevented an equaliser at 1-0, it was easily as valuable.

And then the offside flag went up anyway. It's still Liverpool, after all.
How it all worked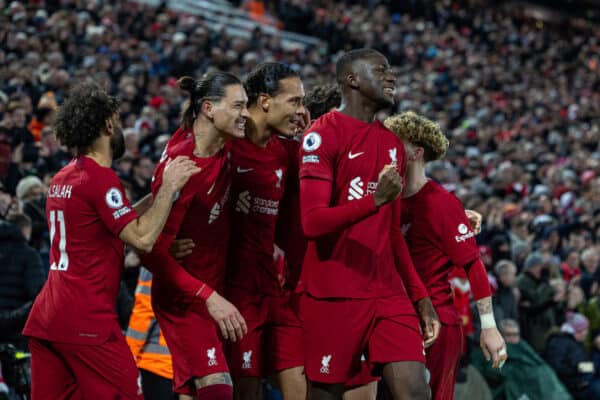 In both of the defensive phases of play, we see Liverpool's deepest midfielders supporting the back line.
This created certainty in the defensive block, allowing fluidity and rotations in attack.
This led to a clean sheet, six goals from the front three, an assist for Elliott and substitute forward Firmino scoring off the bench.
A particularly good day at the office for Klopp – now on to the next one.