With Liverpool's ticket allocation cut for the trip to Man City, supporters' group Spirit of Shankly have pointed to "poor crowd management."
A report from the Mail's Mike Keegan earlier this month revealed that Man City had been advised to reduce their away allocation for the Liverpool game on April 1 by 20 percent.
Keegan claimed that this would see Liverpool receive around 2,400 seats, which is significantly lower than the 3,028 allocated for the meeting in 2019 and the post-Covid quota of 2,880.
It comes, it is reported, following an intervention from the safety advisory group, following a number of incidents during games between Liverpool and Man City.
Spirit of Shankly have released a statement in response, describing the decision as "counter-productive" and accusing Man City of "poor crowd management."

The SOS statement reads:
"We acknowledge there have been issues involving both sets of supporters in recent seasons, but this course of action is counter-productive.

"At the corresponding fixture last season, Liverpool fans experienced overzealous stewarding and policing, and were locked in the ground after the match with no access to toilets.

"Such undue treatment of supporters serves only to increase tension, which SOS fed back to Greater Manchester Police at the time.

"Now, it appears, Liverpool supporters are to be penalised further.

"We understand reduced allocations at the Etihad have also happened to other clubs, which don't seem to be about away fan behaviour, but poor crowd management.

"We look for support from LFC and urge Manchester City and the relevant authorities to rethink and reverse their decision."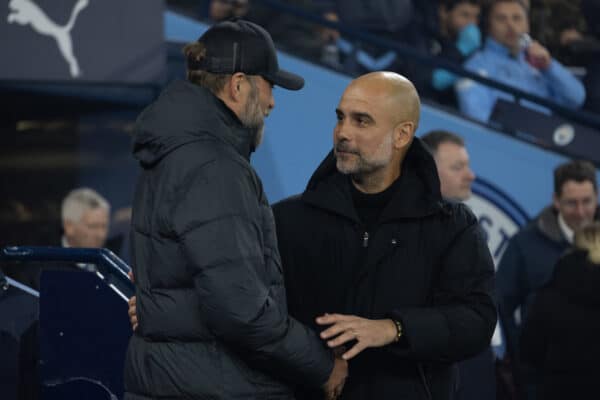 Reporting at the start of the month, Keegan explained that Man City had "declined to comment," though he stressed that "they have little option other than to abide by the recommendations of the safety advisory group."
Final ticket information for Man City vs. Liverpool is yet to be released, with the game set to take place in 10 days' time.
The two sides have already met three times this season, including a 1-0 win for the Reds at Anfield, after which Pep Guardiola apologised for Hillsborough chants and graffiti from Man City fans.