A bitterly disappointing 1-0 defeat has once again made Liverpool's chase for a top-four spot significantly tougher, and Trent Alexander-Arnold gave an honest assessment of the performance.
Liverpool failed to capitalise on the momentum of a 7-0 victory over Man United, dropping three points on the road against a team who were bottom of the table at kickoff.
Speaking to the club's official website, Alexander-Arnold described the display as "unacceptable," and, worryingly, claimed that Bournemouth showed more determination.
"This is the time of the season when everyone knows what they are fighting for and obviously Bournemouth are in a relegation battle, so they are fighting for survival," the No. 66 said.
"But every team in the league is fighting for something so it means a lot to get the three points and I think looking back on it now, they probably wanted it more than us and that is something that is unacceptable and we need to make sure this kind of thing doesn't happen again."
Something we've heard one too many times this season.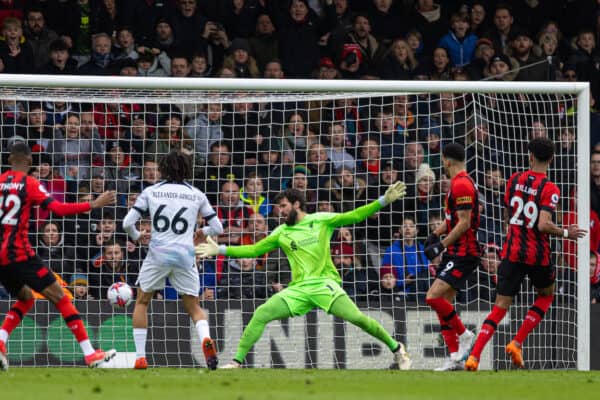 The defender was brought off by manager Jurgen Klopp shortly after the hour mark as part of a triple change, which also saw Darwin Nunez and Fabinho removed from proceedings.
With four days to prepare, the 24-year-old was asked about the next steps for Liverpool, and his thoughts on the side's chances in Madrid next week:
"I think there's only one more game before the internationals and it's a huge one for us.
"It's one that we need to go and do something special, so all our focus is solely on that Real Madrid game now and it means that we can put everything into that game knowing that we've got days afterwards to recover.
"It's about throwing the kitchen sink at it and going all out and I think that's what we're going to do – it's important to do that. Then we'll get ready for an important run-in."
The kitchen sink and then some!