Thiago is a player intent on controlling the tempo of a game, just don't expect him to put himself in a position to have to win a 30-metre dash – although he wishes he could win the race.
The 31-year-old is currently sidelined for Liverpool with a hip issue, one which Jurgen Klopp will hope resolves itself in a timely manner having seen Stefan Bajcetic ruled out for the season.
Thiago has been absent since the defeat at Wolves at the start of February, but before then had made 11 successive starting appearances.
He offers qualities Liverpool's other midfielders do not possess, but that does not mean the Spanish maestro is not "jealous" of a particular ability shared by some of his teammates.
"When you are into the game, when you are living the game, you just react. You cannot think too much, but running is not my thing," Thiago explained to Liverpool's 'Walk On' magazine.
"My thing is about making the team play slow or fast when we have to.
"For the best players in the world – and I don't have this – it is about trying to score 40 goals a season.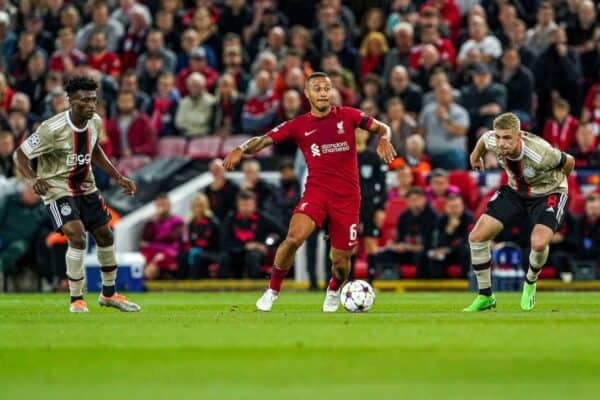 "I say to Darwin, I have never had the feeling in my life to shoot the ball 30 metres in front of me and say I will this race to get it. I feel jealous sometimes of that, for sure.
"But this is life, we always want what we don't have."
That raw pace is certainly something Darwin Nunez has in abundance, plus the chaos to match to create a sense of unpredictability for the opposition and, perhaps, sometimes even for himself.
But you have to say, that while Thiago may not be one to put himself in a position to make a 30-metre dash, he has traits that countless players around the world would be envious of.
Thiago's knack of finding the target with a no-look pass may be on that list, something we will see at least once while he is on the pitch.
"It is a way to trick the other guys [opponents] so I can get the ball to my teammates in a better positon," Liverpool's No. 6 detailed.
"You have to take a look before and if you see a body moving [in your peripheral vision] you can say, 'Okay, I will do this pass' because you've seen him, you know exactly where he is.
"Then for the no-look pass, you have to avoid putting your body or your eyes where you want the ball."