UEFA president Alexander Ceferin has publicly spoken about the events of last season's Champions League final for the first time since a damning independent report.
There's no other way to put it other than UEFA and French authorities put fans in danger and treated them with contempt in May of last year.
An independent review of the events found UEFA bears "primary responsibility" for the failures at the Stade de France, with the collective actions of Liverpool fans saving lives.
General Secretary Theodore Theodoridis apologised on UEFA's behalf and they have since confirmed a refund scheme for all Liverpool supporters who had tickets to the match.
Since the events in Paris, though, there has been no change to the UEFA hierarchy, with Ceferin instead running unopposed for a third term at the helm.
And in a discussion with Gary Neville on The Overlap, Ceferin said he "felt sorry" for what unfolded and yet still placed the blame on the French authorities, who were culpable, but it overlooked UEFA's responsibility at their showpiece event.
"I feel sorry for what happened and we will make sure that it doesn't happen again, that's the most important thing for me," Ceferin said, as quoted by the Times.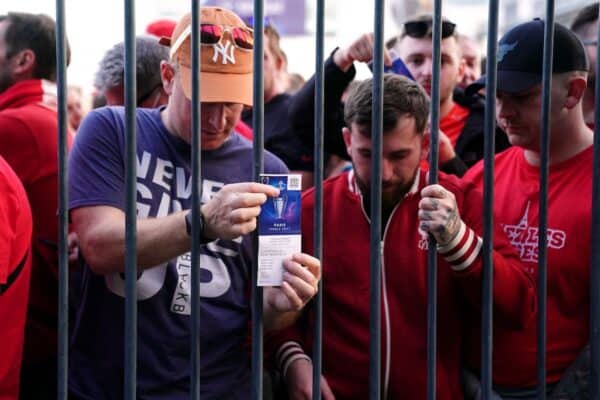 "When I went to the match, I had a meeting with the King of Spain and someone came and said there is a problem with some entrances with the fans.
"We didn't know how serious that was back then, because UEFA does not have jurisdiction outside the stadium. The French police did not communicate with us.
"Trust me, there is not a single person in UEFA who is not terribly sorry, and the main topic of conversation is how to make sure that it does not happen again. Thank God, nothing terrible happened.
"We have to have better communication with the local authorities because in London [at the Euro 2021 final], again, it was not UEFA who should protect outside the stadium, it was local police and, obviously, not very successfully.
"We are doing everything we can and we will not let it happen again."

There's no questioning the heavy-handed approach from French police was unacceptable, but Ceferin's words echoed the findings of the independent review, which stated: "UEFA has not recognised its own role… in the problems on the night."
As for the message displayed on the big screens inside the stadium which falsely looked to put the blame on the 'late arrival of fans', Ceferin said it was "a mistake from our side."
"It was hard to check what was right and what was wrong, we got some strange information," he claimed. "I really didn't know the scale of the thing that was happening."
At your showpiece event where fans are simply trying to watch their team play football, knowing the 'scale' of what was unfolding is the bare minimum.