The pursuit of Jude Bellingham is becoming a saga Liverpool are rarely involved in, but the Dortmund midfielder should be worth the change of tack.
He doesn't turn 20 until the end of June, by which point countless clubs across Europe will hope to have welcomed him into their squad.
But Bellingham, who already has 168 senior club appearances to his name – including 23 in the Champions League – along with 22 England caps, is widely regarded as the player to go all out for.
That is arguably no truer than with Liverpool, who find themselves in a seemingly impossible situation this summer as a rebuild awaits.
A variety of reliable sources, from Merseyside and beyond, have positioned Bellingham as Jurgen Klopp's priority target as at least three midfielders head for the door this summer.
However, a humiliating exit from the Champions League – at the hands of transfer rivals Real Madrid – has complicated matters.
Nothing has changed

It is no surprise, though, that a new claim on Liverpool's pursuit, with The Athletic's David Ornstein describing a deal as "increasingly unlikely," has coincided with an international break.
A well-connected journalist, Ornstein explained that there is a sense within the market that the Reds may find themselves at odds with the financial pull of Man City and Real Madrid.
In reality, though, the caveats are more important.
Nothing has changed. Liverpool were never set to be the highest bidders. As Ornstein puts it, "it does not mean their pursuit is off."
There is no major update, at least when it comes to the work Liverpool, Man City, Real Madrid and their peers across England, Spain, France and perhaps even Germany are putting in behind the scenes.
More so it served as a timely story at a point when those clubs are not in action; transfers are currency, not international football.

That is not to say that Liverpool have not faced any speedbumps when it comes to signing their priority target, with the threat of a season without Champions League football a genuine one.
Bellingham has been painted as a young player who would prioritise the footballing project over any financial package – whoever he joins, of course, will be paying handsomely either way, both in terms of transfer fee and salary.
The perfect bit for both parties
Liverpool are undoubtedly a great fit for the Birmingham City graduate, and that has clearly been recognised within the halls of the AXA Training Centre.
Like Alisson and Virgil van Dijk before him, he would be a transformative signing.
By the end of the season – and before his 20th birthday – he will have played over 200 games of senior football for club and country. He may have lifted his first title.
His playing style reflects this experience, allowing him to preside over the midfield battle with the poise and prowess of a seasoned veteran.
But he also benefits from the fruits of youth: the energy, the drive, the ambition and the hunger to succeed.

Statistically, he dominates as a front-footed midfielder – in the elite percentile for progressive carries as well as passes made and received among his positional peers across Europe – while also contributing effectively out of possession.
While they were both still at Liverpool, Brendan Rodgers once described Bellingham's Dortmund team-mate Emre Can as being "like a Rolls Royce."
That more so applies to Bellingham.
At 19, he is a midfielder who can be built around for the next decade and then some; a future England captain who could, if he were signed, take up the same role with Liverpool.
Off the pitch, he is a marketer's dream. The poster boy for England's next generation.
This only puts Dortmund in a stronger position when it comes to advances for their No. 22, who is contracted to 2025 with no release clause in his deal.

The transfer fee is expected to exceed £100 million, while a multi-year contract would almost certainly earn him £200,000 a week at any club he was to join.
He would comfortably break Liverpool's existing transfer record – the £85 million committed to bring Darwin Nunez from Benfica last summer – while he would be among the club's highest earners.
The prospect of a "bidding war" could be the sticking point for those in the hierarchy, particularly at a stage in which there is no known succession plan for outgoing sporting director Julian Ward.
Liverpool have not shied away from agreeing eye-watering deals, as those for Van Dijk, Nunez, Alisson and Naby Keita prove, though those have only come when it was determined that they wanted Anfield above all else.
That same scenario led to the collapse of a transfer for Aurelien Tchouameni last summer – a player who was feted as a partner for, rather than an alternative to, Bellingham, but one who decided on the sunnier climes of Real Madrid instead.
Unless there has been a dramatic shift when it comes to Bellingham's priorities, there is no cause to believe that this would be the main issue.
Information only when it's wanted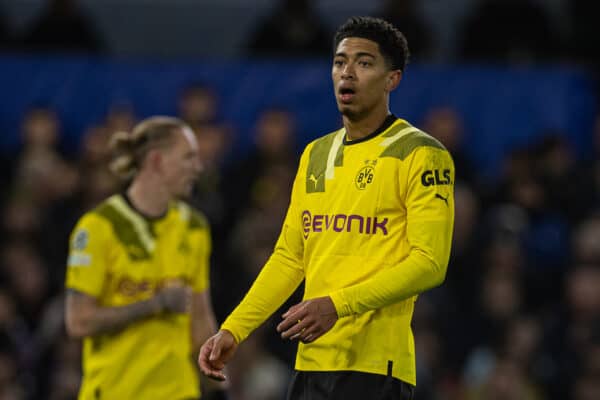 More often than not, even the most highly regarded sources – such as Ornstein – will only receive information those closest to any deal want them to report.
From a hypothetical point of view, if Bellingham has already been convinced Anfield is his next home, reports of the Reds not being able to match the financial offers of Man City and Real Madrid may instead be a case of brinkmanship between Liverpool and Dortmund.
If the player has decided it is Merseyside or bust, and Liverpool are willing to break their transfer record to sign him, a compromise may need to be found by the Bundesliga leaders.
That may, of course, seem more wishful thinking than anything.
Liverpool do still need to gather the funds for a potential £100 million-plus deal, and a failure to qualify for next season's Champions League could see the club miss out on a payday in the high eight figures.
There is also the need to strengthen beyond only Bellingham, with at least two more midfield signings required as well as possible reinforcement at centre-back.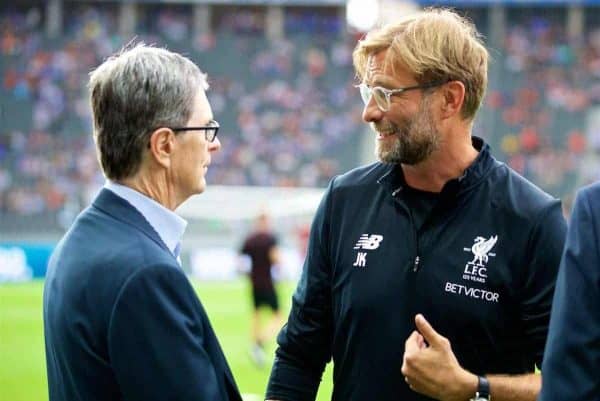 Funds will be freed up by the departures of major earners such as Roberto Firmino, Naby Keita and Alex Oxlade-Chamberlain, as well as loanee Arthur and, potentially, both James Milner and Adrian.
The likes of Nat Phillips, Caoimhin Kelleher and Sepp van den Berg could be sold, too, though claims of interest in Diogo Jota are unlikely to result in a sale.
But it is no coincidence that Fenway Sports Group are seeking external investment now as, despite the club posting record revenues of £594 million in the last tax year, their pre-tax profit stood at just £7.5 million.
"We've seen many football clubs go down unsustainable paths," owner John Henry explained recently.
"We have and will continue to focus our attention on investing wisely in the transfer market and we remain incredibly proud of our squad."

The hope is that a resolution will be found by the summer, though any boost to the coffers could decide whether or not Bellingham lines up in red next season.
At this point, though, little seems to have really changed in a transfer saga that will dominate the months to come.
Bellingham is still, deservedly, the priority target, and one worth breaking the bank for provided financial targets are met.