Liverpool took the lead but were ultimately thrashed by Man City as the Reds' top-four hopes took another hit.
Man City 4-1 Liverpool
Premier League (28), Etihad
April 1, 2023
Goals: Alvarez 28′, De Bruyne 46′, Gundogan 53′, Grealish 74′; Salah 17′
---
Klopp's tactical tweak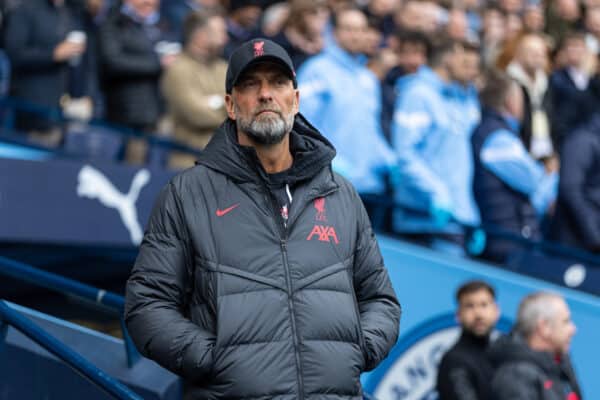 Often against Man City, the boss has opted for surprise selections and a change of shape. This time it was just one of those.
In possession, the Reds looked much the same as usual, given fluidity and movement in attack, but out of possession it was a very rigid 4-4-2.
That meant Diogo Jota reprised the role he has had several times before against this opponent: wide midfield effectively, doubling up with Andy Robertson on the left but a key player on the counter.
Harvey Elliott did the same on the right and Mo Salah was allowed to stay high and central alongside nominal centre-forward Cody Gakpo.
In theory, it gave the Reds both an outlet and a solid base to frustrate City.
It worked, more or less – for 45 minutes.
---
The narks and niggles

Hendo and Akanji. Trent and Grealish. Fab and everyone.
It's not always a side of Liverpool we see and while it's respectful and sporting, there are times you actually want the Reds to have a bit more bite about them.
That was certainly on show at the Etihad, with some flare-ups between individuals in the first half and more than once bigger groups coming together.
The biggest point of contention came when Rodri made two fouls of the same nature two minutes apart: he was booked for hauling down Jota on the break, but didn't get a second yellow for an exact replica on Gakpo moments after.
Several Liverpool players protested that non-decision, which is a real rarity but is certainly – at least with the captain making the point, if not larger numbers – something which we should be making the referee note or take action on.
In truth there was absolutely nothing bad, vicious or even aggressive which went on in this game, it was far more a case of looking for every single advantage possible.
And in the position Liverpool are in this season, why shouldn't they?
---
Defensive deficiencies

Firstly, we'll quickly point out the offensive positive: Liverpool scored for the first time since hammering Man United. So that was nice.
But defensively, despite a good shape and plenty of work rate in the first half, there were again individuals who were well off the pace, then the team structure broke down entirely after the restart.
For City's equaliser, a series of three missed challenges led to the goal: Robertson lost the vital first to open up the pitch, Van Dijk stepped out and lost his – and left the crucial space centrally – and Henderson lost his, before not getting back into cover mode quickly enough to mark Julian Alvarez.
Add in Trent Alexander-Arnold and Ibrahima Konate not being able to stop the pass and cross, and the Reds were ripped apart.
As for the second, we might as well not have come back out after half-time.
How Kevin De Bruyne was left alone, centrally, 40 yards from goal, to just stroll through and score was ridiculous.
Alisson isn't exempt here, either, but the defence was again torrid.
City are the best attacking team in the country, so chances against the Reds were to be expected, but there was just never a time after taking the lead when a clean sheet looked on the cards.
---
Individually inept

Time for the real low points, then.
Jordan Henderson was perhaps the worst player on the pitch first half, but the captain is spared being the biggest fall-guy for the match as a whole on account of two defensive team-mates.
Alexander-Arnold put in perhaps the most pathetic and disinterested showing the Premier League has seen this season, starting with losing his head in a series of battles against Jack Grealish – clipping his head with a boot, then fouling him on purpose – and ended with the right-back not bothering to track the same player in the slightest for the fourth goal of the day.
Grealish absolutely battered him one-on-one all game, set up one goal and scored the last, playing past Trent, running off him and scoring.
Our No. 66 didn't bother with the effort needed to track the eight-yard run.
He was the worst, but not the only underperformer, to put it kindly. Van Dijk had a shocker. Robertson was bad, Gakpo anonymous and the aforementioned Henderson exceptionally poor and overrun, first half in particular.
Another game, another week, another example of the scale of regeneration needed this summer.
---
Just the start of a massive week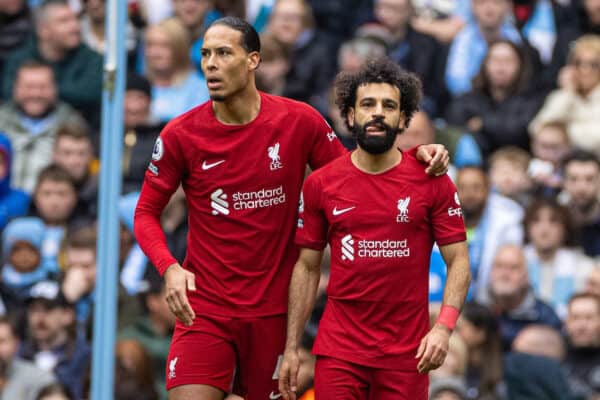 To finish on a potential positive, it can only get better from here…right?
Next up after this thrashing is Chelsea in midweek, then league leaders Arsenal.
They sound horribly tough matches and no doubt will be, but the Blues have been as bad as the Reds this season and we usually have the Gunners' number at Anfield.
Title pressure does strange things to teams, too.
As such, there's no imminent need for total despair and giving up on the top four if you hadn't already done so before kickoff against City.
Three massive matches were never going to yield nine points to this team this season, but six from nine would likely take us a step closer to the top four than we were before the international break.
So take the defeat, take out the dismal performers, and go again in midweek – this time preferably without collapsing in boneless fashion after taking the lead.