Jurgen Klopp praised Curtis Jones and divulged that he had talks with John Henry after his side picked up their third successive win with a 2-1 victory away at West Ham.
Here are the 5 key points from the manager as he reflected on the performance…
Liverpool "stayed calm"

The manager was delighted with his team's performance, including their reaction to adversity in going 1-0 down just 12 minutes into the game.
He praised his team's character and the way in which they controlled the game en route to three more vital points.
"We stayed calm, kept playing, scored our screamer as well and controlled the game," Klopp explained. "I'm not 100 per cent sure but it felt like around 80 per cent possession."
Handball controversy
Klopp was asked for his thoughts on the referee's decision not to award West Ham a penalty for a late handball by Thiago in the area.
David Moyes was visibly frustrated that his side were not given a penalty in the dying minutes, but the Liverpool boss took a balanced stance regarding the incident.
He told reporters: "I heard now about the handball. I thought he just fell on the ball but I can see why Moyesie would think different."
Jones continues to shine
Klopp hailed Curtis Jones' contribution to the side as he recorded his fifth consecutive start for the Reds.
The boss explained that Liverpool had to deal "super carefully" with Jones given his injury issues but insisted that "he is doing really well" as he becomes increasingly involved in starting lineups.

Defending key to improved form
Klopp was quick to cite defending as the key reason for his side's improved results in recent weeks.
"We defend completely different," was his description of events, adding that the "readiness to defend" was a major factor in Liverpool's progress.
West Ham did carve out a number of clear chances, but Klopp was satisfied with the overall manner in which his entire team restricted the hosts.
On "talks" with John W. Henry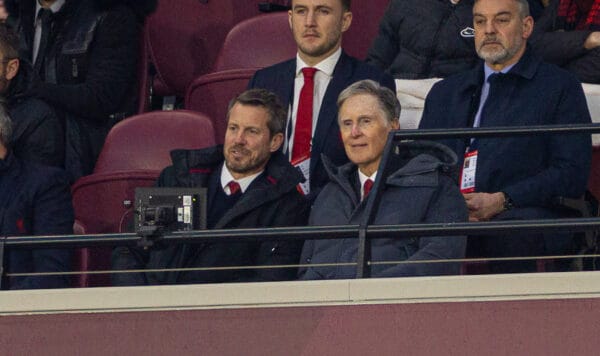 Liverpool's principal owner John W. Henry was present for the Reds' victory at the London Stadium, naturally prompting questions about potential conversations with the manager during his visit.
Klopp confirmed that he was aware that Henry would be attending the clash and revealed that they had held "talks" together prior to the game.
"He was last night in the hotel we had already talks," Klopp divulged before continuing to say "I knew that he would come, yeah."