With Liverpool's top-four hopes hanging by a thread, Jurgen Klopp has insisted that he's not thinking about where his team will finish.
The Reds are 10 points off the pace in the race for Champions League qualification.
Midweek victories for Newcastle, Man United and Brighton have left Liverpool more likely to qualify for the Europa League or Europa Conference League than Europe's premier competition.
Some supporters would prefer to stay out of European football altogether if the Reds aren't playing in the Champions League.
While next season is on the minds of Liverpool fans, Klopp has insisted he is taking things one game at a time.
During his extended press conference on Friday, the manager was asked if he could see a benefit from missing out on Europe entirely, to which he laughed.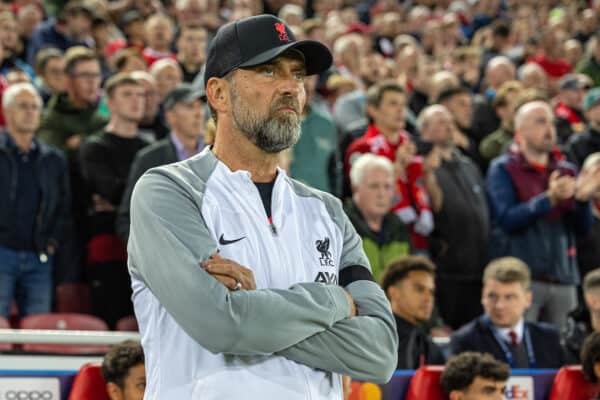 He said: "We cannot care about top six, top four or whatever. We have to care about the next game.
"We have to win a game, win another one, win another and we are capable of doing that."
With a click of his fingers, Klopp added: "When we find a way to bring our best performance on the pitch again, in that moment, we can change.
"[Quality] is still hidden somewhere there, but we have to let it out again."
After Arsenal's visit to Anfield on Sunday, Liverpool have just one more 'big six' rival to play, the Gunners' neighbours Tottenham.

Even though Liverpool's fixture list is kinder than their rivals', it is unlikely they will achieve their target of Champions League qualification.
Klopp explained how the Reds can bounce back, saying "I think this club has a chance to go through this in a classy way."
"I couldn't care less what we did in the past, honestly," he continued.
"We can't ignore the past as well, I don't want to forget it.
"If we go through this together, we can have a massive benefit. It's not guaranteed but it's a good chance."