Jurgen Klopp is "caught in between" whether to be happy or not after Liverpool came from behind to secure a point against Arsenal, but it could have been more.
It was a wild game at Anfield on Sunday, with Liverpool all too easy to slice through early in the first half to leave many anticipating another day to forget.
Instead, the Reds responded after conceding two quickfire goals thanks to Mohamed Salah and Roberto Firmino, but there were chances aplenty to win the match.
It left Klopp, and no doubt many others, wondering 'what if', but the manager was pleased to see the reaction that came from his side.
"A bit typical for us this season," Klopp said of the match to Sky Sports. "An open game, completely open, they score with the first situation and then not too long they scored the second one.
"Then our reaction was good. It was a spectacular game in the end. How we didn't win it, I don't know, with the chances we had.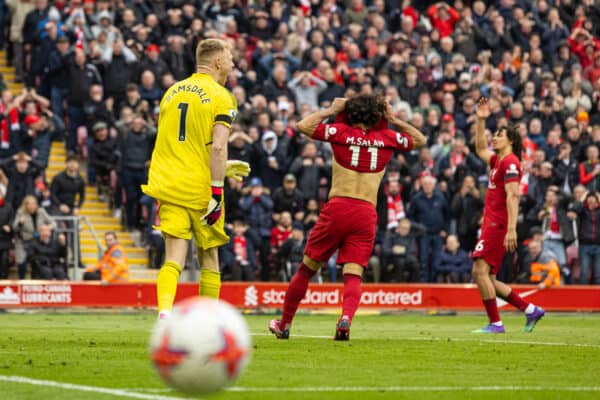 "I'm caught in between [being happy and not]. I have no problem with drawing. Arsenal were good but I think they would agree they could have and should have lost this game.
"We had moments, chances and situations where we didn't finish the situations off. Slightly typical. They're flying so they score with their first chance.
"The goal we scored helped massively. At half-time we know it wasn't over, didn't really start for us, [so] we can put an extra shift in.
"It was a sensational atmosphere. A good moment to get the equaliser was [Salah's missed pen], better than the actual equaliser.
FiveThirtyEight's xG database contains over 34,800 matches. There are only 66 examples of a team having a higher xG than Liverpool had today. pic.twitter.com/8fPWj0GFKr

— Andrew Beasley (@BassTunedToRed) April 9, 2023
"If Ibou [Konate] uses his head [for a late chance] and under the crossbar, it's a goal. Maybe he slipped. He had a chance, but he [Ramsdale] was just there.
"It's the next step, definitely."
It was "just there," agonisingly so. Credit must be paid to Aaron Ramsdale, though, who pulled out a number of top saves to deny Liverpool time after time.
It was there for the taking for Liverpool and that is more than we could say for other matches when the Reds have conceded first (now 19 times this season).
The show of fight and intensity now has to be the minimum, and improved finishing would not hurt as Liverpool move into the final nine games of the campaign.