Jurgen Klopp believes that four of his players produced "OK" performances at Man City, speculating that individual issues elsewhere caused the loss.
It seems a stretch to suggest more than a third of the team were in reasonable form on Saturday, as Liverpool lost 4-1 at the Etihad.
But in his post-match press conference, Klopp singled out four players who he felt were at least "OK" in their roles, including two who were widely criticised by supporters.
"If you look at the game, I think we had around about four performances which were OK," he told reporters.
"The two midfielders, Hendo and Fab, worked a lot, tried to close gaps, Cody, especially in possession, and Ali of course.
"Then that's obviously very difficult.
"If you want to get something from here, then 11 players – 14, 15 players – have to be on the top of their game. That was not the case again."
The manager omitted his entire defence of Trent Alexander-Arnold, Virgil van Dijk, Ibrahima Konate and Andy Robertson, as well as Harvey Elliott, Diogo Jota and goalscorer Mohamed Salah, from his muted praise.
In truth, none of them performed to the standard required, with their second-half collapse beginning with a goal for Kevin De Bruyne within a minute.
Julian Alvarez cut through the Liverpool defence with a pass under little pressure, with Riyad Mahrez allowed to feed De Bruyne for a tap-in.
"I don't really know 100 percent if the team started like this or the players started like that or whatever," Klopp said of the goal.
"I have no clue why we didn't have the challenge there, when the ball is open, no foul or anything, just no challenge.
"It's really difficult to understand."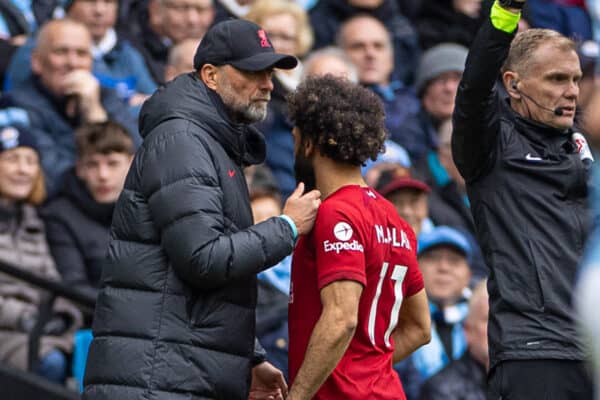 The manager was criticised for his lack of urgency in changing the game from the bench, with 70 minutes on the clock and a scoreline of 3-1 before his quadruple substitution.
Darwin Nunez, Kostas Tsimikas, Roberto Firmino and Alex Oxlade-Chamberlain came on for Salah, Robertson, Jota and Elliott, but they made little difference.
Klopp was asked whether he had hoped for more from his substitutes, having seen Oxlade-Chamberlain jog back slowly as Jack Grealish made it 4-1 minutes after, but he insisted he "didn't think they were the problem."
"It's super difficult coming on in a game like this," he replied.
"We are in a situation all together, I don't want to take them out of the situation, but I don't think they were the problem now today.
"They didn't change the game, that's true, but that's it."
Of course, the problem was more Klopp's inactivity, rather than the inability of Nunez, Firmino and Co. of completely changing the momentum at 3-1 down.