Jurgen Klopp has revealed his plans for Conor Bradley, saying he is "our player" and is "watching him closely."
Bradley has made a big impact while on loan at Bolton.
The young right-back played a key part in Wanderers' EFL Trophy triumph at Wembley and is now helping his side push for promotion from League One.
At Bolton, he slotted straight in and has started all but four league games for manager Ian Evatt's side.
This season he has scored seven goals, made six assists and has proved himself in the professional game.
His impressive form hasn't gone unnoticed, with Klopp saying that Liverpool "are watching really closely what he's doing," noting that the teenager ought to be a contender for Bolton's Player of the Season.
The German sang his praises and added: "He's our boy which I like a lot.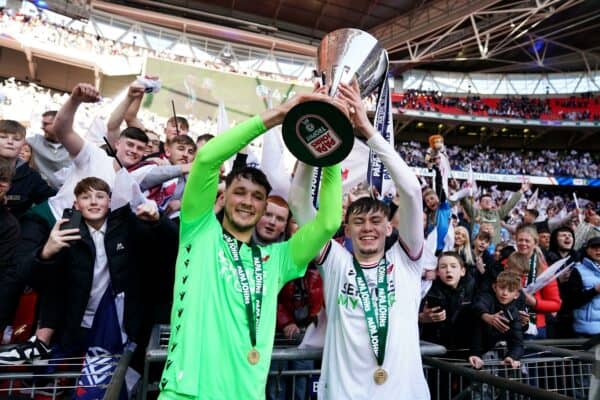 "He has a super mentality which is extremely helpful and all the rest will come, we are all pretty sure about that.
"It's a super positive moment for him. Everybody speaks positively about him."
Bradley has clearly made a mark on the manager, with Klopp saying that his "plans are, at the moment, to bring him back and keep him."
The boss also added that he will "go with the pre-season and then enjoy the steps he made.
"Then we will make decide together what we'll be doing from that moment on."
Communication is key with youngsters out on loan, and Klopp revealed one of Pep Lijnders' interesting methods to stay in touch.
"We are in constant contact. Pep Lijnders set up a WhatsApp group with all our loan players," explained Klopp.
The Reds currently have 12 players out on loan, Tyler Morton a recent departee after a season-ending injury, but few are as promising as Bradley.
The full-back even represents Northern Ireland at senior level, something Klopp was clearly impressed with.
"I think it's a confidence boost when you are invited and are playing for your country, it's great, but it's not that often," Klopp continued.
"I think it gives you a better feeling about yourself."
Bradley has 12 caps for Northern Ireland at just 19 years old. He made his debut in 2021 when the manager, Ian Baraclough, brought him on against Malta in a 3-0 win.