Liverpool are said to have stepped up their pursuit of Bayern Munich midfielder Ryan Gravenberch, with a cut-price deal on the cards after talks with his agent.
Gravenberch has emerged as a genuine target for the Reds ahead of the summer transfer window, having pulled out of the running for Jude Bellingham.
That is according to a reliable source in the Times' Jonathan Northcroft, who reports that a club representative held talks with the 20-year-old's agent on Tuesday.
News of Liverpool's decision over Bellingham broke around the same time, though it is maintained that Liverpool "were tracking Gravenberch long before."
In fact, the Dutchman was identified as a target prior to his switch from Ajax to Bayern last summer, and his peripheral role in Munich has seen him become a possibility again.
Gravenberch has been forced to "consider his future" having played only 711 minutes in 27 games with the German club, starting just four times.
He is said to "figure prominently" on Liverpool's list for a midfield revamp, and would be available for around £25 million.
That would, of course, be a fraction of the price quoted for Bellingham, who is valued at over £130 million by Dortmund, and would allow the club to spread their budget over multiple midfielders.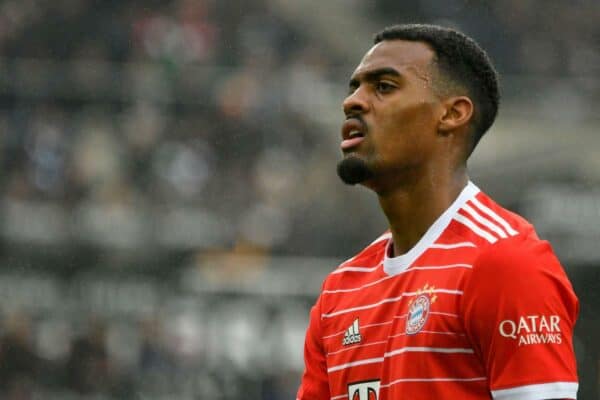 Though Northcroft does not claim that a transfer is close, it is often now when reports such as this break that this is the case.
When it emerged that Liverpool were pursuing a mid-season deal for Gravenberch's compatriot Cody Gakpo, for example, it was a matter of hours before an agreement was confirmed with PSV Eindhoven.
Whether an announcement will be made before the end of the season is unclear, however, with the youngster still a part of Thomas Tuchel's squad at Bayern.
He came off the bench in Saturday evening's 1-1 draw with Hoffenheim – a game which Sadio Mane was suspended for after punching team-mate Leroy Sane in the face – but only featured for the final 10 minutes.
In the buildup to the game, Tuchel insisted that Gravenberch "is a candidate for a starting place," though that is seemingly not the case.
Northcroft's report is yet to be corroborated by any of the Merseyside press, but that should come in due course.