Liverpool are in no position to ask favours of others if they themselves cannot get over the line, but if the two come together then anything is possible.
For a game in which Liverpool owned the ball for the vast majority of proceedings, they still insisted upon indulging in making heavy weather out of getting the three points over the finish line.
Fragile beggars can't be choosers though, and a win is very much a win.
As reality and fear kick in, 'relegation-haunted' teams can pull off superhuman feats at what is usually the silliest time of the footballing year.
Less than 24 hours after Southampton went to the Emirates to take part in a wild 3-3 draw, on an evening when the team that is propping up the Premier League reached the 88th minute in possession of a 3-1 lead against the team at the top of the table, it was the turn of Steve Cooper and his players to ruffle feathers at Anfield.
When Brennan Johnson clipped Alisson's crossbar late on in this one it was an entirely fitting near-end to the type of mad second half which hadn't seemed plausible after a largely pedestrian first half.
The question has to be asked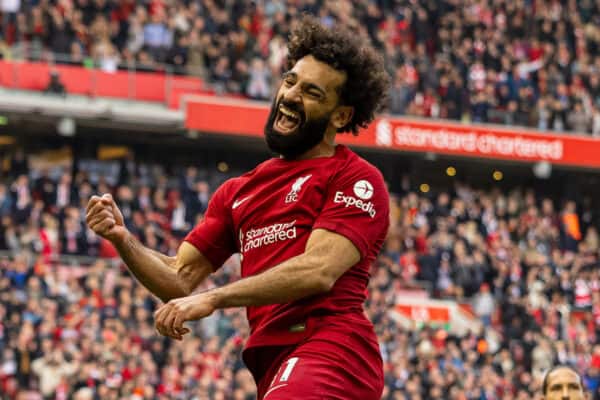 On Wednesday night, there is every chance that David Moyes' 'relegation=haunted' West Ham will offer us more of the same, I'd suggest providing us with more headaches than Tottenham will next Sunday.
Up to seventh position and – at least temporarily – just six points adrift of the fourth-placed team suddenly sounds a bit of a healthier outlook than the one we were faced with a week or so ago.
But the task ahead of us, to smuggle ourselves into the top four, is still an extreme one.
Liverpool's hopes rest not only on them conquering their own inconsistencies and flaws, but also on the need for other stars to align themselves on pitches we won't be taking to ourselves.
We could win all our remaining seven Premier League fixtures, but other dominos will need to fall elsewhere too if we are to qualify for next season's Champions League.

That said, we will be a concerning sight in the rear-view mirrors of Newcastle and Tottenham's bandwagons, perhaps more the latter after a humiliating defeat at St James' Park.
A goalless first half and a five-goal thriller in the second, on Saturday it was Liverpool's set pieces that narrowly outnumbered their goals conceded via unforced errors.
It was a day which saw Trent Alexander-Arnold and Diogo Jota as the standout contributors, although it was Mohamed Salah who popped up as the heroic match-winner.
Tweaking the system

Alexander-Arnold is playing like a man liberated from the weight of defensive duty, and a sizeable nod must go to Andy Robertson in making this possible, the knock-on effect being that the Scotland captain is at times required to play as the left-sided element of a three-man central defensive unit.
This new tweak to the Liverpool system is likely to be as close as we will ever get to Jurgen Klopp fielding a genuine 3-5-2 formation, a system he has always seemed to have an aversion to given that it is as inherently a traditional German footballing shape – as 4-4-2 is defiantly British in multi-generational terms.
As a manager, Klopp led a revolution in German football thinking, bringing new ideas to a table that was stringently set to a pattern of 3-5-2. The Liverpool of the last five years or so is rooted in the fallout of the partial demise of the German national team from the late-1990s to the mid-noughties.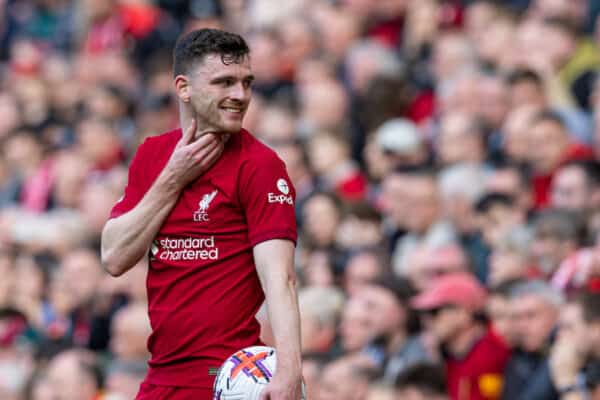 Klopp began his managerial career just under six months before Sven-Goran Eriksson's England dismantled Rudi Voller's Germany in Munich during that infamous 2001 World Cup qualifier, which ended in a 5-1 defeat for the hosts, yet he had already recognised that the winds of change were blowing.
At the 1998 World Cup, Germany had been picked apart by Croatia in the quarter-finals, while even within winning the 1996 European Championship they had been branded as one of the worst German vintages ever.
Denmark had delivered the first blow to Germany's esteemed 3-5-2 mantra at the 1992 European Championship finals, with Bulgaria unseating them in the 1994 World Cup quarter-finals. Klopp was in his mid-20s when this unravelling of the German national team had begun.

In a way, Klopp's own stubbornness in prevailing with his 4-3-3, even within the glare of a run of poor results was a mirror image of German football's reluctance to relinquish the 3-5-2 that had served them so well for so long. Yet, the ball, like the world, constantly turns and fashions return, at least in an upcycled kind of way.
Currently, Klopp is reinventing his wheel, and using a little bit of what he viewed 20 years ago to be outmoded. Back then, out went the sweeper while in came the defensive midfielder, along with the birth of 'the hole'.
We all scratch our heads at the regression of Fabinho, yet if Alexander-Arnold's new role is here to stay then should a new orthodox right-back be recruited, feasibly the concept of 'the hole' vanishes in the future.
On Saturday, Fabinho, Jordan Henderson, and Curtis Jones floated through the game virtually unnoticed, nobody able to figure out if they played badly or with subtlety. The Alexander-Arnold 2.0 has the potential to push certain midfield roles we've become accustomed to to the brink of extinction.

Further up the pitch, Jota has found his mojo at the perfect moment. General footballing consensus has it that it takes half a dozen games for a player to get up to matchday speed when returning from a lengthy lay-off. He will be crucial to Liverpool's run-in.
To east London we go next. Aim to pick off results one at a time and keep an eye out for favours from elsewhere.
If we can procure another win on Wednesday evening, maybe the 'relegation-haunted' Everton can do us one on Thursday night. It is the superhuman feats section of the season after all.