Liverpool gave us what we all needed, six goals to celebrate and three points in the bank and fans want to see the continuation of Trent Alexander-Arnold's new role.
Liverpool have been desperate for a win and a team in the bottom half of the table had not proved fruitful for that throughout the season. Until now.
Two goals in the space of four minutes turned the game on its head for Liverpool, with Cody Gakpo and Mo Salah handing the Reds a rare half-time lead.
Ibrahima Konate's mistake gifted Leeds a way back into the clash, only for Diogo Jota to end his 373-day wait for a goal to make it 3-1.
Salah and Jota both scored their second before Darwin Nunez got in on the action to wrap up the result, ensuring the cumbersome start to the match was not an indicator of yet another goalless away match.
Far from it. And there were plenty of positives, including Luis Diaz's return to action and Alexander-Arnold's role.
Trent keeps the Reds ticking…

Alexander-Arnold's inverted full-back role continued at Leeds with great effect, and it did not go unnoticed:
Trent is having a laugh.

— Leanne Prescott (@_lfcleanne) April 17, 2023
Trent is a three star Michelin chef but tweeps want him to do the dishes.

Get the yard dogs in & let him run the games.

— noc (@nocturnalibpool) April 17, 2023
Hmm, Trent in this role might be worth building the system around going forward you know.

— Joel Rabinowitz (@joel_archie) April 17, 2023
Trent that is beautiful. Think he's found his new role ?

— Zac Bell (@ZacLBell) April 17, 2023
Trent Alexander Arnold's touch map vs Leeds pic.twitter.com/l0c5FZg4my

— Rory Fitzgerald (@RoryFitz9) April 17, 2023
Post match:
Three Leeds managers now, none of them can stop them conceding goals, shocking defenders.

Trent sensational in his new hybrid role! #LEELIV #MNF

— Jamie Carragher (@Carra23) April 17, 2023
Trent Alexander-Arnold playmaking masterclass ?#LEELIV

— Henry Winter (@henrywinter) April 17, 2023
The kind of bonkers innovation we are seeing with Trent's new role is exactly what Klopp is a genius at. Great to see him creating a role that has most likely never existed before! #LFC.

— Si Steers (@sisteers) April 17, 2023
Two assists for Trent in that new role, he looks like he's got all of his confidence back. Up the fucking Reds. ?

— Mick Moran (@Mick_Moran_) April 17, 2023
I think Trent has been really good in the double pivot. In possession.

— Red (@TaintlessRed) April 17, 2023
Liking the look of the 3-2-5 shape, seems to get Liverpool's two most dangerous players on the ball more than ever.

— Josh Williams (@DistanceCovered) April 17, 2023
Trent, the inverted right back tonight:
– Most pass attempts
– Highest attacking threat
– Most successful progressive passes
– Most successful passes inro final 1/3
– Most ball recoveries
Play him inverted forever #LFC pic.twitter.com/g8pWtkqlOZ

— Alfred (@CallmeAlfredo) April 17, 2023
124 successful passes from Trent Alexander-Arnold tonight – his most in one game ever for Liverpool. #LFC #LEELIV pic.twitter.com/ftpqNJKyj0

— Michael Reid (@michael_reid11) April 17, 2023
?? Trent Alexander-Arnold v Leeds:

? 2 assists
? 91% pass accuracy
? 153 touches
? 3 tackles
? 3 duels won
? 2 clearances
? 1 interception pic.twitter.com/7buFLxi5qW

— Sporting Life Football & Infogol (@InfogolApp) April 17, 2023
Was there a hint at Diaz's future role?

With the front three changed completely and Diaz making his return alongside Nunez and Roberto Firmino, the No. 23 settled on the right wing and some questioned if it was a hint from Klopp:
Very interesting to see Diaz on the right for Liverpool. Often thought he'd be good there and it'd let Salah play in field more.

— John O'Sullivan (@NotoriousJOS) April 17, 2023
Diaz playing on the right, we might have our Salah's replacement under our noses

— Alex ? (@AlexLFC27) April 17, 2023
We have so many that can play from the left. It would be nice if Diaz showed he can produce the same level on the right. Solves a problem.

— Taffin (@CalvLyfeson) April 17, 2023
Diaz on the right ?, Klopp what are you cooking

— BIG D4DY (@d4dyj) April 17, 2023
Gakpo was not without admirers…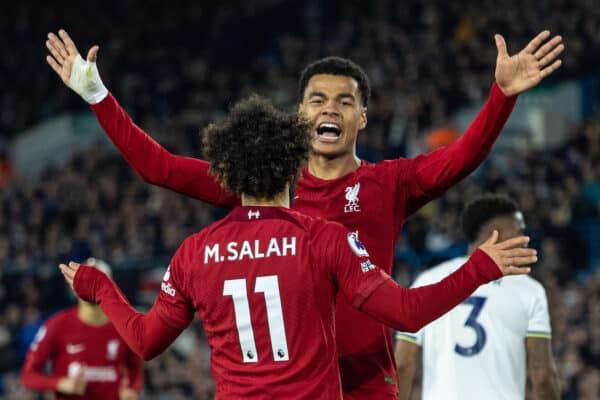 A goal and an assist for Gakpo, but his performance was more than just that as he continues to grow in a red shirt:
I love Cody Gakpo. Held his run brilliantly to get space behind the defence, perfect control when the ball came, knew exactly where he was on the pitch and then poked it perfectly through a tiny gap for Salah.

Would go as far as to say, Firmino-esque ?#LEELIV

— Harry McMullen (@mcmulhar) April 17, 2023
Love the thing Gakpo does where he receives the ball with his back to goal between opposition midfield and defence, spins away into space and takes out two or three players with a powerful driving run.

— Joel Rabinowitz (@joel_archie) April 17, 2023
Out of all our new attacking players Gakpo is the one that excites me the most. I think he has it all.

— Karl (@KarlThyer) April 17, 2023
We're in the mood now. Confidence is so brittle in this Liverpool side, but you can see the quality is still there.

Gakpo is the prime example, since the goal he's a different beast.

— Rory Greenfield (@RoryGreenfield) April 17, 2023
Cody Gakpo is such an intelligent footballer. Tidy, pacy, elegant. Think Liverpool have a special player on their hands if they can get back to the levels reached in the last few years.

— Beth Lindop (@beth_lindop) April 17, 2023
Can we talk about how unselfish Cody Gakpo was to provide Salah for a easier chance when he could have shot himself?

Learnt from the very best Bobby Firmino. ??

— Samuel (@SamueILFC) April 17, 2023
Cody Gakpo could be it you know… pic.twitter.com/3AiOT4RpKL

— The Redmen TV (@TheRedmenTV) April 17, 2023
---
That was a result we all needed, wasn't it?
Six goals, confidence boosted for a host of players and three important points in the bank. The same again against Nottingham Forest, please.