As Liverpool beat Nottingham Forest in a crazy game at Anfield, the media chose to focus on different aspects of the Reds' performance.
Liverpool's attack impressed and their defence, well, didn't.
Diogo Jota's brace and Mo Salah's winner were enough to see Liverpool across the line as they won a second game in succession.
Not everything was rosy, though, as the Reds moved up to seventh in the Premier League.
Here's how the media reacted to Liverpool's 3-2 win over Nottingham Forest.
Salah just doesn't stop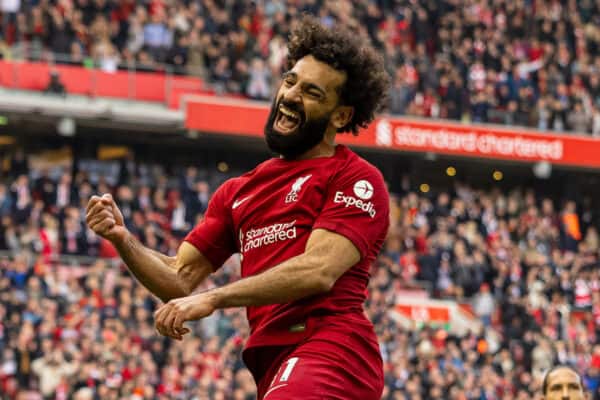 Neil Jones of GOAL sang Salah's praises as the Egyptian scored his 183rd goal for Liverpool:
"At Leeds he [Salah] became the Premier League's all-time leading scorer of left-footed goals, surpassing Fowler's record of 106, and here he moved level with the former Reds' No.9 as the sixth highest goalscorer in the club's history.

"Fowler was a magnificent centre-forward and a clinical finisher, but his 183 strikes came in 369 matches – Salah's have arrived in 298, and been accompanied by 69 assists and every major trophy possible. If that doesn't speak to his greatness, nothing will.

"Most importantly, for Salah and for Liverpool, his goal here delivered three precious points in their push for a top-four finish.

"The Reds were pretty ordinary for much of this contest, but in Salah they have a quite extraordinary goalscorer, one who has powered their charge for the last six years, and who is showing little sign of slowing down any time soon."
Meanwhile, Steve Bates wrote for the Mirror:
"The timing of Salah's winner in a topsy-turvy battle with Steve Cooper's brave Forest was the perfect response to Forest making it 2-2 minutes earlier.

"It was also sprinkled with the same stardust that's enabled him to draw level in sixth position with Anfield legend Robbie Fowler on 183 goals in the list of all time great Liverpool scorers.

"And the fact that Salah has done it in 71 fewer games than Fowler speaks volumes for the class and quality of the brilliant striker."
Jota at the double

Another two goals for Jota caught the eye of several journalists, Simon Stone for one. He wrote for BBC Sport:
"The second period could barely have been more exciting, with the previously out-of-touch Jota the star of the show.

"The Portugal forward has struggled for form since a bad injury in the autumn, putting a dent in his previously good scoring record. Indeed prior to last week's win at Leeds United, the former Wolverhampton Wanderers winger had not scored a club goal in more than a year.

"Now he has scored more than once in successive games for the first time in his Liverpool career. His opener was a poacher's effort as Jota advanced onto Fabinho's header across goal before applying a close-range finish.

"He then exploited some slack Forest defending, with the visitors allowing him time to bring down a looping free-kick and fire home with a neat finish."
Richard Jolly of the Independent was also very complimentary of the Portuguese's performances:
"His elusiveness in the box has long defined Jota at his best. His drought ended, he is starting to pop up unchecked. His sharpness was shown by his second: he ghosted in to meet Robertson's delivery and produced three sublime touches, with his chest, his knee and then a left-foot volley."
Chris Bascombe of the Telegraph pondered how Jota could fit into Jurgen Klopp's plans next season:
"A week ago, there were questions about where Jota will fit into Jurgen Klopp's Liverpool reboot when a full contingent of strikers are available.

"The assumption is Luis Diaz and Darwin Nunez will be the preferred options with Mohamed Salah by August. There are no such guarantees, Klopp arguing the era of a predictable Liverpool front three ended when Sadio Mane left and Roberto Firmino began his year-long farewell tour.

"Having promised the remainder of this campaign will be a taster session for next season, Klopp's faith in Jota is a signal of how ferocious the competition for a starting place in Liverpool's attacking trio is becoming.

"This has been an important week for the Portuguese striker. He has issued a timely and much needed reminder he is not at Anfield to be an understudy."
It wasn't plain sailing for Liverpool

Felix Keith of the Mirror reacted to a less-than-convincing defensive display from Liverpool:
"Forest's first goal will be watched back many, many times by Liverpool's analysis team. And they will rightly be furious with it, because it was completely avoidable.

"A throw-in close to the halfway line should not be resulting in a goal and the ease with which it happened is a good illustration of where the Reds' defence is at currently. The ball was held up easily from the throw-in, laid off to an onrushing midfielder and spread to Williams, who was in acres of space on the other side of the pitch."
Writing for This Is Anfield, James Nalton said:
"The goals Forest scored were not from clear-cut chances, far from it, but it felt typical of Liverpool's 2022/23 season that they went in anyway.

"The first was a speculative shot from Williams that hit Robertson and as a result evaded Alisson, even though he did get something on it.

"The second hit two players, Ibrahima Konate and Alexander-Arnold, before finding the back of the net, even though it was a well-hit volley from Morgan Gibbs-White.

"The xG on these shots, per Infogol, was 0.03 for Willams and 0.12 for Gibbs-White – and the biggest chance of the game for Forest was the Brennan Johnson effort that hit the bar."
Meanwhile, Jack Lusby of This Is Anfield had his say on Ibrahima Konate and Virgil Van Dijk's performances:
"He [Konate] a tough battle against sort-of former team-mate Taiwo Awoniyi, and he struggled to get to grips with the Nigerian, who was a handful throughout.

"Konate was better in possession than his centre-back partner, particularly with his direct passing to the left flank, but he will be relieved not to play such a physical presence every week.

"It was not Van Dijk's best game, as he marshalled a back line that was often all over the place – though it could be argued they are still getting to grips with this new setup.

"Like Alisson, he was a liability in possession at times, gifting Gibbs-White an opportunity early on, and thankfully Forest's two-goal fightback ultimately meant nothing."