A chastening result and a damning day at Eastlands, Saturday really was April Fool's Day for Liverpool.
Jurgen Klopp's team repeatedly walked on to damaging blow upon damaging blow, delivered by the velvet-gloved iron fist of Pep Guardiola's Man City.
An extended international break gave Klopp, his players and Liverpool's supporters plenty of time for introspection since those two back-to-back 1-0 defeats against Bournemouth and Real Madrid had unpicked the feelgood factor that had been engendered by putting seven past Man United.
All the while a looming and unforgiving set of fixtures – headed by a trip to face Guardiola's side – was an unavoidable date with a kill-or-cure situation, one that was always unlikely to offer much in the way of a magic wand being waved to our ills.
Mentally, physically and structurally vulnerable, Liverpool are hitting levels of peak dysfunction the types of which we haven't experienced since the endgame of the Brendan Rodgers era.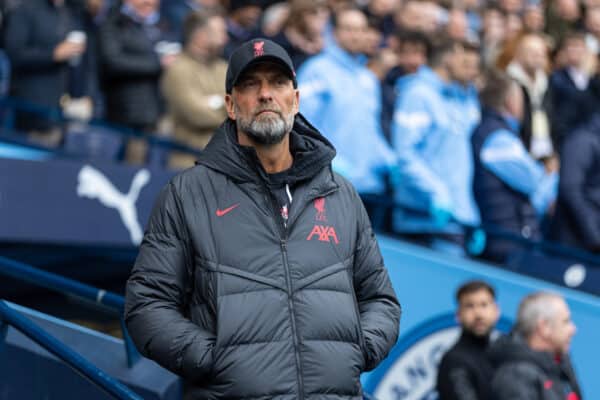 With each adverse result, the calls for some sort of change grow louder, and unless Klopp starts to implement that change then it won't be long before some factions of the Liverpool support begin to seriously demand change in the manager's office.
Lead taken against the run of play, Liverpool opened the scoring with a fine goal.
The ball flowed through Alisson, Fabinho, Trent Alexander-Arnold and Diogo Jota, before Mohamed Salah swept in the well-taken finish.
Ultimately no more than a goading mirage, this was a snapshot image of just how punishing we can still be when opponents press high against us.
The 2022/23 season has been just that, though: brief hints and snapshot images of what could be, but without the physical or mental drive to sustain it.
Liverpool remains a wounded entity, but one that doesn't seem able to, or perhaps even wants to, heal.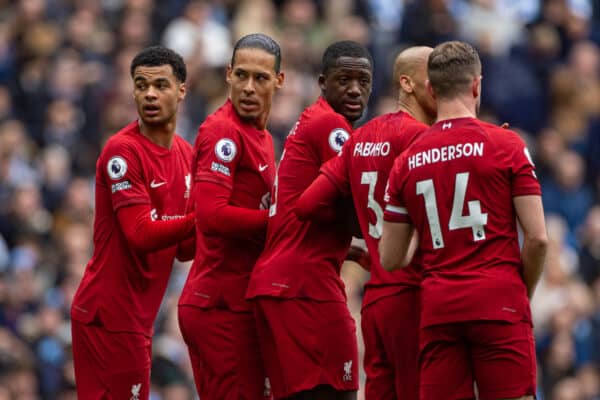 It's as if they aren't ready to deal with the pain that they are repressing from the final six days of last season.
Salah's goal in this one was his 23rd of the campaign, 11 fixtures remaining in which he can plough through the 30-goal barrier yet again.
It was a move that began and ended at the feet of our best two players this season, two of the other three contributions coming from two of our most criticised members of the team.
Yet another springboard presented to us. Despite the myriad of invitations we have been handed to take significant steps towards our minimum target of a top-four finish this season, we have passed on accepting most of them.
What we instead had was a faithful re-enactment by our hosts of what we used to do when unexpectedly conceding the opening goal of a game.
Shrug it off and destroy the opposition for having the temerity to take an unscripted lead. We were made an example of by a fine team, but one that was shorn of their best two players.

We were at the receiving end of a masterclass.
In the absence of Erling Haaland and Phil Foden it was the gifted man-child Jack Grealish who ran the show, on a day when we were even outwitted by a John Stones who stepped forward as if he were a peak Ronald Koeman at times.
Fresh thinking and innovative – yet retrospective – tactics to deal with plan A not being available to Guardiola, while we just rinsed and repeated.
I'm all for a way of football thinking that implores the opposition to worry about us rather than us worrying about them, but for that to work you have to be sure-footed in what you're doing.
We are not currently a team that is riding the crest of that sort of wave.
It's OK to be predictable when opposing teams cannot come up with the answers to the questions we pose, but not when you're handing Guardiola three weeks to formulate a plan to outwit road cones.
We walked into City's boxing ring with our guard down and they hit us with every combination.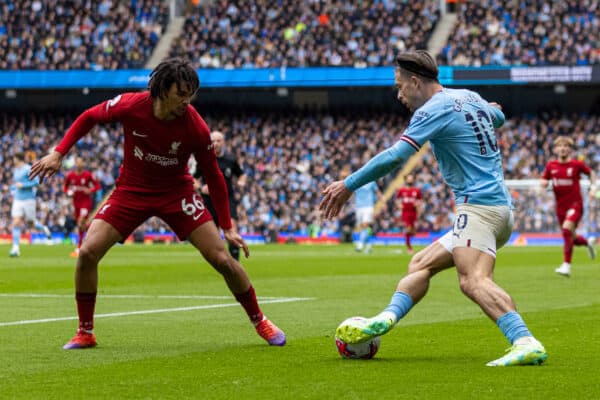 Pulled apart for the equaliser, Grealish is in an ocean of space on the left by the time the ball is rolled to him by Ilkay Gundogan.
A Liverpool right-back where our central defenders are meant to be, our central defenders 10 yards and lightyears behind play, Julian Alvarez was the man to deliver the punchline – this, not all that long after Grealish had tracked back to neutralise a break by Salah which would have resulted in a goal a year ago.
From here our most intense contribution to the game is to surround the referee in demand of a second yellow card for Rodri shortly before the interval.
Upon the resumption, we basically abdicate from proceedings.
Caught with the high line for the second at the very outset of the second half, we are ball-watching and ignoring the movement of the City players for the third and fourth.
Each goal is a crime against the basics from a Liverpool perspective, in what was yet another contender for the worse 45 minutes of football we have played this season.

Losing 4-1 to City is painful enough, but the biggest sting comes from just how self-destructive all of this is.
Nobody is quite as proficient in provoking the downfall of Liverpool FC as Liverpool FC are.
Klopp again has a lot to think about now, before facing an equally dysfunctional Chelsea at Stamford Bridge on Tuesday night.
That might just be the battle of who could care less.