Mohamed Salah's penalty future and Trent Alexander-Arnold's role change, Jurgen Klopp had plenty to discuss after the 2-2 draw against Arsenal.
Here are five key points from the manager's post-match press conference…
"How could we not win this game?"
A valid question from the manager after Liverpool dominated the second half, ending the match with 21 shots on goal and an xG of 3.96.
It means "it's another step in the right direction" for the Reds, but while three points were there for the taking "a point is okay," said Klopp.
Salah under review?
It is now two consecutive penalty misses from Salah, with neither finding the target. He has been the penalty taker since 2019 and now has a record of 24 conversions from 29 efforts.
But could responsibilities change? The question was posed to Klopp, who said: "That's something we will talk about, but not here."

Time to build on it
There are now eight days until the Reds play again, at Leeds, and for Klopp it is now a "real time to train and recover," which will be "super important" for both Thiago and Luis Diaz.
The Whites are in a relegation scrap and will be out to bound back from a 5-1 defeat to Crystal Palace, but Klopp insists "we have no excuse, we have to build on this."
Is right.
Robbo and the linesman
Away from the action on the pitch, a big flashpoint came when the linesman elbowed Andy Robertson at halftime.
It was an incident Klopp did not see for himself but "heard the pictures speak for themselves."
Refereeing body PGMOL is set to investigate – it will be intriguing to see what comes from it.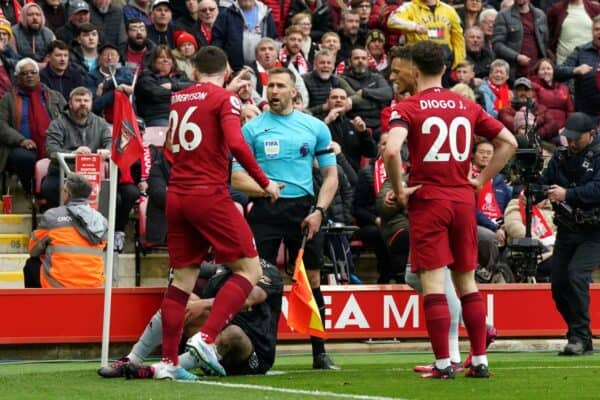 Trent as a double No. 6
Trent Alexander-Arnold found himself operating as part of a double No. 6 in midfield, a role that at times was hit and miss and Klopp conceded Liverpool "needed to get used to it" and that it was "a big step to do it against Arsenal."
"I thought he did well, it was not the first time but not for a while [did Trent play there]," Klopp explained. "That is why I am fine with how he executed it."