Liverpool's 0-0 draw away to Chelsea certainly won't go down as a classic, with the watching media doing well to stay awake during proceedings.
Jurgen Klopp's men were largely lifeless on Tuesday evening, and while a point was no disaster, the nature of the performance was again not good enough.
Chelsea missed a host of chances and deserved to win the game, and on this evidence, the Reds will get nowhere near a top-four finish.
Here's how the media assessed Liverpool's limp goalless draw.
It was simply not good enough by the Reds yet again…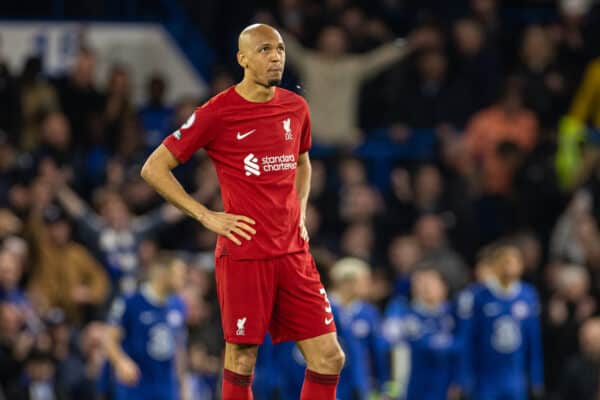 Phil McNulty of BBC Sport felt this was another struggle for Liverpool, in what has become a nightmare season:
"Liverpool manager Klopp will search for any crumbs of comfort amid their current struggles so at least he can say this draw ended a run of three successive defeats since that remarkable 7-0 thrashing of Manchester United at Anfield.

"He saw his much-changed side benefit from Chelsea's generosity in front of goal while posing little or no threat themselves as they continued to look light years away from the team that chased a historic quadruple last season, ending with the League Cup and FA Cup, both won on penalties against the Blues.

"Liverpool's only goal now is a top-four place and they are making life very difficult for themselves after the beating at Manchester City and now this draw that leaves them eighth, seven points off the top four.

"They face league leaders Arsenal at Anfield on Sunday and the urgency to get a victory is growing. They will, however, need to perform much better than they have at Etihad Stadium and Stamford Bridge."
This Is Anfield's Mark Delgado bemoaned another bleak outing by Liverpool:
"Jurgen and his not so wily men mustered one shot in the second half against Real, another one after the break against City and just the one here again following the break.

"This cannot be a taken as a criticism of the forwards either, despite the fact the starting trio were largely lifeless and ineffective, but as an overall reproach of the team set-up.

"Liverpool used to press high effectively; we don't now. We used to have fluid interplay between the front three; we don't.

"We used to have a set-piece threat; we don't. We used to have full-backs creating by deep crosses and short cut-backs – the starters completed one cross between them.

"Dismal, desperate, disastrous."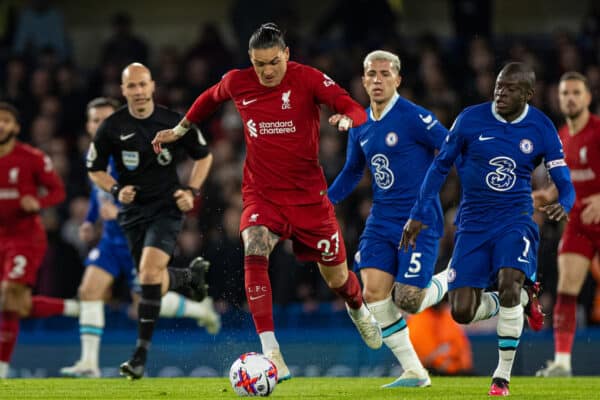 Jacob Steinberg of the Guardian rightly said that Klopp's side were "lucky" not to lose the game:
"Liverpool were lucky. Jurgen Klopp had tried some shock therapy, dropping some of his biggest stars, but his side's identity has disappeared.

"The intensity of old is gone.

"It was another stodgy, sloppy Liverpool performance and, with the gap to the top four at seven points, it looks increasingly unlikely they will qualify for the Champions League now."
The Independent's Miguel Delaney couldn't believe the lack of quality on show:
"It's remarkable to think that, just months ago, Chelsea and Liverpool offered a domestic cup final of a high quality befitting their status as two of the best sides in the world.

"By contrast, the only reason you couldn't say this 0-0 draw at Stamford Bridge was one of the worst games of the season was that it was so entertaining for all the wrong reasons. It was sometimes hilarious.

"It was also like something out of a different era, which is precisely why both of these clubs are having such serious discussions about what comes next.

"It was also exactly why this was, when you strip it all away, a mere mid-table match with so little to play for."
Some couldn't help but criticise Klopp and a couple of players…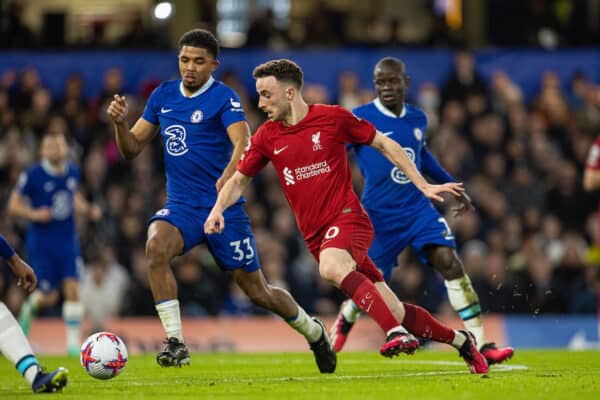 GOAL's Neil Jones focused on another below-par showing from Diogo Jota, whose goal drought continues:
"At what point do we need to talk about Diogo and his drought, then?

"Next week will mark the Portugal international's one-year anniversary, and it isn't one he'll fancy celebrating.

"Twelve months without a goal, for a player who has made a career out of scoring big ones? That has to be a major concern for Jota, and for Klopp.

"Yes, he has had injuries, but Jota has still played 32 games for Liverpool in that period, half of them starts. But for whatever reason, the killer instinct he showed during his first 18 months at Anfield has deserted him."
On Twitter, David Lynch questioned Klopp's regular substituting of Darwin Nunez:
It could be concerns over fitness driving it, but find it difficult to understand Darwin Nuñez getting hooked early. Liverpool desperately need him to find consistency before next season if they are to get back to where they want to be and limiting his minutes won't help.

— David Lynch (@dmlynch) April 4, 2023
Ian Doyle of the Liverpool Echo was scathing of Kostas Tsimikas' performance, but did semi-praise others who came in:
"Of those coming in, Joe Gomez was defensively solid at right-back – and even forced Kepa Arrizabalaga into a save first half – and while Joel Matip was at his most unconventional, he just about got the job done.

"The same, though, couldn't be said of Kostas Tsimikas, whose brace of early errors set the tone for an absolute stinker.

"Robertson had been introduced in place of the Greek long before the final whistle."
Next up is Arsenal away…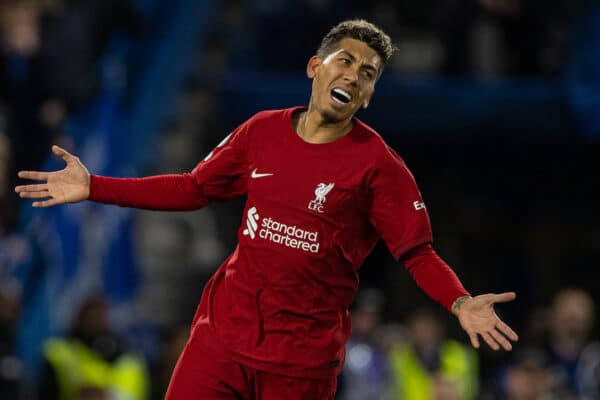 Delgado tried to display some positivity ahead of Sunday's visit of Arsenal:
"No points from City away wasn't a disaster; one point from here is an opportunity wasted, given how bad Chelsea have also been – and the fact they have no manager.

"Yet four points from City, Chelsea and Arsenal would be…par, let's say, if not outright good. Anything less and the season is an irrelevance at this stage.

"Liverpool have been left clinging onto the vague premise of being better in the bigger games this term; the last few days have knocked that theory on the head.

"Beat Arsenal at home, and convincingly, or there can be no facade left pretending an absolute overhaul isn't required.

"Perhaps that would be for the best, in the eyes of some."
And finally, the Mail's Ian Ladyman was even less upbeat about the clash with the Gunners:
"Since their 7-0 dismantling of Manchester United a month ago, Liverpool have scored a solitary goal and, apart from a flurry from nowhere at the end of the first half, they never looked like adding to that here.

"So these are dark times for Liverpool and it's not about to get easier. On Sunday they have Arsenal at home.

[…]

"Klopp will soldier on, trying to find a way to relight the fires of last season. At the moment the very height of his team's ambitions would appear to be to finish above Brighton."