Tottenham fans are in a negative mindset ahead of their trip to Liverpool this weekend, with much pointing towards a home win.
On Sunday afternoon, the Reds welcome the north Londoners to Anfield, with Ryan Mason now in caretaker charge after Cristian Stellini's dismissal.
Last weekend's 6-1 humiliation at Newcastle led to Spurs fans being refunded and a strong response is required by them on Merseyside.
Liverpool should be sniffing blood and looking to further close the gaps on their opponents, with signs of the old Reds returning of late, following three Premier League wins in a row.
Ahead of the game, we spoke to Spurs fan and writer Brogan Clasper (@Brogan_Clasper) to get his thoughts on the club's next manager, the Reds' future and Sunday's meeting.
Just how bad has Tottenham's season been? And where has it gone so wrong?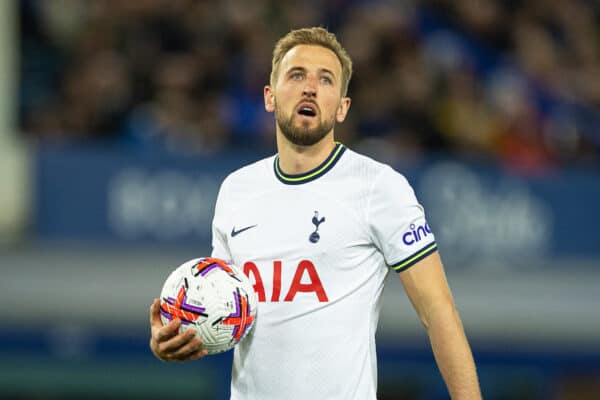 The Premier League table probably doesn't show just how poor Tottenham have been this season. It is only in recent months that our issues have been exposed for all to see.
Injuries certainly haven't helped, but Antonio Conte's rigid three at the back is something that has not worked out for us this term.
Going out of the FA Cup and Champions League on a whimper really felt like the end of our season, with the players unable to revive our league campaign in recent weeks.
Which players have struggled the most?

How much time have you got?
Narrowing it down, Pierre-Emile Hojbjerg is a player who divides opinions among the Spurs fans and he has not done himself any favours recently.
Ivan Perisic's all-round game has been slightly underwhelming with a lot of the Croatian's assists coming from set pieces.
The defence has been a real weak point this season, however, and Eric Dier has been a mainstay in that back three which has leaked goals all season.
Who do you want to be the next Spurs manager?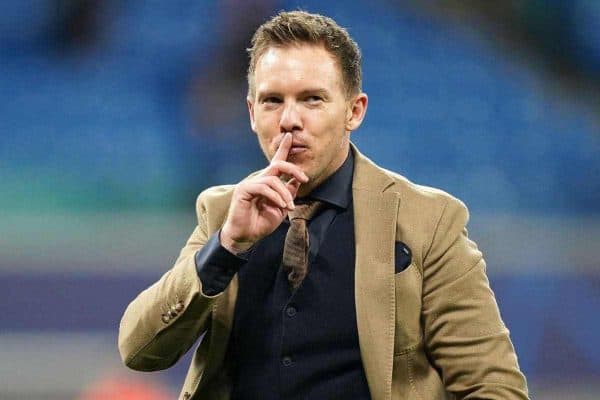 Mauricio Pochettino felt like an open goal for Daniel Levy, but it seems he is set to make his move to another London side.
The obvious choice now would be Julian Nagelsmann.
The German is a mix of an exciting young coach who would arrive with a good amount of experience at the top end of the game.
Whoever it is to be, it is a decision that Levy absolutely has to get right.
What's your take on fans getting refunds? Right decision or needless?

I was there on Sunday and it was truly the worst display I have seen from a football side. So in that sense, I can understand why some fans will feel a refund is valid.
Personally, I think it is part of the risk – if you like – of following your team.
Perhaps fans would rather see the players fined but the chances of that ever happening are slim.
As for Liverpool, how do you assess their campaign to date?

There are definitely some parallels in our two seasons.
Spurs started stronger than Liverpool and have faded in the latter stages, whereas it is the other way around for the Reds.
I think it's probably more interesting to see how Liverpool tackle the summer transfer window, as it does feel like it could be a decisive one with upgrades needed in a number of areas.
European football is still on the menu for both sides, but the recent results will likely provide the Reds with more confidence going into the game.
Do you think the Reds will be 'back' next season? Or has the cycle ended?

Having just watched Man City tear Arsenal apart, it is really difficult to see how Liverpool bridge the gap back to Pep Guardiola's side.
The rest of the table has been fairly tight all season, though.
As mentioned earlier, this summer feels like a huge window for Liverpool to provide Jurgen Klopp with the tools to help him push Liverpool back in the right direction.
But if it is a summer window where Liverpool fail to land their top targets, there is no reason why the likes of Newcastle can't continue to open the gap on the Reds.
Looking ahead to Sunday, where are the key battles?

From a Spurs point of view, Harry Kane will surely be licking his lips at the prospect of playing against this Liverpool backline which has not looked right all season.
The Reds should definitely be looking at Spurs as a side that can put a good few goals past on Sunday, though.
Our midfield has not been able to dominate a game in a long time and if Klopp's men can win that battle then Liverpool will have free reign at a very weak defence.
The absence of Rodrigo Bentancur has offered the managers a real headache in the middle. This was clear on the weekend when Stellini tried a three-man midfield.
Although Liverpool's midfield has come under fire at times this season, the hosts should be looking to dominate the middle of the park on the weekend.
Finally, what's your prediction?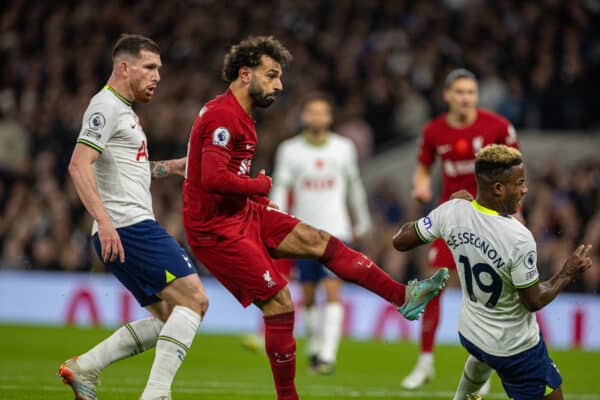 Playing at Anfield is not a fixture Spurs usually come out on top, and given the way they are playing currently, it is hard to see anything other than a convincing win for the hosts.
Liverpool 3-0 Spurs.