Trent Alexander-Arnold says he is using the "language of football" to communicate with Darwin Nunez as he adjusts to life in England.
The defender has talked of overcoming language barriers in order to strengthen his connection with Nunez as the Uruguayan continues to settle in his first season at Liverpool.
Speaking prior to the Reds coming from two goals behind to seal a late point at home to Arsenal, the right-back explained that he is using a combination of dialects to converse with the forward.
"I know a little bit of Spanish from school, so I am able to speak a little bit and he is learning English which is good," Alexander-Arnold said in Sunday's official pre-match programme, as quoted by the Echo.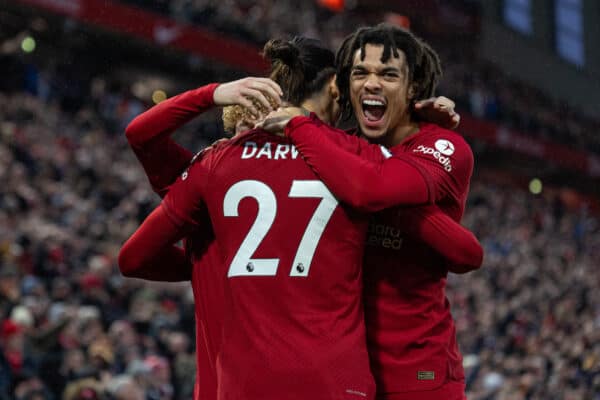 "We probably sort of speak part of a sentence in English and then maybe a word he doesn't know he'll say in Spanish and hope that I know what it means and then we'll carry on in English."
The Reds have struggled for consistency in a difficult 2022/23 campaign, but Nunez has shown glimpses of being a shining light who can stir supporters even more next season.
The England international recognised the difficulty of joining a club without being able to speak the language, admitting that the progress Nunez has made is "exciting" given the circumstances.
The 24-year-old said of Nunez: "It's getting there and it's the same with most of the lads that come in and don't speak English.

"We speak the language of football. That's all that matters and Darwin is a really exciting player to play with.
"We all enjoy playing with him and we're still getting to know him, how he plays and moves, but it's exciting because he adds a lot to our team."
Nunes has recorded 14 goals in 36 appearances in his first season on Merseyside following a move from Benfica last summer.
Alexander-Arnold has just four assists to his name in all competitions this campaign, down from the 18 he managed in 2021/22, but half of them have been converted by Nunez.
A tally that will surely only rise with more time and understanding.