It may be a favourite among supporters, but Liverpool have only worn their dark green third kit for three games this season. So why is that?
Released in September, the Reds latest Nike third kit is hugely popular among fans, with it widely considered one of the best designs in recent years.
Dark green with siren red accenting, the shirt features an all-over pattern with simple detailing for the collar and cuffs.
But while supporters can be seen wearing the alternate shirt at every game, Jurgen Klopp's first team have only worn it on three occasions.
The first was at the end of October, in the 3-0 victory at Ajax in the Champions League, before it was aired in back-to-back away games against Aston Villa and Brentford around the turn of the year.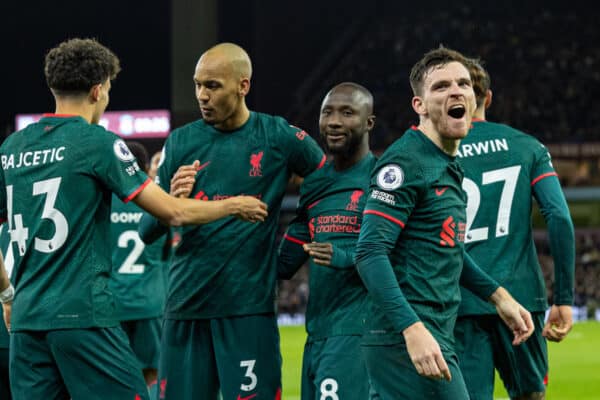 Since then, it has not been worn by the senior side, with its most recent sightings being in under-21s and women's clashes with Arsenal in March.
Over 43 games this season, Liverpool have worn their home kit 35 times – including 14 away games – while their divisive white away kit has been worn five times.
The reason it is rarely seen is largely in its name: the dark green kit is the 'third' option, and therefore is not often required.
Liverpool have only worn it in the event of kit clashes.
They were unable to wear their red home kit or white away kit against either Ajax or Brentford due to the predominant colours clashing with the home side's red-and-white kits.
When it came to Aston Villa, the decision was likely made due to the red being too similar – at least in the periphery – to Villa's claret-and-blue home shirt, while the away kit's white shorts also clashed.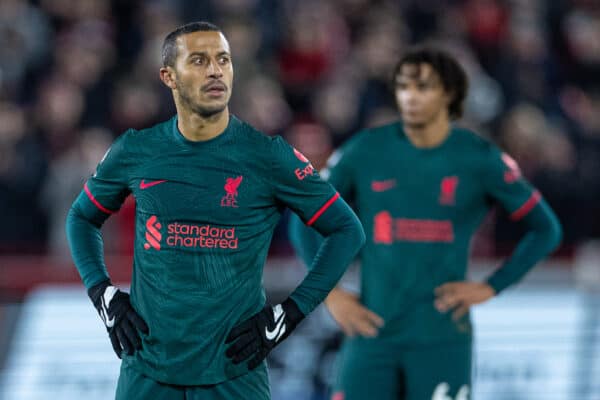 The optics for colour-blind spectators are also factored in, though the Guardian reported last year that the Premier League stopped short of following EFL's call to allow clubs to wear their away or third kit at home in such circumstances.
Liverpool will wear their home kit for the meeting with Leeds at Elland Road on April 17.
The next – and almost certainly last – time they could wear their dark green third kit, then, will be the trip to Southampton on May 28.
There is a chance it is worn for the away clash with West Ham on April 26, but in previous seasons Liverpool have opted to wear white.
It may be a shame, considering how popular the kit is, but at the heart of it is the fact that the motivation to release third kits is largely financial.
The more different shirts to buy, the more Liverpool and Nike will sell.
* Get up to 40% off the Liverpool FC 2022/23 Third Kit at the official LFC online store here.