A draw at Anfield against Aston Villa did Liverpool no favours in their faint hopes of snatching a place in the Champions League next season, but it was entirely fitting that the man to offer hope of salvation was Roberto Firmino.
This was the day that Anfield bid farewell to the very soul of Jurgen Klopp's Liverpool.
Much was made earlier in the season about how we were suffering the effects of the loss of Sadio Mane and there was certainly some merit in that synopsis, but the turbulence of Bobby's departure has every chance of being felt more profoundly than that of his former teammate.
His influence on the contemporary rise of Liverpool reaches further beyond the pitch than Mane's did, despite the true magnificence of the Senegalese forward.
While Liverpool have moved on from needing the once vital nature of the Brazilian being on the pitch, it is the feelgood element he brings to the dressing room, training ground and terraces that will be completely and utterly irreplaceable.
He got us from the start

It is now over four and a half decades since I was first pushed through the turnstiles at Anfield and in all that time I don't think there has been a relationship quite like the one that has existed between the supporters and Bobby.
We have in the past and continue now to adore those who pull on a red shirt and either produce magic with a ball at their feet or show unyielding commitment to the cause.
We love nothing more than when we feel like an incomer 'gets us' and reciprocates our adulation.
There was something extra with Bobby though.
Yes, there was the outrageous skill and the esoteric vision, the no-look passes and goals. The way he could be converged upon by a cluster of four defenders with his back to goal and come out on top.

All those elements were, of course, wonderful in themselves. But then there was the whimsical side of him, and the mischief that sat alongside the talent and an often underappreciated steely desire to win.
Who now can we look to for those dance routines, the flying kicks to accompany the goals of his teammates and that tongue-in-cheek humour?
Who now will try to only partly stifle their amusement in the tunnel when his attacking siblings have that tiff over not receiving a layoff when unmarked?
These were the moments when was Bobby was absolutely living his best life, whether he was leaving a trail of destruction behind him on the pitches of the Premier League and Champions League, or singing his own song in the car and learning to play the piano.
The man has been the very soul of Liverpool for eight years, and my god he'll be missed.
Scouse immortality
When it comes to our affection for him, the feeling appears to be completely mutual too. There were tears on Saturday, tears he himself predicted.
Essentially, this feels like it did when that best mate you had at primary school or who lived over the road moved away from the area. This parting of ways will be such sweet sorrow for those of us who fell for him from the off.
There were plenty who didn't get him in those early seasons, but those who weren't hooked from the beginning were eventually enticed.
Bobby was like that underground indie band with a small but dedicated following who just grew and grew and grew.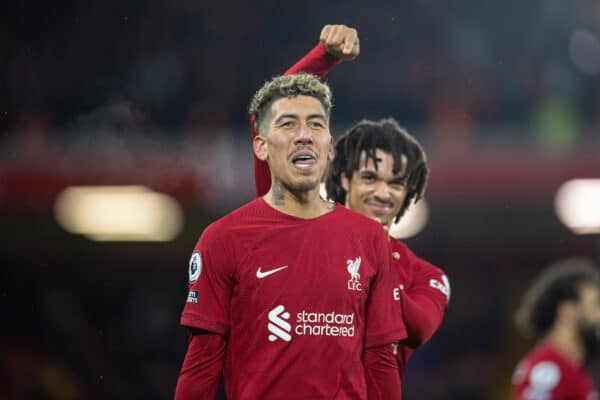 Don't be sad though, instead rejoice that he was ours for as long as he was. Yes, the last couple of years have drifted for him, but even in this fragmented final season for him at Liverpool, he has stepped up when asked and available.
He carried us earlier in the season and made beautiful cameos here and there since injury robbed us of him. Had he been fit all season we would be comfortably in the top four now.
Yin and Yang from his Villa Park exile, Philippe Coutinho will have witnessed the outpouring of emotion toward his former teammate and proud Brazilian compatriot.
Within this, there was a heavy Jim Bowen vibe at play: "Come and take a look at what you could have won."

Klopp told Coutinho all about the projected legacy he would be cashing in if he left for the Nou Camp and yet the former Anfield idol made the decision to depart.
In doing so, he set in motion a domino effect that led us to Virgil van Dijk and Alisson, to Champions League and Premier League glory.
Bobby won all there was to win, gaining Scouse cultural immortality to go with it.
In this respect, should Bobby resurface in Catalonia or at Real Madrid none of us would begrudge him in the slightest.

Within his slipstream, any player, present or future, will be hard pushed to reach the levels of cult hero status that Bobby has obtained so effortlessly.
There is just one game to go now before we blessedly draw the curtain on a season to forget, yet one in which the unforgettable Bobby Firmino waved us goodbye.
One last goal and a flying kick down on the south coast next Sunday will do us nicely.
Shine on, you crazy diamond.