With Liverpool's switch in system it has brought a new role for Andy Robertson, with the left-back admitting he has had to "make sacrifices."
The Reds' return to form has come after Jurgen Klopp's shift to a new-look formation, with Trent Alexander-Arnold starting at right-back and drifting into midfield.
It is not only the No. 66 who has seen his role change, however, with tweaks for the likes of Curtis Jones and, most importantly, Robertson on the left.
Though a natural attacking left-back, the Scot is now required to drop in as a third centre-back alongside Virgil van Dijk and Ibrahima Konate.
There were teething problems early on, but in an interview with Liverpool's official website, Robertson explained how he feels he has now adapted.
"It's different, maybe a little bit more conservative," he said.
"Obviously previously maybe we're used to being more high and wide and offering runs in behind and kind of things like that.
"But we have obviously tweaked the system a little bit and sometimes you have to make sacrifices and you have to adapt your role a little bit, and I think I've managed to do that.
"It's been a kind of back three as such and then Trent going in next to Fabinho.
"As long as the team is winning then everything is fine – that's the most important thing."

The move to a back three in possession has led to speculation over a move for a new signing in the hybrid role between left-back and centre-back.
Robertson's quality demands a regular starting spot, however, and he believes it is a matter of "picking and choosing" when to curb his attacking tendencies.
"Of course, I still try to get involved in attacks, I still want to overlap my winger and things like that but I just need to pick and choose my moments," he added.
"I think as the games have gone on I've got better at picking and choosing the moments, I've adapted to the role a lot better.
"It's just trying to use that and whatever system we play next season or if we have a couple of systems we can play then it's about finding yourself within that and bringing the best out of you."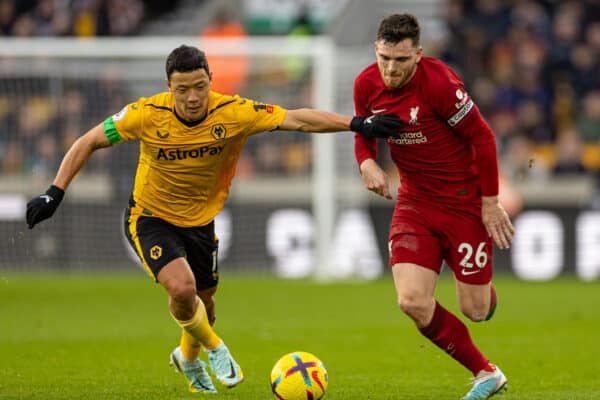 Though Klopp now appears to have settled on his 3-4-3, it is only the latest in a number of different formations he has employed throughout the season.
It is possible – particularly if Alexander-Arnold is not available – that Liverpool revert to their tried-and-trusted 4-3-3 at times, which would put more onus on Robertson again going forward.
"There's probably two different sides of my game depending on what formation we play," the 29-year-old said.
"But I feel as if I have adapted well to it and, like I said, as long as we keep on winning and we keep progressing as a team then I'll happily be doing that job."