Liverpool may have finally struck gold with a new system that has led to three consecutive wins – with it the seventh different formation Jurgen Klopp has tried.
With Liverpool's recent upturn in performances coinciding with a new tactical shape, there have been some backhanded compliments for Klopp 'finally changing formation'.
The Groundhog Day performances of this season are often linked to over-depending on a 4-3-3.
But is it fair to describe Klopp as tactically inflexible?
Principles

Klopp likes heavy-metal football.
He wants to create a transitional game where the opposition cannot settle into a compact defensive shape.
Regardless of system, you can do this in a number of ways: squeezing up with a high line, pressing from the front, crowding the midfield and playing direct forward passes.
In each formation below, the basic idea of heavy metal remains the same.
4-2-4 fluid
Key games: 2-2 vs. Fulham (A), 1-1 vs. Crystal Palace (H), 9-0 vs. Bournemouth (H), 1-4 vs. Napoli (A)

Klopp described new signing Darwin Nunez as "a proper No. 9 project."
Accordingly we debuted a new approach, after years of playing a false nine with wide forwards breaking in behind.
Now Nunez was tasked with pinning defenders back to create space for those wide players on the edge of the box instead.
Both 8s form 'flexible triangles' on the wings, encouraging rotations and unpredictable attacking moves on both sides.

However, Fabinho was too easily isolated in midfield, placing more pressure on the back line.
The 2-2 draw with Fulham showed this: both Liverpool goals involved Nunez, while Fulham's second came from slicing through midfield before winning a penalty.
Losing Nunez to suspension and Diogo Jota to injury left Roberto Firmino covering as a 'proper' No. 9.
His output was good, but overall the attack was toothless while the defence was porous – culminating in the 4-1 defeat to Napoli.
4-4-2
Key games: 2-0 vs. Rangers (H), 2-3 vs. Arsenal (A)

Klopp spoke about getting "back to basics" after Naples.
Switching to 4-4-2, a midfield pair held the centre, with the front four working diligently off the ball in what Klopp jokingly called a "4-6" shape.

Offensively this system gave Liverpool "proper out-and-out wingers" with four forwards on the pitch, linking fluidly and creating chances.
After heavy criticism, Trent Alexander-Arnold was asked to play more conservatively in this system.
Unfortunately, this fell apart against Arsenal, who had a three-on-two overload in midfield, while Luis Diaz also sustained a long-term injury that left Jordan Henderson finishing the game as a right winger.
Klopp confirmed that the loss of the Colombian made this system unviable.
4-4-2 diamond
Key games: 3-0 vs. Ajax (A), 1-2 vs. Leeds (H)

Without wingers to close off the wide areas, Klopp next used a diamond as a way of getting bodies to fall on the ball in the midfield and counter-press more effectively.
With Firmino at the tip of the diamond, Nunez and Mo Salah played as strikers.
This allowed Nunez to get plenty of goalscoring chances, though the goals trickled rather than flowed.

A poor midfield performance against Leeds left the full-backs overwhelmed, putting pressure on the back line, which ultimately told with Crysencio Summerville's 89th-minute winner.
4-3-3
Key games: 2-0 vs. Napoli (H), 3-1 vs. Aston Villa (A), 1-0 vs. Wolves (A), 1-2 vs. Brighton (A), 0-3 vs. Wolves (A)

Several times this season Liverpool have gone 'back' to a simplified 4-3-3 when attempting a 'reset': after the Leeds defeat, after the World Cup and in the FA Cup after a three-game winless run.
This garnered some positive results, while fringe players such as Stefan Bajcetic and Fabio Carvalho also impressed, bringing a dynamism and spark that had made the 4-3-3 unworkable with the senior players.

Unfortunately, attempts to persist with this shape fell victim to that same lack of dynamism, with Liverpool easily outfought by Wolves at Molineux and Brighton at the Amex.
You can't play a high press without winning challenges – a theme that began turning up in Klopp's post-match remarks.
4-5-1 mid-block
Key games: 1-0 vs. Man City (H), 0-0 vs. Chelsea (H)

Abandoning the high press has been explored several times this season.
It makes sense against teams like Man City, who have the quality on the ball to exploit defensive gaps.
In this shape, Liverpool drop into a mid-block and counter-press in midfield rather than high up – bringing the heavy-metal thunder in the middle third and on the counter-attack, without becoming vulnerable out of possession.

It also worked against Chelsea, who tried to emulate Brighton in baiting Liverpool's press.
The switch not only showed lessons had been learned, but also that it's possible to adapt tactically whilst staying true to core principles.
However, given that most teams sit off Liverpool and allow them to dominate possession, it's difficult to take a mid-block counter-attacking approach every week.
4-3-3 box
Key games: 2-0 vs. Wolves (H), 7-0 vs. Man United (H), 1-4 vs. Man City (A)

This we've covered before. Box midfields are trendy but also well suited to Liverpool's squad.
You get the fluidity and flexible triangles of the 4-2-4, the midfield solidity of the 4-4-2, and you can fall into a mid-block 4-4-2 similar to the mid-block 4-5-1.

But its initial iteration was still susceptible to all of the underlying issues that have plagued Liverpool's season.
The confident, fluid attacking patterns and ferocious physicality of the United victory were totally missing from the City defeat, despite featuring 10 of the same starting 11.
3-box-3 / 3-2-5
Key games: 2-2 vs. Arsenal (H), 6-1 vs. Leeds (A), 3-2 vs. Nottingham Forest (H), 2-1 vs. West Ham (A)

Which brings us to the much lauded 'new formation'.
With Alexander-Arnold inverting into midfield and Andy Robertson staying deeper, Liverpool now have a solid back three behind their midfield box.
With Trent playmaking from deep, Henderson has a new lease of life playing higher up the pitch alongside the returning Curtis Jones.

This keeps Liverpool solid at the back, creative in midfield, supports a high press and gets Salah into more one-on-one situations.
The Egyptian has terrorised defences and scored in three consecutive games for the first time this season.
It's not perfect – Liverpool are still vulnerable from set-pieces, while the lack of a Salah-type dribbler on the left has seen Diogo Jota awkwardly deployed there (thankfully poaching goals to compensate).
But for now, it seems Liverpool have blended the best elements of all their setups to find themselves again.
What can we learn from this?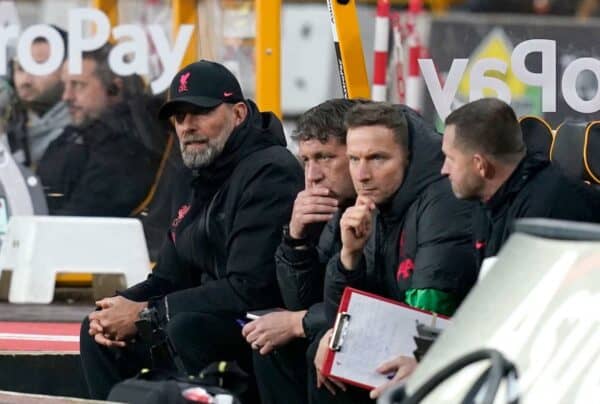 Ultimately tactics are an expression of principles.
Liverpool have tried many shapes this season, but always with the same philosophy: intense, ambitious, heavy-metal football.
When a team is unable to live these principles, it becomes very difficult to win football matches. Klopp's problem wasn't primarily tactical, but philosophical.
Should he dispose of his career-long principles to address the current crisis? Or double down on them even as the season implodes, as a foundation for the coming rebuild?
Klopp's decision was to stick by those principles, working through the tough times to find a new way of expressing them.
The result reminds us of our own philosophical challenge as fans: doubt or believe?