Ahead of Brentford's trip to Anfield, manager Thomas Frank had plenty of praise for Liverpool and Jurgen Klopp.
Brentford arrive at Anfield on Saturday with a sky-high reputation.
They've become many neutrals' favourite team due to the club's community feel and counter-attacking style of play.
Frank has also gained plaudits for overachieving on a small budget and his outgoing nature with the media.
Ahead of Brentford's trip to Anfield, though, it was Liverpool being praised, and Frank didn't downplay the size of his side's task on Saturday.
"When it's rocking, Anfield is probably the most difficult away ground to go to," said the Bees' boss.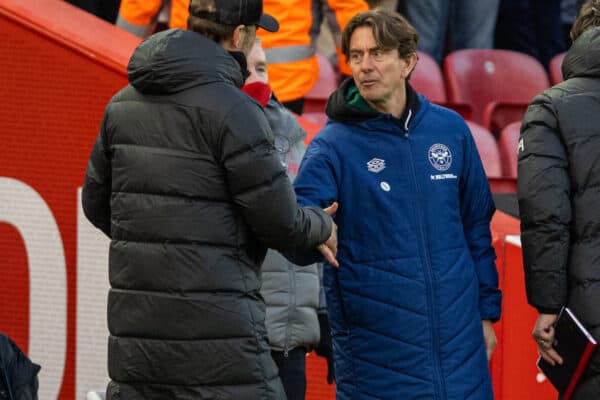 "We have a mountain to climb on Saturday but we always believe we can do something in any game. That belief has brought us to where we are today.
"I love the way they [Liverpool] play. They are probably the most difficult team to play when they are on their maximum capacity; they are so good at playing in behind, getting crosses in, and combining.
"It's very difficult to close them down."
The 40-year-old also went on to praise Jurgen Klopp for the job he has done at Liverpool, despite a poor season this time around.
"You can't question what he's done at Liverpool. He is maybe the biggest factor in turning the club around to be in a top position in England and Europe," Frank continued.
"Football is cruel; they have played and performed to more than what they have achieved this season."
Frank went on to say Liverpool have been "unlucky" in recent years.
"Sometimes I try to get my head around that Liverpool last year were so close to the perfect season," Frank said.

"They played every possible game they could and just missed out by a point in the league. And they played a Champions League final they should have won, they were unlucky.
"Now this year they are, in their terminology, struggling a little bit and that is only losing [Sadio] Mane. Football is so strange.
"I think the job they have done there over the last four or five seasons should have brought even more titles for them.
"I think they have been quite unlucky."
Since the team from west London were promoted to the Premier League, Liverpool have won just one of three matches against Brentford, with this season's earlier clash finishing 3-1 to the hosts at the Brentford Community Stadium.
Five months on, Liverpool are in a stronger position than they were then, but caution would be advised for Klopp given the danger that Bryan Mbeumo and Ivan Toney, in particular, could cause on the break.