With Jurgen Klopp caught up in another battle with an official on Sunday, the former chief of PGMOL has urged the FA to "throw the book" at him.
Klopp was booked for his furious celebration in front of fourth official John Brooks after Diogo Jota's 4-3 winner at home to Tottenham.
The referee at Anfield was Paul Tierney, who was the subject of allegations from the Liverpool manager after the game, with Klopp saying: "What he said to me is not OK."
"We have our history with Tierney, I really don't know what this man has against us, I really don't know," he told Sky Sports.
PGMOL have since absolved Tierney of any blame, explaining in a statement that they had reviewed audio of the exchange between the referee and Klopp and "strongly refute" his claims.
In a column for the Telegraph, Keith Hackett, an ex-Premier League referee and formerly chief of PGMOL, criticised the German as a "serial offender."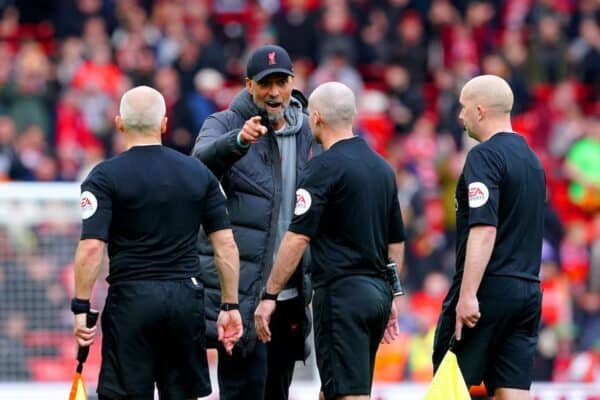 Hackett argued that it is "high time" that authorities "throw the book" at Klopp over his "unacceptable touchline antics."
Klopp's frustration stemmed from both Tierney and his linesman overlooking a clear foul from Spurs defender Ben Davies on Mohamed Salah, instead giving it the other way, shortly before Richarlison equalised at 3-3.
In truth, neither side was left happy with the officials' performance, with Tottenham manager Ryan Mason furious at the decision not to send Jota off for a high boot on Oliver Skipp.
Skipp, of course, should already have been dismissed in the first half for a studs-up challenge on Luis Diaz's ankle.
"Klopp has every right to show passion – and indeed his complaint to Tierney was a valid one – but he must make his point within acceptable limits," Hackett continued.

"This weakness by our elite officials to not act during a game promotes poor behaviour at grassroots level and tarnishes the image of the Premier League around the world.
"Managers at a lower level will look at how Klopp behaved and think it is okay to do the same."
The Liverpool manager avoided a touchline ban after being sent off for his protests to officials in the 1-0 win over Man City in October, instead being fined £30,000.
That was not his first punishment, either, having been fined £8,000 for his on-field celebration in the Merseyside derby in 2018 and £45,000 for post-match comments on referees after a 1-1 draw with West Ham in 2019.