Monday saw a milestone moment in the expansion of Anfield, with the first large section of the Anfield Road Stand removed – and we have the first photos and videos to show you.
With the season over and tedious transfer rumours about to kick in, let's be honest, the expansion of Anfield and seeing two 500-tonne cranes remove half of the roof in one section is the most exciting part of your week!
It may have been a Bank Holiday in England but it was all systems go at Anfield, with work on the exterior, interior and the big cranes on the pitch doing the headline work.
The first section is now removed and currently placed on the – protected – Anfield pitch, ready to be cut apart into smaller sections and removed via the Kop corner.
You can see how it looks from above and from inside Anfield in our exclusive video and pictures below:

The second half of the roof will be removed later this week, at which point we'll truly get to see the scale and size of the new 16,000-seater stand.
A total of 7,000 more Reds in Anfield – imagine the noise from this mammoth, two-tier stand!


Painting on the exterior has been taking place, while the brickwork is almost completed. Inside, teams of crew are fitting out the internal areas for hospitality and amenities for supporters.


Here's how it looks from inside Anfield – no more obstructed views from the lower Anfield Road!

It is already proving to be an impressive sight.
Key Facts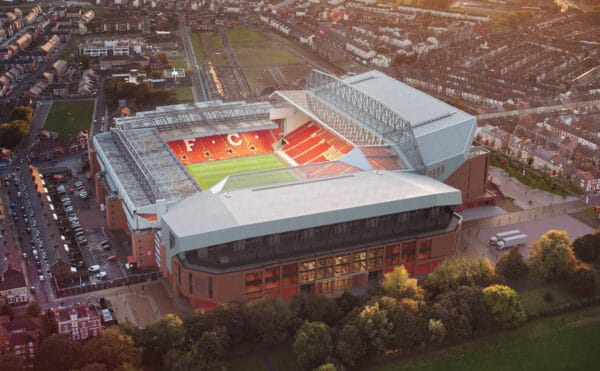 To be completed before the first home game of 2023/24
New capacity set to be be 61,015
Expanded stand will hold 15,967 supporters
The lower tier will remain, with the new stand connected
The roof should be removed in its entirety this week