It is only a matter of months before the new Anfield Road End officially opens, and we have exclusive footage inside the new stand to show you.
If you have recently been to Anfield or watched the Reds on television, you may have noticed the new structure towering over the existing stand.
It is an impressive sight that hints at what is to come, with a number of seats already installed and the new roof taking shape.
But that is the external view, so what about the inside? This Is Anfield were part of a small group of journalists who were invited to take a look, and it really is starting to take shape:
You can start to appreciate the size of the new fan zone area, which sits under the stand and will be accessible to all fans, and the new internal concourses that will look similar to that of the Main Stand.
From This Is Anfield's footage, you can start to see what the view from a seat in the Anfield Road End will be like – we assure you it will be better once the roof is removed!
Speaking of the existing roof, that is to be demolished immediately after Liverpool's final home game this season, against Aston Villa, on May 20.


Cranes will be moved on to the pitch before the old stand and the new structure are connected, in the same process that was undertaken back in 2016 for the redevelopment of the Main Stand.
To aid the process and give the club more time, Liverpool have requested for their first game of 2023/34 to be played away from home.
In an exclusive chat with stadium operations manager Paul Cuttill, This Is Anfield was told solar panels will be used on the new roof, there are currently no phase three expansion plans and there's "no intention to change the length" of the Anfield pitch.
Anfield Road Stand Expansion Facts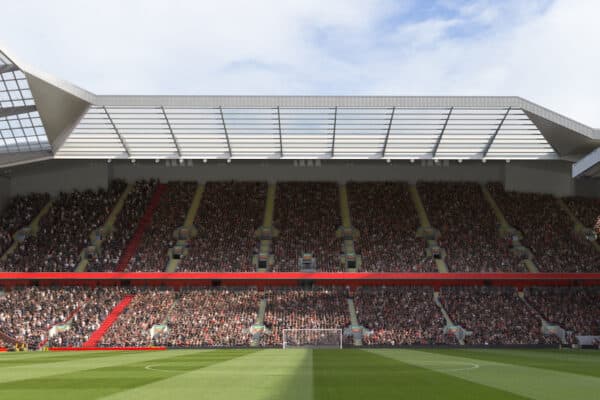 On schedule to be complete for first home game of 2023/24
Anfield's new overall capacity will provisionally be 61,015
Expanded Anfield Road Stand will hold 15,967 supporters
1,000 new season tickets and 3,000 general admission
New young adults section in the lower tier
Estimated cost of £80 million