Ask someone to paint a portrait of Liverpool's season and the backdrop would surely be the ludicrous 93rd minute of Sunday's game against Tottenham…
…but the foreground would have to be the events of the 94th.
It was as gloriously mad as it would look as a piece of art. It would be one you'd hang in the toilet rather than in your front room.
It was a seven-goal thriller that involved an unlikely comeback by our dysfunctional visitors from north London.
With the punchline of their late Richarlison-sourced equaliser being comedically cancelled out seconds later, this one will go down in the pages of Liverpool's history as an uncomfortable classic, yet one that will warm the soul for a long time to come.
But there is another benefit to be gleaned from a volatile afternoon at Anfield.
With a dizzying opening 15 minutes and a wild let-off at the end – both on and off the pitch – here was a Liverpool performance that was touched by beauty, esoteric movement, a shuddering stall and a large helping of fragility.
It was all topped off with a final twist of redemption, leaving a sheepish Richarlison to choke on his shushes.
You can take the boy out of Everton, but you can't take Everton out of the boy – once a blue, always a blue and all that jazz.

There were three more points towards the thankless task and borderline project of torture that is dreaming we can fly in the face of realism to gate-crash the top four come the final day of the season.
Away from the myriad of talking points of what happened out on the pitch, the greater-lasting and more far-reaching value could come from the kitchen-sink drama that unfolded on the touchline between Jurgen Klopp and the controversial Paul Tierney.
After a painful season of being divided and conquered on an all-too-regular basis by not only opponents we should be brushing aside, but by ourselves at times too, one of Klopp's toughest tasks during this campaign has been to pull hearts and minds together, both in the changing room and on the terraces.
Sunday's explosive display from Klopp with circling officialdom could be reasonably viewed as another passionate heat-of-the-moment occurrence on a turbulent afternoon.
But, whether by chance or design, he has begun to cultivate a highly useful siege mentality for Liverpool via his escalating feud with Tierney and the wider span of the PGMOL.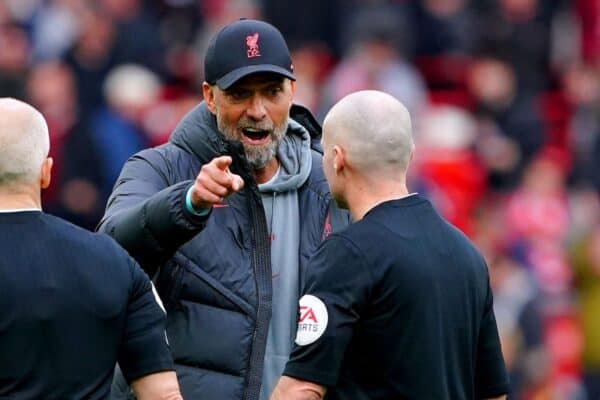 Klopp has talked after recent games of identifying positives and being able to build around them.
The first part of that rebuild was to stop punishing ourselves for the way last season ended, then follow that up by beginning the process of pulling everyone together for a mission worth focusing on and learning to fight the good fight once more.
When doing this, it is handy to have a common enemy, a defined bogeyman, a cartel to rail against.
As a collective, we like to take on the establishment. We thrive on an us-and-them situation.
Klopp is intelligent enough to know this and to utilise it for the good of his own and his team's prospects – and for our prospects as a fanbase, too.
He rides emotional waves with a skill that I doubt anyone else in football management could replicate.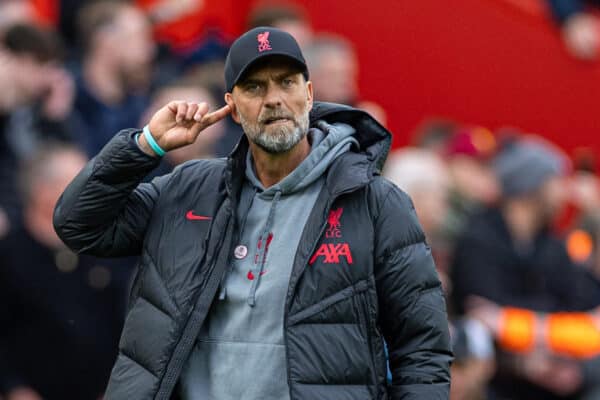 Within this, it is utterly exhaustive to be Liverpool, which is why we have these sharp peaks and steep troughs.
In tennis terms, if Pep Guardiola and Man City are Pete Sampras, with their metronomic yet soulless and mind-numbing consistency – winning Wimbledons aplenty but the French Open forever being out of reach – we'll always be the Andre Agassi of the piece.
Liverpool have won everything there is to win, just not as many times as we should.
And, to use the Agassi comparison, we rose to No. 1 in the world, only to crash through the rankings a year or two later, piling on the pounds, becoming dishevelled and requiring wildcard entries to the biggest events.
All before getting our shit together once again to sweep all-comers aside.
We don't do plateaus at Anfield, and even if we did, we'd soon tire of it. Sunday summed that up really in one 90-minute bite-sized serving.
Unstoppable during that opening 15 minutes, the foot was taken off the accelerator and multiple invites were handed to Tottenham to get into the game, one of which even they had to accept eventually.
A self-destruct button was hit in the second half, but with the character to pull our balls out of the fire at the final reckoning.
Hit-and-miss all over the pitch, it was great to see Luis Diaz start the game, and that was a magnificently ridiculous finish he made for Liverpool's second goal.

But he was always going to labour as the afternoon lumbered on, considering how long he had spent out injured, as was the case with Harvey Elliott too, given his recent role of bench-warmer.
At our worst against Tottenham, there was a spell where it felt like we were playing with nine, yet despite the double change we still conceded twice after Diaz and Elliott's departures.
There were collective failures here and individual boosts there.
Curtis Jones' excellently taken goal will serve his current renaissance well.
Mohamed Salah converting a penalty will blow his cobwebs from 12 yards away and vital contributions from Cody Gakpo will help his steady growth as a Liverpool player.
Meanwhile, a goalline block from Virgil van Dijk will empower him, Trent Alexander-Arnold's assist for Jones validates his new role yet again and Diogo Jota's winner was that of a player back into full stride after his own return from injury.

There were many positives to embrace and plenty of ills still to remedy.
It's Fulham next up, where the task will be to work on keeping levels high throughout.
It's time to cut out those power-downs that we saw on Sunday as soon as we went 3-0 up.