Jurgen Klopp is already looking to the future ahead of Liverpool's campaign closer, naming six young players who may get more of a chance next term.
The Reds will conclude their difficult season with a trip to Southampton on Sunday, having already guaranteed fifth in the Premier League.
That means Klopp's side will be playing Europa League football next season, which has led many to speculate over opportunities for youngsters.
In his pre-Southampton press conference on Friday, Klopp was asked whether he could see more youth breaking through at Liverpool in 2023/24.
"From the very young ones I think definitely Stefan [Bajcetic] is the standout player," he replied.
"That was absolutely exceptional. He played like a man, unfortunately in a kid's body.
"That intensity caught him, if you want. But, anyway, the signs he gave us I think are super, super promising.
"Ben Doak obviously, nice signs. He's with us in training again.
"Special boy, really confident, has something that nobody else delivers really, this kind of dribbling, this straightforward bravery, technically really good, high speed.
"Super promising, but very young."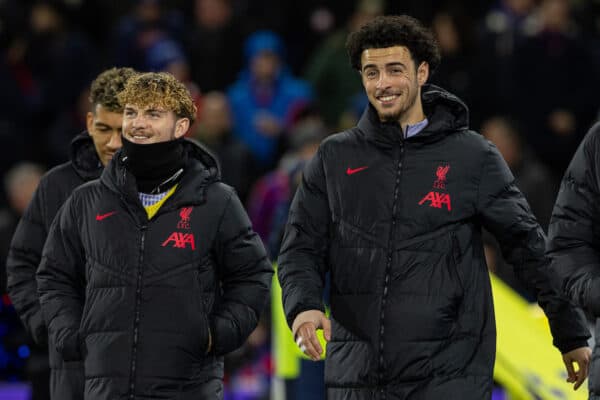 Of those to clock 1,000 or more minutes on the pitch for Liverpool this season, the youngest are Harvey Elliott, 20, and Curtis Jones, 22, who Klopp also sees within this group.
"Of course, Harvey played a lot of games for us in a not-so-good period," he continued.
"Still very, very young, so couldn't keep it up on the highest level, but showed again super signs.
"It will only go in one direction – that's forward, definitely.
"Then Curtis, that we got him back was super important. I think everybody saw that.
"It's just a long road to become your best version. You're young, big expectations, massive criticism from outside.
"To find yourself a way through that is not easy. I'm really, really happy that Curtis could finally do that.
"Super important for us, obviously, our own boy, making these big steps. That's cool."
The manager admitted elsewhere in his press conference that Fabio Carvalho could depart on loan in the summer transfer window, having struggled for game time this year.
But as he went on, Klopp named four other returning loanees who could get a chance next season.
"These boys I spoke now about, there's no plans already [to loan them]. We want to keep them," he said.
"If we can give them the opportunity to play, we will keep them, definitely. Because they have the quality, definitely.
"The next generation, if you want, then [the players] after that, that's a different story maybe. We have to see.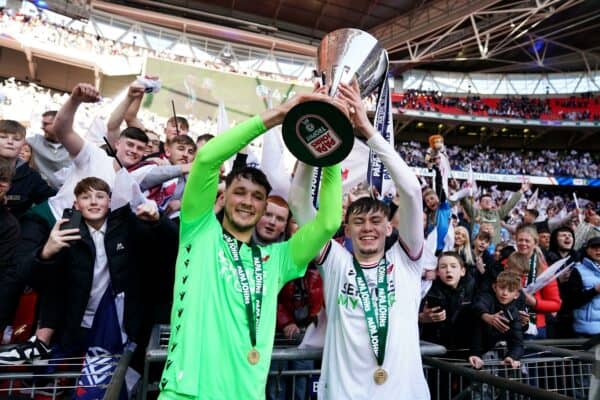 "Conor Bradley is coming back, was in the building yesterday, I saw him, I had the feeling he grew in the time at his other club.
"We have big hopes for him, to be honest.
"Luke Chambers coming back, other boys coming back, Owen Beck now really back. So we have real talents.
"Tyler Morton coming back, he's injured so we will see what happens.
"No real plans. The pre-season will start and then we make these kinds of decisions."