Jurgen Klopp has revealed what referee Paul Tierney told him as he showed him a yellow card at Anfield, insisting he "didn't lie."
The manager has been the subject of plenty of criticism for his conduct during and after Liverpool's 4-3 win over Tottenham.
Klopp celebrated Diogo Jota's late winner in the face of fourth official John Brooks before hinting at anti-Liverpool bias from Tierney in his post-match interview, claiming he did not know what the referee "has against us."
"What he said to me then when he gave me the yellow card is not OK," he said, which PGMOL have "strongly refuted" as Tierney acted "in a professional manner."
At the time, Klopp declined to reveal what the 42-year-old had said to him, but as he faces a charge from the FA, he gave an insight on Tuesday.
He told reporters: "I expected a yellow card and he said to me 'for me, it's a red card, but because of [the fourth official, it's a yellow]'."
"The whole situation shouldn't have happened at all. That's how it is," Klopp said.
"It was out of emotion, out of anger in that moment, not a very good leader for the things you do. That's why I celebrated the way I celebrated.
"That was the situation, with the foul on Mo – no foul, but in my view [it was], it was directly in front of my eyes.
"He whistled free-kick, [then] another free-kick, the [Richarlison] goal, then a minute later we score.
"Unfortunately, I was still kind of angry. I didn't say anything wrong, I was shouting 'without you!', which didn't make a lot of sense.
"I didn't want to get close to [Brooks]. Then I felt my muscle. That's it pretty much. Then we scored, then Paul Tierney came over to me.

"I didn't expect at all a red card. I didn't feel that [would have been] right.
"I expected a yellow card and he said to me 'for me, it's a red card, but because of [the fourth official, it's a yellow]'.
"He showed me a yellow card, smiled in my face, that's it.
"Game goes on, final whistle, we go inside, tried to calm down, didn't work out properly, go into the interviews and I said what I said."

Klopp's response to questions on the situation was a lengthy one, with the manager also discussing his "history" with Tierney, which dates back to 2017.
He suggested he had "opened the box" for the media with his post-match comments, and insisted, while he believes Tierney has let Liverpool down in "decisive games," that the official is "not doing it intentionally."
"The things which were made of what Paul Tierney said to me, I didn't say," he continued.
"What I said was, 'what he said to me was not OK'. I thought it was not OK, because it wasn't a red card in my view.
"Then the things happened. I opened the box. It was not intentional but I opened it.
"Then your colleague stepped into it and wanted me to carry on. He said all these words and I stopped it there.
"Maybe I should have said in that moment, 'he said to me it was a red card'.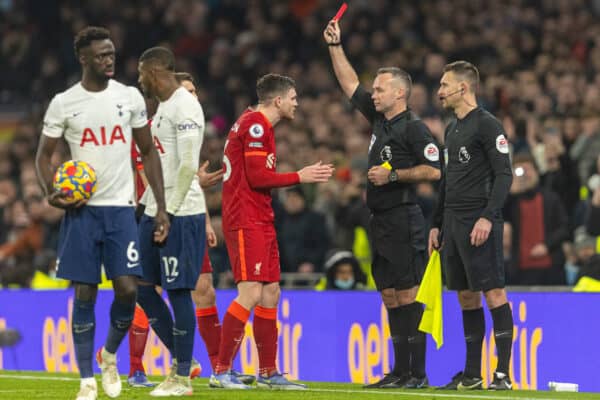 "The things I said, how I felt in that moment about Paul Tierney whistling our games, I'm very sure he's not doing it intentionally, but we have a history and I can't deny that.
"I'm not a resentful person, not at all, but obviously these kinds of things which happened in the past, in decisive games for us – if we were involved or not – happened.
"That's the feeling, nothing else. That's what I said.
"I know, obviously, the refs were really angry about what I said and go now for it. I heard I was lying and stuff like this.
"I did a lot of things that day, but I didn't lie."