Striding forth with a bright-eyed optimism only to find our legs shockingly swept from beneath us, Liverpool's mad 4-4 draw down was a fitting synopsis of a regrettable campaign.
A year ago, we were striving for the quadruple while this time around we couldn't even secure the bare minimum of a top-four finish.
It has been a polarising 12 months for Jurgen Klopp and his players, but the future is still theirs to mould.
It has been a peculiar season all round. Beyond the confines of Anfield, the three teams promoted to the Premier League have all contrived to fend off relegation in a strikingly rare occurrence,
In fact, two of the three teams taking the trip down to the Championship have been staples of the top flight for the last decade.
Not many of us will lament the relegation of a Leicester City, whose fan base has taken great joy in wallowing in the filth of their own poverty ballads.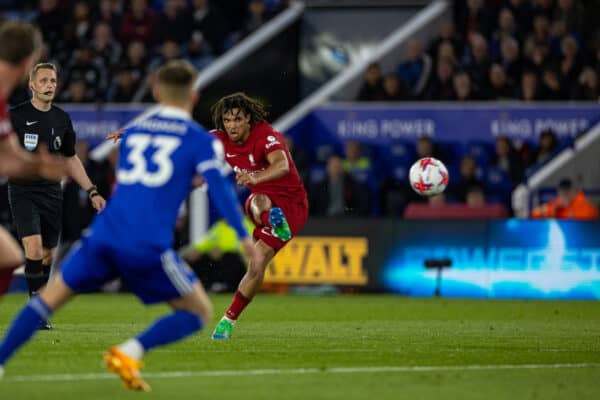 Their pleasing relegation came at the cost of Everton defying gravity yet again.
This final-day dance-off was the culmination of a relegation battle that, a month ago, involved almost half of the division – in a season during which the obscenely costed Chelsea didn't assure themselves of being mathematically clear until a couple of weeks ago.
At the other end of the table, Arsenal set all sorts of winter records in their role of being Premier League champions-elect, only to consume themselves during the run-in, handing Pep Guardiola's Man City a third successive league title.
All three major domestic honours will reside at the wrong end of the East Lancashire Road.
This in a season in which the sky blue sportswashing bureau will never have a better opportunity to break their Champions League curse and complete the treble, should the FA Cup final go their way on Saturday.
In broader Premier League terms, Leicester's demise and Chelsea's travails aside, the 2022/23 season has offered little in the way of feel-good narratives – 2023/24 owes us big time.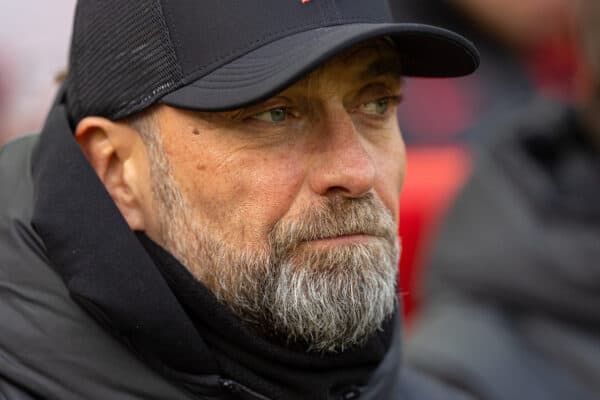 At St Mary's, it was a wild way to bid farewell to this season. Romeo Lavia, one of the many midfielders linked with a move to Anfield this summer, was perhaps blinded by the headlines enough to provide the assist for Diogo Jota.
When, four minutes later, Roberto Firmino made it two with an utterly trademark finish, all bets of a competitive afternoon seemed to be off.
Then came the madness, Liverpool somehow trailing by two goals with less than 20 minutes left to play, conceding four times within the 45 minutes of football that bridged the interval.
Initially we were on the end of a well-worked move for Southampton's first, but the next three were all gifts; the equaliser via Bobby losing possession, then falling behind thanks to the midfield failing to get a basic challenge in.
It was an error compounded by a much-changed defence backing off in unison, offering Kamaldeen Sulemana an open invitation to score his second of the afternoon.
When Jordan Henderson set in motion Southampton's fourth with as loose a pass as we've committed all season, the self-destructive deed of defeat seemed to be done.
Jota and Cody Gakpo, though.

A goal apiece within 60 seconds or so, the presence of Mo Salah and Luis Diaz provoked the vibe that Jota will more often than not be the odd man out as we move forward.
But, after shaking off the rust upon his initial return from injury, our Portuguese hitman has been our most impressive attacking threat during the final month of the season, which made it frustrating to see him sit some games out in preference to the half-fit Diaz.
Conversely, Diaz has needed these games.
A run of appearances will have blown the cobwebs away for the Colombian and sets him up nicely for a full pre-season, where he will hopefully be at optimum tilt going into the new season.
It was another day of goodbyes at St Mary's.
The build-up to this one was marked by tributes to James Milner, that most model of professionals who arrived without fanfare during the endgame of Brendan Rodgers as kind of the short end of the stick in Raheem Sterling's fractious departure for Man City.
He was part of a Man City side that denied us a Premier League title in 2013/14, yet a hugely valuable element of a Liverpool team that won one league but were denied two more by his former employers.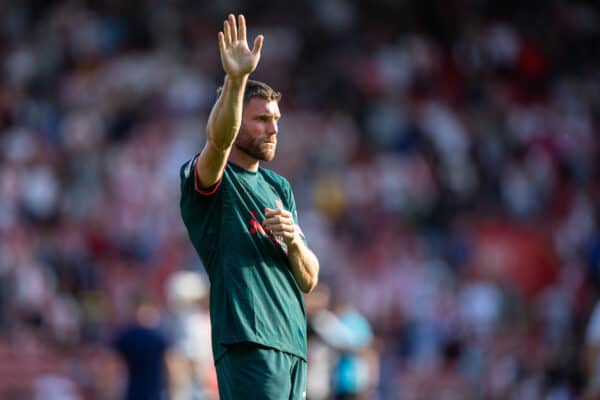 Milner has been the ultimate Jack of all trades and pretty much the master of them all, yet he was often damned whenever selected.
He was the compelling grown-up in the dressing room that we should have evolved from long ago, but one which came back summer after summer to dominate the bleep tests.
Willing to fill whatever role Klopp asked of him, and magnificent at shithousery whenever the situation required it, Milner's departure means we lose a wonderful steak of responsibility and a player that led from the front.
He's a figure who was utterly nerveless as the scorer of the first spot-kick during the penalty shootouts in which Liverpool defeated Chelsea, in both the 2022 League Cup and FA Cup finals.
This summer, the demographics and nuances of the environment in the Liverpool squad will alter significantly with the losses of Firmino and Milner, but it's all about looking to the horizon for both them and us, now.
Up the Klopp 2.0 Reds.