Following Mohamed Salah's "devastated" apology to fans after Liverpool's failure to finish in the top four, Tim Ellis praises the Egyptian's winning mentality.
Mo Salah has earned the right to speak his mind. This time last year, some fans may have been hiding behind the sofa when the Egyptian talked about revenge against Real Madrid in Paris.
It just goes with the territory for the number eleven. He's allowed to say things that others wouldn't even dare broach.
Salah has expressed himself again in a way that punches through his manager's positivity. While Jurgen Klopp says he is "absolutely fine" with the Europa League and that they will make it their competition, the Reds talisman has just reiterated that it is definitely not his thing. At all.
It underlines the despair that will hit everyone smack in the face when midweek September soundtracks roll out at St James' Park. How has this happened to a team that reached three out of the last five finals?

The disgust Salah feels is almost visceral. This Liverpool don't do sloppy seconds. Despite thundering down the home straight in reinvigorated style, there is almost nothing tangible to show for it.
In line with the downbeat mood that Salah's searing honesty has created, it's going to be a sleepy Sunday rather than a 'Super' one this weekend as the Reds enter the final day without anything to play for but the shirt.
That makes an unwelcome change. Klopp's Liverpool always has a mission going into the final bend.
It will be typical of this season that feelings are so 'meh' about the outcome of the 38th step.
A trip to bottom of the league Southampton will not get any movie time as the dramas lie with Leeds, Leicester and neighbours Everton fighting for their lives once again.
None of this was remotely predictable way back on that balmy July evening at the King Power when Liverpool throttled a cruise control Manchester City.

After the utter heartbreak of City's late late show against Aston Villa and then a desperately difficult evening in Paris on and off the pitch, Klopp's warriors needed to lift another trophy sharpish.
They were hungrier, faster, fitter and more, with a perfect debut for Darwin Nunez thrown in too. This tasty starter would surely hit the frying pan and sizzle when the real meal deal started at Craven Cottage.
Then a funny thing happened. Within ten minutes of kick-off at Fulham, Liverpool looked anonymous, listless and leggy.
For most of this season they were off it by miles, a team still suffering from climbing to the top of the mountain but not able to plant the conquest flag.
The summer holidays will be punctuated with a different type of discontent. 2021/22 was a crazy ride of 63 games played at full pelt with two endings that sucked the life out of the narrative.
While City have simply put the afterburners on to blow away Arsenal's flimsy challenge, Liverpool remain the only club that has ever made the burst for the line watchable against Pep's stormtroopers.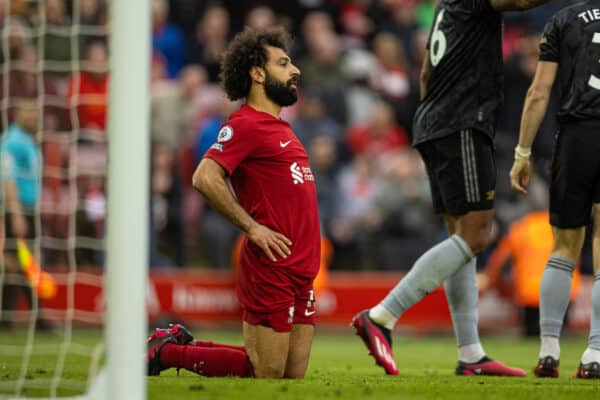 It makes missing out at the top table of Europe all the more painful. Liverpool left it too late to achieve anything apart from a shot at one potential hell of a party in Dublin next year.
Then again, Klopp did say book your hotel for Istanbul…
A retro tardis trip to Thursday nights is not what this team wants, but they need to embrace the change to make it bearable.
On the positive side, it relit the fire of famous Anfield nights when the German presided over those magical nights of 2016. On the other hand that was a time and place and stepping stone to far bigger riches.
Ultimately, a squad that is so used to the big lights might feel like they are stuck in undercard purgatory.
At least Liverpool are not sleepwalking into next season. That much is obvious. They are currently 10 unbeaten in the league and they will hope to extend that by some distance when the Premier League opens its gates again in mid-August.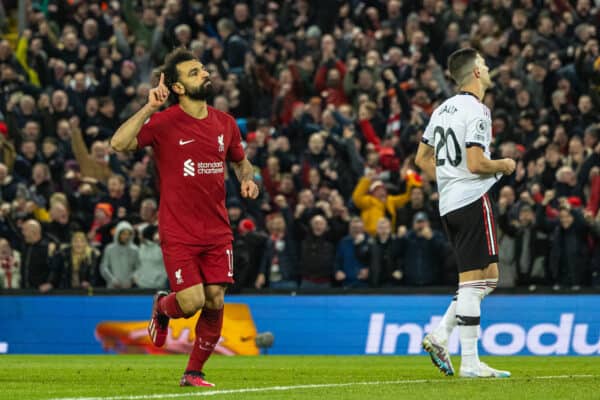 Nine defeats this season are an aberration, a horrible graphic that must sting because this was a side that very rarely lost anything at its best.
Liverpool's great strength was always that iron suit of armour allied to a belief that the work ethic was everything. The sense of purpose must be rediscovered above and beyond the reshuffling of the pack.
Liverpool just existed for large parts of this season. To see Klopp's head bowed at Wolverhampton was telling.
He even did a mini Loris Karius mea culpa to the travelling fans when the Reds got battered at Brighton. 'Intensity is our identity' needs some bodywork.
Klopp recently said: "We all feel better now after winning a few games, it's the biggest mood changer in the world of football." Has he asked Mo?
---
* This is a guest article for This Is Anfield by Tim Ellis. Follow Tim on Twitter, @ Timotei365.