Liverpool have lifted 13 different European trophies, but it was half a century ago that their first was lifted in a history-making season under the great Bill Shankly.
The year is 1973, Shankly is in his 14th season at Anfield, the Reds have just lifted their eighth First Division title and are now hoping for nine to be their lucky number.
Why? Well, before the 1972/73 season, Liverpool endured eight unsuccessful attempts at breaking their European duck – they made it to a final once and a semi-final twice.
But on May 23, 1973 the record books would forever show the mighty Reds lifting their first piece of silverware on the continent in the shape of the UEFA Cup.
And in typical Liverpool fashion, it was done with a flair for the dramatics!
One hand on the cup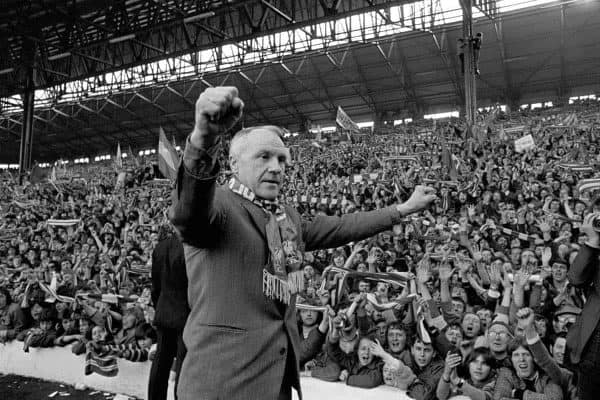 "Shankly, Manager of the Year, can now claim he has the team of the year, and they needed all their qualities of courage, character, stamina and determination to survive." – Daily Mirror
On their way to the final, Liverpool dispatched Eintracht Frankfurt, AEK Athens, BFC Dynamo, Dynamo Dresden and reigning champions Tottenham across five rounds.
All roads led to Borussia Monchengladbach for a two-legged final, as it was then.
On May 10, 1973, Anfield played host to the first leg and the Reds made themselves odds-on favourites to end their European wait by piling on three unanswered goals against their West German opposition.
"Liverpool played some of their finest football of the season," wrote the Guardian, with supporters paying 10p for a show of relentless attack from Shankly's men.
The Reds made the visitors look "almost bewildered" throughout, with John Toshack proving the ace up their sleeve as he wreaked havoc with his height and pace – and none were more thankful for that than Kevin Keegan.

Final First Leg XI: Clemence; Lawler, Lloyd, Smith, Lindsay, Keegan, Cormack, Hughes, Callaghan, Toshack, Heighway
---
Keegan was the benefactor with two goals in the space of 11 first-half minutes. And if not for a missed penalty, the No. 7 could have enjoyed a European final hat-trick.
He would make up for it two-fold, though, with a second-half assist from a corner for Larry Lloyd – though Ray Clemence was fighting him to take the headlines the next morning after an "astonishing" penalty save from Jupp Heynckes.
"It was an international-class game," Shankly stated post-match. "Really tremendous. I am not making predictions about the second leg, but we have a distinct advantage because we did not give away a goal."
A 3-0 advantage after 90 minutes on home soil put one hand on the cup, the wait to conquer Europe was now within reaching distance – although, that was not the full story.
The first of 13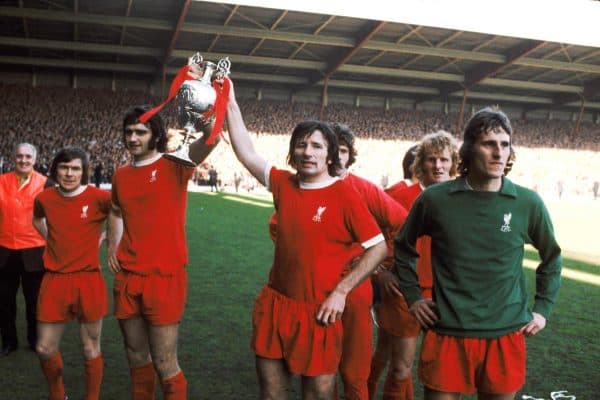 Fifteen days later, Shankly and his squad travelled to West Germany for the second leg, with no changes made to his XI.
The Reds would end up taking a "fierce battering" with their three-goal advantage having "proved to be only just enough" in the eyes of the Guardian.
Borussia Monchengladbach scored two goals in a hurry before half-time to almost wipe out the advantage from the first leg, leaving hearts in mouths and minds wondering if it would be lucky number nine after all.
But it would be "a measure of Liverpool's resilience that, after absorbing so much punishment they were able to recover their composure and finish the game in command," the Guardian's Paul Fitzpatrick assessed.
It was a testament to the character of the side built by Shankly that they held on to a 3-2 advantage to end their long wait for European success.
In doing so, Liverpool became the first English team to win the First Division and a European trophy in the same season – they have since gone on to do it a further four times.
May 23, 1973, was an evening of celebration. Liverpool fans overflowed onto the pitch in relief and delight, and captain Tommy Smith had the honour of lifting the UEFA Cup.
"Shanks was delighted to get his hands on a European trophy and there's no doubt we deserved it," Smith recalled.
"I never realised how big the cup was. It had a big stone base and weighed a ton," Liverpool's rock at the back continued.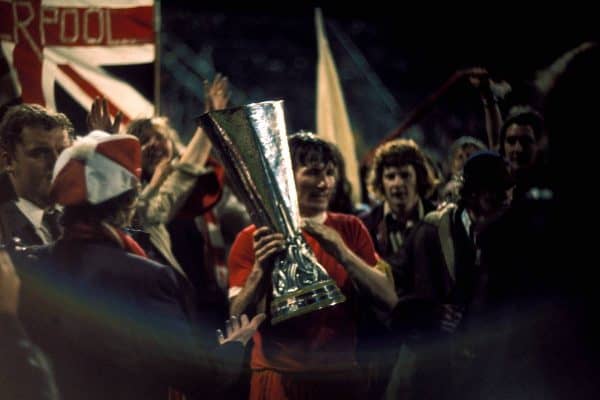 "I remember on the lap of honour some big fat guy jumped on my back and I nearly collapsed. After such a gruelling match I was absolutely knackered.
"I eventually made it to the dressing room and I said to Shanks, 'Here you are boss, the cup's yours'. I handed it to him, but I don't think he realised how heavy it was either. He nearly dropped it!"
The taste for European glory had been quenched but in its place left a hunger to go further and lift the biggest trophy on offer on the continent: the European Cup.
Four years later that dream would become a reality. While it would not be Shankly to lead the Reds to that trophy for the very first time, his role in Liverpool's European heritage is unquestionable.
The journey started 50 years ago under his watch with the first European trophy, and now there are 13 pieces of silverware from the continent and the promise of plenty more.