Darwin Nunez has started just one of Liverpool's last seven games. Is his long-term role in the side already in doubt?
Liverpool's mini-revival continues – but gathers pace with their big summer signing relegated to the role of bit-part player.
While this may be purely coincidental, it's hard to shake the feeling Darwin Nunez remains a work in progress.
A footballing project personified; the Uruguayan's game can be unpredictable to put it kindly. With the cavalry returning, his manager is opting for players that offer more in the way of certainty.
Recent results and performances vindicate that decision.
As we head towards a pivotal summer on and off the field, the Darwin dilemma is one of several puzzles to be worked out.
Can a side whose success was built on tactical surety truly encompass a maverick?
Haaland comparisons and setting expectations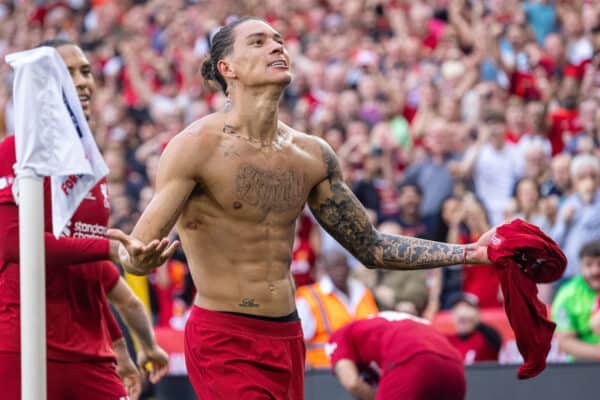 Despite the Twitter discourse, it's worth stating Nunez has had a decent enough debut season in England.
His 15 goals and four assists are respectable, particularly when compared to the output of others who moved in the same window.
Indeed, Antony and Richarlison are two players who could only dream of such G/A stats.
Yet early comparisons to another striker served to ratchet up expectations and heap undue pressure on a relative newcomer to top-level football.
When the two best teams in the division splash out big money on centre-forwards it fuels lazy journalism and punditry alike.
Simply put, Erling Haaland guaranteed goals.

Despite joining Man City aged just 22, he'd already notched 135 in just 182 senior club appearances. Like him or not, he's a monster that will torch all records.
Nunez – by contrast – had only truly emerged as a regular goal-getter in the previous 12 months, his 26 for Benfica being the first time he'd ever plundered more than six goals in a top-flight division.
Perhaps their respective transfer fees played into the narrative.
On the surface, Haaland looked a relative steal at £51 million while Darwin looked overpriced at £85 million. In reality, both figures were wildly distorted.
The underlying numbers in the Norwegian's deal were and are eye-watering, while Liverpool's initial outlay was closer to £64m, only rising if certain milestones are reached over the course of the contract.
Even so, the scene had been set and a couple of loose touches in pre-season were enough to prompt the Twitterati to produce compilations crowning the 'flop of the season'.
Football tribalism is a curious thing…
Rawness

While anything but a 'Sh*t Andy Carroll', the rawness in Darwin's game was (and is) undeniable.
Such was the hit rate of Liverpool's scouting department up to that point you hoped that would have been accounted for.
And yet early soundbites hinted they believed he was further along in his development than was actually the case.
A stupid suspension for headbutting an opponent hardly helped the settling-in period, nor did the context of a season quickly unravelling.
With injuries decimating the squad, Nunez was arguably given more game time than originally planned. Unsurprisingly for a player affectionately nicknamed Captain Chaos, he brought exactly that.
While this set him on a path to cult hero status, you felt it undermined any structure and order we may or may not have been looking to restore.
Ten months on, might that sheer unpredictability have caused a re-think as to his long-term role?

Upon signing Nunez was heralded as the club's new No. 9, but his lack of game time centrally is telling.
While he began the season leading the line, he had already been moved wide left by the time of the World Cup break.
Why was this? You could argue his pace – which is frightening – was best utilised on the wing, providing a dynamism lost with the departure of Sadio Mane and injury to Luis Diaz.
A more damning analysis would point to a wayward first touch and pressing stats that simply aren't up to scratch.
The "ticket" into Klopp's side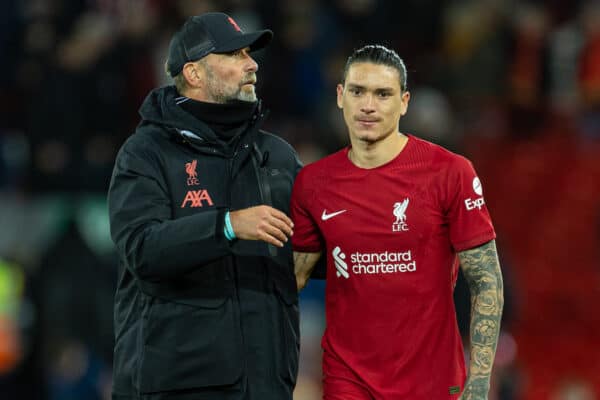 While Liverpool have flitted between different systems this term, the emphasis has always been on the central striker to protect the ball and perform a Roberto Firmino tribute act.
Moreover, they must lead the press, setting a tempo that gets the side up the pitch. Sadly for him, Darwin has been found somewhat wanting in both areas.
For context, he has won five challenges in the final third so far this Premier League season, according to FBRef.
Diogo Jota, despite playing 10 games fewer, has already managed four. Likewise, Firmino, who has made just 12 starts, has completed three. Unsurprisingly Mo Salah is way out in front on eight.
While Nunez (0.29) is winning the ball in the final third at a similar rate per 90 minutes to Salah (0.32) and more than Firmino (0.24), his direct competition of Jota (0.39) and new signing Cody Gakpo (0.4) is significantly higher.
That, of course, won't have gone unnoticed.
Indeed Jurgen Klopp's reminder that pressing is a pre-requisite for any Liverpool player wanting a start may have been a shot across the bows.
Lamenting the time in which it's taking the Uruguayan to learn English also points to some frustration behind the scenes. Make no mistake, those were loaded remarks.
Elsewhere, the possession stats make for interesting reading.
Nunez completes 64.5 percent of the passes he attempts, which pales in comparison to his team-mates competing for those three forward positions.
Jota has a success rate of 74.6 percent, Salah retains possession 77 percent of the time and Firmino posts an impressive 78.9 percent.
It's not a stretch to think such stats are what compelled Liverpool to make a move for Gakpo in January, thus abandoning their new Plan A.
Again, supporters were caught off-guard as to the long-term plan for the Dutchman. We believed he joined as a wide forward when in fact he's been used almost exclusively as that false nine.

Evidently, it's a role he is growing into, looking more like Firmino's true heir apparent by the week.
The stats back that up.
He is more effective at winning the ball in the final third and protects it far better, with a 73.9 percent pass completion rate.
Add six goals and two assists into the mix and it appears Liverpool have found the man they want to lead the line as part of their upcoming rebuild.
This raises questions as to Captain Chaos and his role in the medium to long-term.
The long-term role

While Nunez fared admirably on that left flank for a time, you always felt that was a temporary measure.
The returning Luis Diaz surely commands this spot when back to full fitness, while Jota has been known to force his way into the front three from that flank too.
The right side is covered not only by Salah but the emerging Ben Doak and Kaide Gordon.
Harvey Elliott may also see this position as his best route back into the side, with opportunities in midfield suddenly restricted.
All of which leaves the centre-forward position and the complexities that come with that when playing for a Klopp team.
So restricted have Darwin's appearances been in that area, you can't help but think he's not yet trusted to take on the responsibility.

Until that changes, Nunez may be viewed as little more than an impact sub, assuming this mantle from Divock Origi.
While he has all the attributes to become a classic break-glass option, both player and club will have hoped for more.
Not only that but Liverpool do not have the luxury of keeping a £60 million-plus asset on the bench as an impact sub. That's not sustainable.
What Nunez has been very good at up to now is blocking out the background noise.
Resiliencia ? pic.twitter.com/e90QJAdpc7

— Darwin Núñez (@Darwinn99) July 15, 2022
Those early social media shouts, combined with opposition chants and even some shocking misses have not seemed to affect him unduly.
Yet in recent weeks you feel reality has set in. He's suddenly aware he's falling down the pecking order and looks short on confidence as a result.
Those quotes from his manager – when translated – will also have struck a chord.
There are some whispers he's been carrying a knock of his own, which may explain the lack of 'fireworks' from February onwards.

He could do with a few of those between now and the end of the campaign, if only to serve as a reminder of what he can offer in certain situations.
It is, of course, too early to write off a player aged just 23 and adapting to both a new league and way of life.
We've also seen enough to suggest all the raw ingredients are there for him to become a top-class striker…eventually.
The bigger question is whether Klopp and Liverpool have the patience to nurture that talent when hitting the ground running next season is of paramount importance.
However 2022/23 concludes it will be seen as a year of transition. In the case of Darwin Nunez, it's not yet clear what we're transitioning to.