Newcastle forward Callum Wilson is looking consciously over his shoulder as Liverpool look to sneak beyond his side into the top four.
Wilson's side currently sit third in the Premier League table having amassed three points more than the Reds in one game fewer.
Home fixtures against Brighton and Leicester are sandwiched by trips to Leeds and Chelsea in a less-than-inviting run that separates Newcastle from their European destiny.
It has been 21 years since the Magpies last qualified for Europe's elite club competition and Wilson appears to be acutely aware of Liverpool's threat in the closing stages, joking that the Reds need to "relax" in light of their winning run.
"It was a great result [West Ham's 1-0 win over Man United] for you boys. Obviously us being in the top-four, it was a great result for us as well," the striker told West Ham's Michail Antonio on the Footballer's Football Podcast.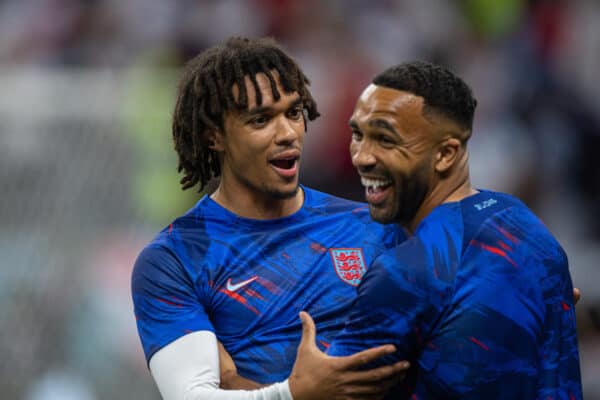 "Liverpool need to relax! [Newcastle's 2-0 defeat to Arsenal] was a bad day at the office for us boys compared to you so it's going to be contrasting emotions this week again."
Champions League qualification is still very much in Newcastle's hands and four wins will be enough to secure their place in the competition regardless of results around them.
Wilson described the top four race as a "rollercoaster" and insisted that his side still have plenty of work to do if they are to cross that line.
"It's that rollercoaster that we're on. I said I could smell it [the Champions League] a couple of weeks ago, I don't know where it's gone. I can't find it," he continued.

"That game reiterates that we've still got a bit of a way to go. We've got Leeds and Leicester to play and they're both in a relegation battle. We need three wins out of four."
While said in jest, Wilson's comments highlight that his team's situation is somewhat more precarious than it was a couple of weeks ago, having since fallen to defeats against Arsenal and Aston Villa.
Meanwhile, Liverpool have picked up six consecutive wins in a run that has placed Jurgen Klopp's side within touching distance of top four rivals Newcastle and Man United.
Keep checking your rear-view mirrors, Callum!